Contemporary Marble Bathroom
Designer Kerrie Kelly gave the only bathroom in this home a glamorous touch, using soft gray tones and luxurious marble to give it a spacious, elegant feel.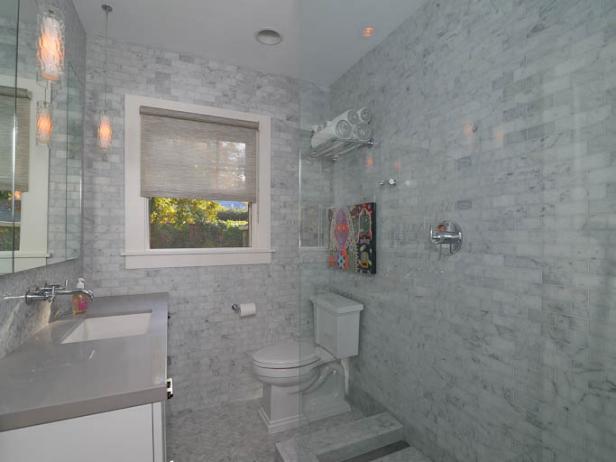 Simply Chic Contemporary Bathroom With Gray Hues
Tiled in a multitude of soft gray hues, this bathroom has an all-over contemporary vibe.
When it came to designing a bathroom fit for the whole family, designer Kerrie Kelly proved to be fit for the challenge. By using a soft, neutral color palette and getting creative with minimal space, the California-based designer turned this single bath into a relaxing contemporary oasis.
What were the main items on the family's wish list?
The homeowner wanted a bathroom that was as spacious and functional as it could possibly be — it is the only bathroom in the home, so it needed to be great.
What was the single largest challenge you wanted to address for this client?
Space requirements were our largest challenge. We were able to fit all the requests in by incorporating a wet room concept.
What was your biggest obstacle in this space?
The house was older so we really needed to work closely with the selected contractor to pull off a seamless renovation.
How does the end result match up with your original vision for the space?
The location of the existing plumbing posed a challenge. Luckily, our solid trade relationships with our cabinet maker and plumber helped create a smart and cost effective solution for the homeowner.
What surprised you the most about the project?
The classic finishes of Carrera marble, neutral tones and timeless finishes always make for a great space. We believe everyone deserves great design and keeping it simple is part of that mantra.
What are the hidden gems in your plan?
Behind the vanity and medicine cabinet doors we have a load of organizational goodies for hair products, blow dryers, flat irons and other girlie goodies. When the doors open, it is like shopping your very own beauty counter!