Explore options for bathroom styles, and decide which approach is right for the bathrooms in your home.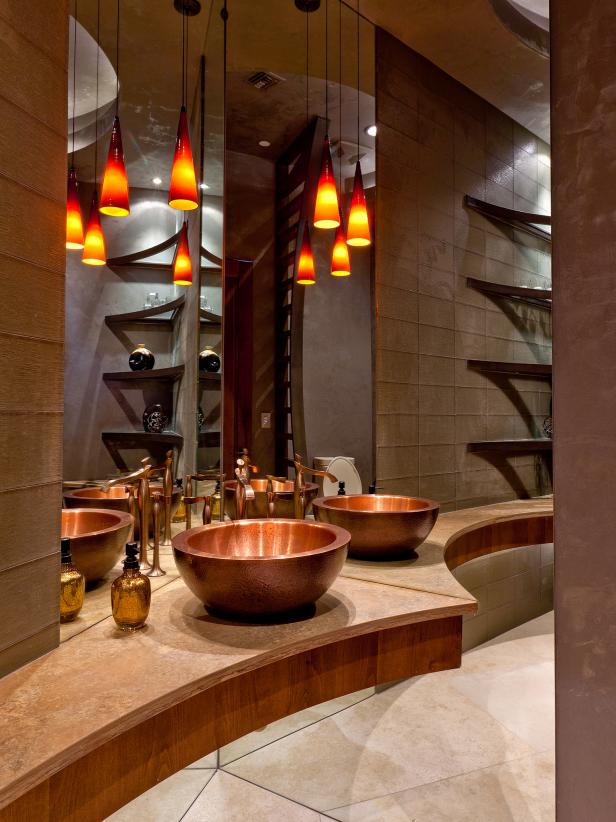 Contemporary Southwestern Bathroom
This contemporary southwestern bathroom has a dramatically curved quartz slab top with a wooden apron that comes to a point and copper sinks and bronze fixtures on top. The sculptural open shelving is curved too. The rustic textures, neutral colors, the mix of wood and stone brings warmth to the space. The bathroom has simple lighting by LED rope lighting concealed under the counter, ceiling soffit, and hanging pendants.
Photo Credit: Jon Mancuso Photography
Whether you're installing a brand-new bathroom or updating an existing one, you'll want to understand the full range of bathroom styles available before the first tile is laid.
If you're looking to keep it simple with your bathroom design, you may want to consider a classic or traditional style. Defined by no-fuss elements like clean lines and muted colors such as white, gray and beige, traditional bathroom design can be timeless and is unlikely to negatively impact resale value.
On the other end of the spectrum, modern bathroom design often incorporates vibrant colors, contrasting textures and angular fixtures to put an updated twist on traditional bathroom style.
Similarly, an eclectic bathroom style may combine seemingly dissimilar elements—like ornate mirror frames, a claw-footed tub and bold, geometric tile patterns mixed with more traditional fixtures—creating a fun approach that exudes personality.
For a more countrified, rustic style, you may want to experiment with "bringing the outside in" via raw or reclaimed wood for cabinets, tub enclosures or mirror frames, and other natural elements like plants.
Conversely, you can create a bathroom that hearkens back to a more romantic era by incorporating vintage elements like tufted seats, ornate lighting fixtures and elegant cabinet designs.
More Bathroom Styles for Your Home