Spa-Inspired Main Bathroom
Get tips for transforming your bathroom into a peaceful retreat.
When it comes to remodeling your bathroom, the process of narrowing down the options is daunting. You can't afford to do it all — no matter how much luxury you build into the space, there's always "just one more thing" you could add. That's why taking the time to seriously review how you use the space and setting goals for your remodel will keep you on track as you make important decisions about the floor plan, fixtures, tile and more.
While you're brainstorming ideas for your new bathroom, cut out pictures from magazines or use online tools to learn about various bathroom layouts to gain inspiration. "When my clients bring pictures and have thoughts about their dream bathroom, it gives me direct insight as to what they are looking for and helps me understand what they are envisioning for the project," says Lori Carroll, president, Lori Carroll & Associates, Tucson, Ariz.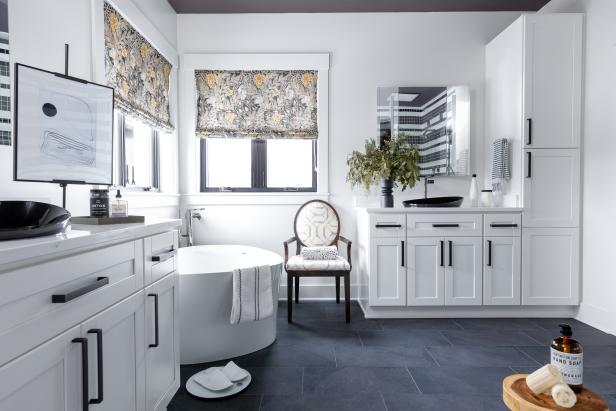 Posh and Peaceful
This master bathroom makes getting ready in the morning a breeze with its high-tech features like a smart mirror, programmable shower and even a heated toilet seat. At the end of the day, when you're ready to relax, there is a huge soaking tub and nine-head spa shower with a slew of customizable features.
The bathroom sanctuary is more than just a toilet, sink, shower and/or tub. The main bathroom, especially, is where you can get away from it all and unwind at the end of the day. It's a place to soak away your worries, perhaps by candlelight or with soft music playing in the background. When you step out of the tub, your feet touch a naturally warm surface, and you can easily access bath linens. You step up to a vanity with a sink that pours water without splashing, and cabinets contain your appliances already plugged in (how convenient!). You're not in a hurry — but if you were, you'd hop into the shower (water temperature pre-programmed) and go.
Bathroom design is equally about function and setting a relaxing mood. Chances are, this room is shared and space allowances must be made for two. "We are seeing main bathrooms and dressing rooms being designed at the same time," says Cameron Snyder, president, Roomscapes Luxury Design Center, Boston, Mass., and past president of the National Kitchen & Bath Association (NKBA). He notes that the dressing room often serves as the entryway to the main bath.
Here are some questions and considerations to ponder as you dream up your future dream bathroom:
How many adults will use the space at one time?
What activities aside from usual bathroom fare take place in this room?
Do you want to incorporate a dressing room?
Do you prefer to take a bath or shower?
Would you rather have more counter space or two sinks?
Do you have enough space or do you want the bathroom to be larger?
What features are currently in the bathroom that you would like to remove?
What features would you like to add?
Are there enough electrical outlets to suit your needs?
Which areas need better lighting?
What type of storage do you want/need?
What color scheme do you prefer?
These bathing beauties boast fabulous features such as steam showers, luxury fixtures, freestanding soaking tubs, and more (not to mention style to spare).
Spacious Showers. Today's showers can include body sprays, rain showerheads, hand showers, multiple shower heads, therapeutic lights, seats, and infinity drains. A step-in shower without a curb (Roman-style shower) is safe for people of all ages. Some are choosing to bundle the shower and tub in a "room," by placing the freestanding tub in the center of the shower zone, explains Brian Johnson, principal, Collaborative Design Architects, Billings, Mt. The room's dimensions can be 6' x 8' or 6' x 9'. "The tub floats in that shower space and it looks very sculptural," Johnson says of the completely tiled area within the main bath.
Soak in the Beauty
A sliding-glass door with frameless design separates the vanity area from the main bathroom's wet room with clawfoot tub and inviting shower. A massive window and well-positioned skylights bring natural light and soothing breezes inside, so you can fully enjoy the lush setting of this bold Portland, Maine maritime retreat.
Deep soaker tubs. Tubs are optional in the main bath. But if a good soak is how you like to unwind, you can add bubbly with today's effervescent tubs and those featuring heated air jets that emit warmth and bubbles. These are replacing water-jet tubs. Also, tubs are less likely to be positioned in a corner where they take up valuable square footage. Tubs are smaller but still made for two. "You might want to consider a separate water heater for the tub if you use it often," suggests Ken Perrin, president, Artistic Renovations, Cleveland, Ohio.
Separate toilet rooms. Hiding the loo behind closed doors within the main bath gives everyone more privacy, especially when the space will be used by more than one person at a time. Ventilation and lighting are key in this closed-off space, and it's nice to a dedicated vanity with storage if possible.
Vanity privacy. Dual sink vanities gain privacy when a shelving unit is posited between the sinks.
Sink style. Undermounted sinks offer a sleek look and make countertop cleanup a cinch.
Heated floors. Nothing says luxury like stepping onto a warm, tile floor. Radiant heat can be placed below tiles for a reasonable price — Perrin estimates about $600 or less in a small 5' x 9' bathroom. Johnson notes that radiant heat mats that don't use a lot of energy are an option for specific areas in the bathroom.
Other considerations. A natural color scheme will create a timeless, peaceful environment, from fixtures to tile. Recycled glass tiles are "here to stay," according to Perrin, and placed sporadically throughout the bathroom, they provide interest without making the space busy.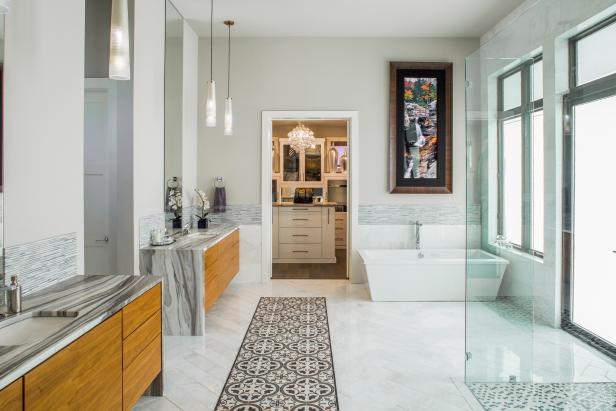 Elegant Master Bathroom
Matching oak vanities feature waterfall countertops in beautiful gray and white marble. There's a soaking tub to help relax and get a spa-like treatment at home, and a walk-in shower with a glass enclosure is just steps away to rinse off.
Fine Focus Photography; Interior Design: Amanda Stephenson
Other features to consider:
Cabinets that look like furniture pieces with footed legs and antique detail
Steam showers
Tile that scales the entire wall, borrowed from European design
An upholstered chair or loveseat
Magazine rack
Television or Bluetooth speakers built into cabinetry (or behind the mirror in the case of the TV)
Heated towel racks — or, as an alternative, a warming drawer that would be installed in a kitchen can efficiently do the job of warming linens in the bathroom
Expanded windows and skylights to let in natural light
The use of Japanese-style screening in walls separating the toilet and rest of bathroom so the space feels open yet private.