Get all the info you'll need to create an elegant and efficient spa-like retreat in your home.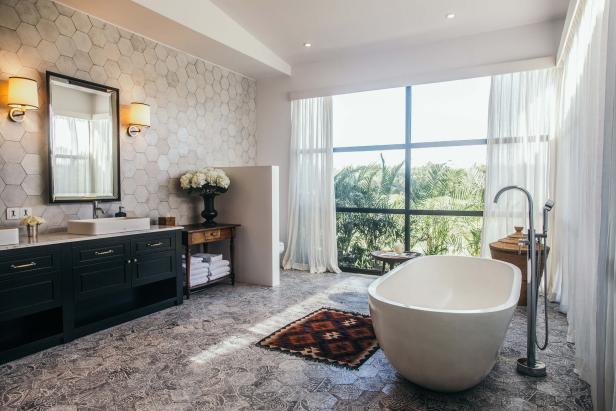 Traditional Spa Bathroom With Rug
In the bathroom, living room comforts like rugs and curtains make a space that's as elegant as it is spa-like.
Main bathrooms are often an extension of a home's main bedroom; they're typically located within or adjacent to the main bedroom. For this reason, some design decisions may be simplified if you want to mirror or at least emulate the bedroom's design.
When considering the design of the main bathroom, your first task is to determine how, and by whom, it'll be used. Most commonly, two people will use a main bathroom. This means you'll need to design the bathroom both for co-use — which is to say, both people using it at the same time — and for co-storage, meaning the accessories, linens and other bathroom implements of both individuals will need adequate (and likely separate) storage space.
One approach that's popular in main bathrooms is a long vanity with two sinks. This will allow both people to use the sinks simultaneously, and it should also afford plenty of space for accessories to be placed on the countertop during grooming activities.
Many main bathrooms add elegance to efficiency, with features like a claw-foot or whirlpool tub used as a centerpiece of the bathroom. Other elegant but useful features can include high-end flooring options, bench seating with built-in storage for linens, or a separate, private toilet area.
In terms of design style, the main bathroom often follows the main bedroom lead, but this isn't a requirement — especially if the bathroom isn't located adjacent to or within the bedroom.
More Bathroom Design Ideas