A space-saving tub-and-shower combo unit is the most common of all bathtubs, but that doesn't mean it can't be stylish.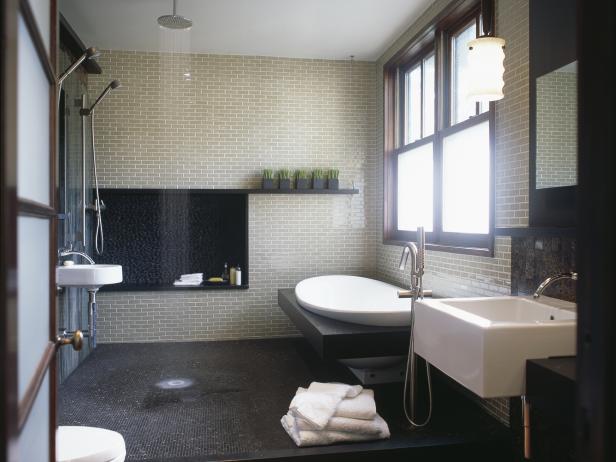 Asian-Inspired Spa Bathroom With Rain Shower and Freestanding Tub
This bathroom features brick walls, a unique oval tub, and lots of natural light from a large window.
Tub-and-shower combinations offer a great combination of spaciousness and style, and they're the most common of all bathtub installations—found in about 65 percent of homes today. These two-in-one pieces are affordable, sturdy, and easy to install, and they make good use of limited bathroom space.
Tub and shower combos are typically made from lightweight fiberglass or acrylic. Prefabricated kits are available from basic models to high-end looks. One-piece kits are the most watertight, but they are large and don't easily fit through bathroom doors; they're generally best for new construction, where the unit can be placed in the room before walls are put up.
For existing homes, a sectional unit that comes in pieces may be required so that it will fit through doorways. When purchasing either style, be sure you have measured the space accurately—and then measure again to ensure the tub and shower will fit in your bathroom. Also be certain upfront that your existing plumbing matches the placement of predrilled holes in the kit. These units do require some assembly, but most DIYers can tackle it.
Prefab units are limited in their design options, but you can still personalize it with upgraded fixtures of your choosing. Some units have shelving built in, and you can also have grab bars installed for safety. Instead of a using a shower curtain, you can choose to have a glass shower door installed for a sleeker look that gives the illusion of more space. Since these doors require a sliding track to be installed at the edge of the tub, these installations may be best left to professionals.
While the basic tub-and-shower unit design is certainly practical, don't be afraid to think outside the shower stall. Upgraded shower heads and faucets can add a level of elegance. Tiling around the tub can make it feel much more high-end and less builder's basic. Try a three-quarter glass wall instead of a curtain for a modern, sleek look.
Custom tub-and-shower units can be built to any size and configuration, using materials you prefer, as well as special fixtures and features. For this type, a tub is typically covered with some sort of deck, then topped with a shower surround, and includes plumbing fixtures. Custom installations should be done by a bathroom designer and professional installer. Prefabricated tub-and-shower combos can be found for around $1,000, while a custom tub-shower can cost two to five times that much.
While tub and shower combos usually feature a built-in tub, freestanding tubs also can have shower fixtures added. Just be sure the shower curtain is sturdy and large enough to cover all splash areas.
More Bathtub Styles and Options
Other Bathroom Styles for Your Home