Asian-Inspired Contemporary Bathroom
Designer Christopher Grubb relied on a neutral color palette and luxurious design elements to create this relaxing, spa-like bathroom.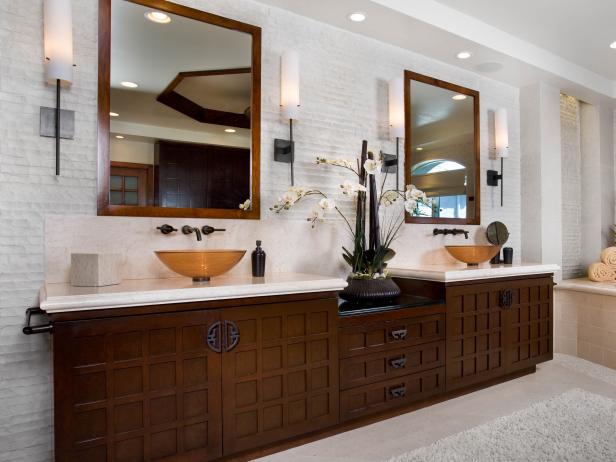 White Bathroom With Asian-Style Double Vanity
A large Asian-style wood vanity houses two vessel sinks, providing plenty of space for a couple to share this bathroom. White tile walls and wall sconces keep the area feeling bright and airy.
When Designer Christopher Grubb discovered these homeowners wanted a bathroom design that mirrored that of a luxury hotel, he pulled out all the stops to create an elegant, relaxing space. A mix of neutral-toned tiles, sleek lighting and a bamboo-lined wall are just a few of the details that make this bathroom the spa-like space this family was seeking.
What were the main items on the family's wish list?
Being that they were global travelers, they wanted to emulate a luxury 5-star suite experience with a bathroom that felt like a full-service spa.

What was the single largest challenge you wanted to address for this client?
The original space was a bedroom and two walk-in closets that you had to go through to get to the bathroom. The goal was to create a master bedroom suite by removing the two existing closets to create a grand bathroom and a new walk-in closet as an addition to the bedroom.
What was your biggest obstacle in this space?
The bathroom was on the second floor and our biggest obstacle was the weight from the new stone and water elements that were being added. Because of the added weight, the kitchen below had to have the cabinetry removed and have extra support in the walls to handle the weight load.
What surprised you the most about the project?
What surprised us the most was the success of blending so many unique tiles and stone in such an interesting way that it created larger opportunities for use of multiple materials in other projects.
What are the hidden gems in your plan?
The room is divided by a forest of bamboo and modern shoji-style doors with ribbed architectural glass that open fully for a view of the tranquil retreat from the bedroom. The jetted tub includes chromatherapy lighting while the wall at the foot of the tub features a waterfall that cascades down the same chiseled stone that envelops the bathroom.