Explore your options for a three-quarter bath, and create an efficient and attractive bathroom space in your home.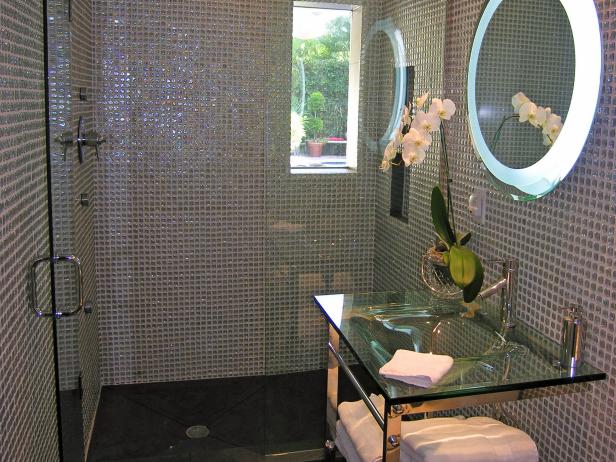 HSTAR8_Crisermy-Mercado-Portfolio-tiled-bathroom_s4x3
This guest bathroom created a big concern due to the small space Crisermy had to work with. Using a narrow glass and stainless steel vanity not only provides more space to enter the shower, but it also makes the space feel larger by not having a bulky furniture piece blocking the pathway.
As opposed to a traditional full bath, a three-quarter bath is usually characterized by an efficient combination of standing shower, sink and toilet. This simple but useful design is often used for guest bathrooms, and it can add tremendous utility and value to your home.
Three-quarter bathrooms are ideal for accommodating guests, or for use by children and teens. For this reason, three-quarter bathrooms are generally located near guest bedrooms. Contrarily, half baths tend to be located near living and kitchen spaces for efficiency and convenience.
In terms of size, a three-quarter bath can be very small—as little as six feet by six feet—or it can be larger and more luxurious, depending on the space you have to work with. In general, three-quarter baths are fairly efficient spaces because they'll be accommodating guests and won't require a tremendous amount of permanent storage space.
Stylistically, three-quarter baths give you a great opportunity to experiment and add some personality. Bright hues or bold patterns are not uncommon, and you may want to consider fixtures and décor that are a departure from the overall design of the home.
More Bathroom Styles for Your Home