Get ideas and info for Japanese-style bathrooms, and prepare to create a relaxing, rejuvenating bath space in your home.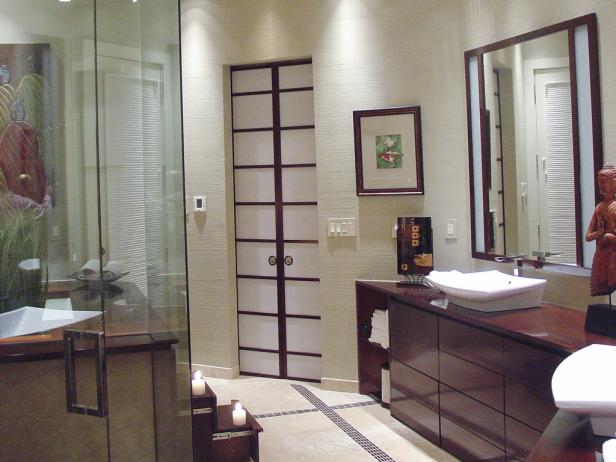 DP_hilsabeck-asian-bathroom_s4x3
Zen Fusion at its finest. The combination of Asian influence with the contemporary lines and products of today creates this spa environment, which features walnut cabinets, Shoji screen doors with metal tile and faux grass cloth walls. A true Japanese-style tub and a large walk-in shower with body sprays and all the works provide the finishing touches.
Japanese-style bathrooms tend to incorporate traditional elements of Japanese architecture, along with unique, modern flourishes that can help create a relaxing and rejuvenating bath space.
The prevailing element in Japanese-style bathrooms is the combination of natural and man-made elements for a seamless, soothing effect. In particular, wood and stone tend to show up often in Japanese-style bathrooms, and they act as perfect materials to bring the natural world into your bathroom design.
Before and After: 20 Incredible Small Bathroom Remodels
See All Photos
Another key element of Japanese bathroom design is the use of screens, both for privacy and for a contrasting visual element. Their wood frames complement the use of heavier woods in furniture, as well as the other natural stone or plant features.
The angularity of screens or other furniture can be offset with boldly curving sinks or tubs, often in substantial, bowl-like designs. These add tremendous weight to the overall design, contrasting with lighter features like screens and plants, and complementing the use of natural stone.
Openness is another common feature of Japanese bathroom design, and one way to achieve this is by creating shower enclosures that are either totally open or enclosed entirely in glass, so that the overall visual scheme remains unbroken by walls or other obstructions.
More Bathroom Styles for Your Home