Cottage-Style Kitchen Cabinets
Find out all you need to know about cottage-style kitchen cabinets, and get ready to add a traditional touch to your kitchen design with these helpful hints.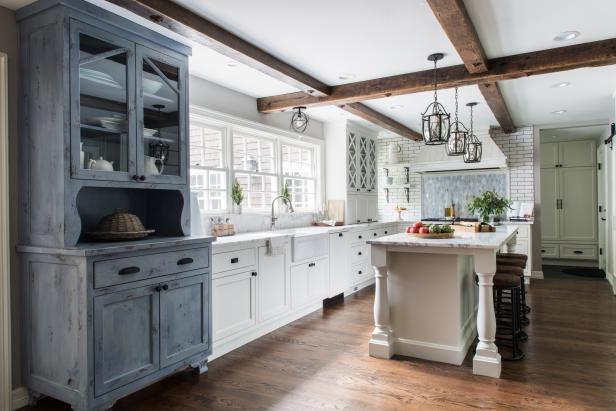 White Cottage Chef Kitchen With Gray Cabinet
The kitchen seems to go on forever and is filled with charming farmhouse details, like the weathered gray china cabinet and an island with carved wood legs. Exposed wood beams criss-cross the ceiling.
Cottage-style kitchen cabinets are generally characterized by a slightly more casual, eclectic and antique design. If you're considering updating your current kitchen or installing a new one in cottage style, there are a few helpful hints to keep in mind when it comes to cabinets.
First up: materials. You'll almost definitely want to look at woods, as these are the traditional choice for cottage-style cabinets. Some manufacturers offer wood laminate in this style, but traditional woods like maple, hickory and cherry are more common.
A potentially time- and money-saving aspect of cottage-style kitchen cabinets is the fact that they often lack doors, opting instead for an easy-access open design.
Another popular option if you're considering cottage-style kitchen cabinets is to mix the old and new in equal measure. For example, if your kitchen features gleaming stainless steel appliances, consider adding antique cabinet hardware, light fixtures and seating. You can also consider stylish "shabby chic" choices like glass or crystal knobs, handles and pulls.
Lastly, consider using recovered or antiqued brackets, molding and other fixtures in the design of your cottage-style kitchen cabinets, to further capture a whimsical mood for your kitchen.
Other Kitchen Cabinet Styles
More Kitchen Cabinet Ideas