Explore your options for Tuscan-style bathrooms, and prepare to create a bath space that's a spa-worthy, rustic retreat.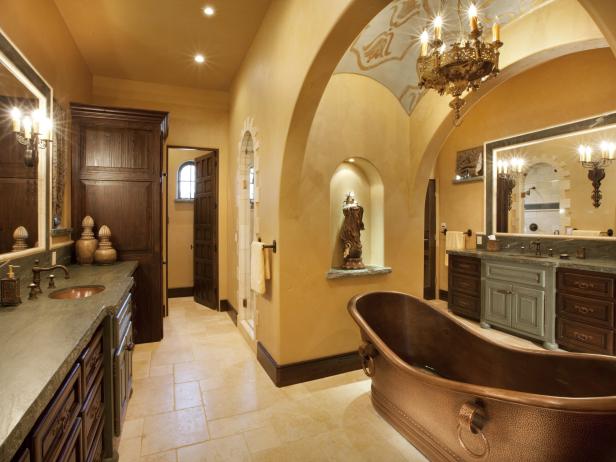 Gold Master Bathroom With Copper Slipper Tub
This spacious bathroom boasts high ceilings divided by an archway that frames the copper tub area. A Moroccan-style gold chandelier emphasizes the painted arched ceiling. Two separate vanities with dark wood and muted blue cabinets are topped with gray stone counters for a touch of Old World charm.
Italy's fabled Tuscany region is famous for its beauty, its food, and its distinctive architecture—a rustic mix of natural hues and textures that's also reflected in Tuscan-style bathrooms.
Characterized by the use of trademark colors like ochre, terracotta and soothing Mediterranean blues, Tuscan-style bathrooms tend to feature surfaces that are matte or distressed, rather than sleek, shiny or modern in appearance. The prevailing theme is comfort and relaxed elegance, in a space that feels more like a vacation villa than a place to visit prior to your morning commute.
Natural light is often a key feature of Tuscan-style bathrooms. Window coverings are often semi-transparent, light and airy. Other natural features are also common, such as window boxes for flowers or potted plants, or rustic benches or chairs in unfinished wood. Exposed wood beams can have the same effect, and countertops might feature matte stone rather than gleaming marble, continuing the down-to-earth, relaxing aesthetic.
Floors may be traditional terracotta tile or marble; sandy, natural colors and finishes are popular. Hand-painted or distressed finishes on wood furniture or trim can add to the laid-back feel, and some styles even feature murals or garden scenes on walls or hung artwork.
More Bathroom Styles for Your Home