What's the Difference Between Porcelain and Ceramic Tile?
Ceramic and porcelain tiles share many similarities, but they also have noteworthy differences. Learn the pros and cons of each material to help you decide which is the better choice for your home project.
By:
Mina Hochberg

and

John Riha
Ceramic and porcelain are highly popular with homeowners, who seek these clay-based tiles out for their durability, timeless aesthetic and relative affordability. "Porcelain and ceramic tend to be more cost-effective since they do not need to be mined from the earth," says Kendra Nash of Nash Design Group. "They are man-made materials that are less delicate compared to natural stone." Ceramic and porcelain share many similarities, but they also have noteworthy differences, including porosity, maintenance and cost. We'll take a look at the pros and cons of each material to help you decide which is the better choice for your home project.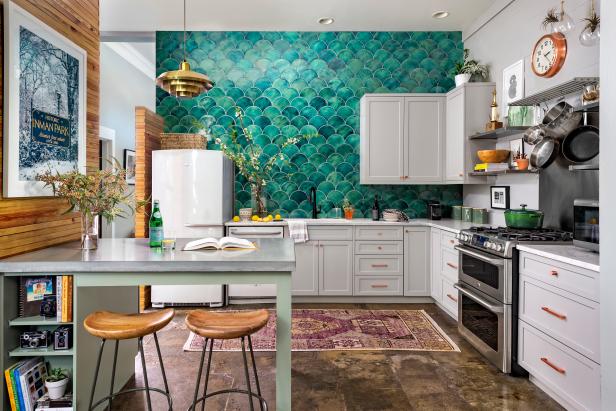 Urban Kitchen with Teal Wall Tile
Organic, playful and sophisticated come together perfectly in this kitchen design. The green back wall tile is clearly the star, made even more vivid by the copper accents.
Ceramic tiles are thin slabs of clay, water or other inorganic materials, hardened at high temperatures in a kiln and usually coated with some kind of glaze. Ceramic is best known for its durability and relatively low cost compared to natural stone.
Ceramic tile is available in a wide range of colors and designs for versatile use and a sleek look. "Glazing allows for brighter color and a glasslike surface," says Gary McCoy, Lowe's store manager for the Charlotte, NC, area. Tile sizes range from tiny mosaic to large format and come in just about any shape imaginable. Choose from almost any installation pattern and incorporate trim pieces, borders and inlays to accentuate decorative elements. Mix and match colors and sizes for visual interest, or repeat the same styles on walls, countertops or showers for a cohesive look.
Ceramic tile is a suitable choice for many areas of the home, whether it's walls, floors, countertops or backsplashes. It's resistant to moisture, stands up to stains and won't absorb bacteria or odors. Since it often feels cool, it's a good flooring option in rooms that tend to get hot during warmer months. On the PEI scale, which rates the hardness and durability of tile materials, ceramic tile is rated from 0 to 5 based on hardness. Zero through 2 is suitable for wall tile, and 3 is good for most residential uses.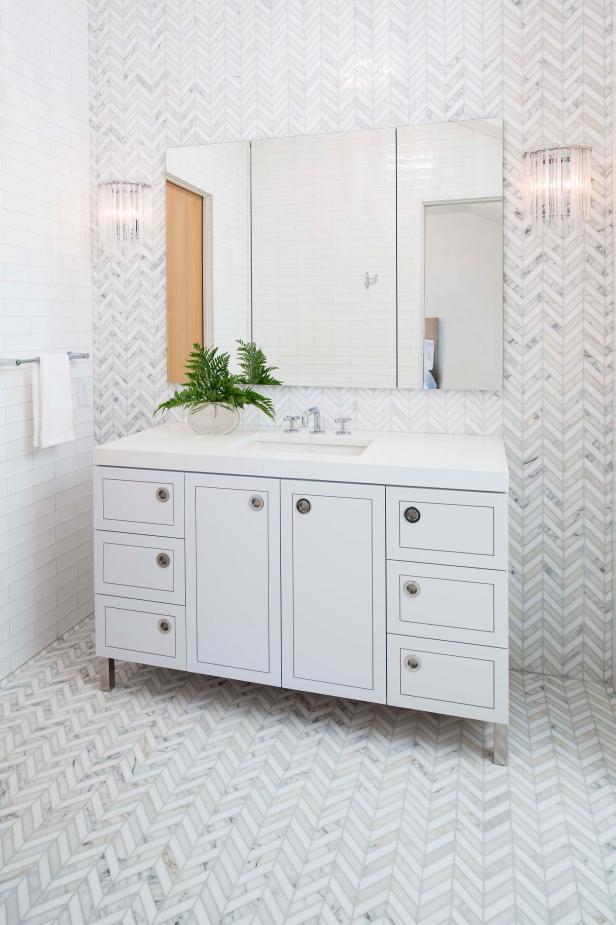 White Bathroom With Striped Tile Wall
Like another larger bathroom in the home, this one also uses pattern to bring in visual interest. Here, pale gray and white tiles make faint stripes on the wall and floor.
PEI Class 1 Rating (no foot traffic): Recommended for wall use only in residential and commercial applications
PEI Class 2 Rating (light traffic): Recommended for both wall use and bathroom-floor applications
PEI Class 3 Rating (light to moderate traffic): Recommended for countertops, walls and floors where normal foot traffic is expected
PEI Class 4 Rating (moderate to heavy traffic): Recommended for all residential applications as well as medium commercial and light institutional.
PEI Class 5 Rating (heavy to extra-heavy traffic): Recommended for all residential as well as heavy commercial and institutional applications.
Advantages of Ceramic Tile
Ceramic tile can last for decades and stands up to tough wear, with the ability to withstand water and foot traffic. It's also easy to clean. Avoid abrasives such as steel wool and scouring pads lest you scratch the tile surface. The cost is relatively low compared to other tiles, and it's approachable to install for DIYers. Unlike porcelain, which is extremely hard to cut, ceramic is softer and can be cut cleanly with a basic tile cutter. It is a versatile option if you're looking for a tile that can be used in multiple rooms of your home.
Disadvantages of Ceramic Tile
Compared to porcelain, ceramic tiles are less durable. So, you may want to install ceramic tiles in low-traffic areas and surfaces that don't receive much wear and tear. Ceramic is also more porous than porcelain, which means it absorbs liquids more readily. "Porosity ratings are very important," says McCoy. "Porosity is the ratio of voids (or air holes) to solids in a tile, which affects the percentage of water absorbed into a tile." The higher porosity means ceramic tiles are more prone to stains and moisture absorption. As a result, they require more frequent cleaning than porcelain. If your budget allows, you may opt for porcelain in areas prone to wetness.
Ceramic tiles can vary in size and color from lot to lot, which matters to homeowners who are particular about keeping an even appearance. Also, keep in mind that without radiant heat underneath, ceramic tile can be cold on your feet and uncomfortable to stand on for long periods. At a cost of $1 to $8 per square foot, uninstalled, ceramic tile is considered moderately difficult to install.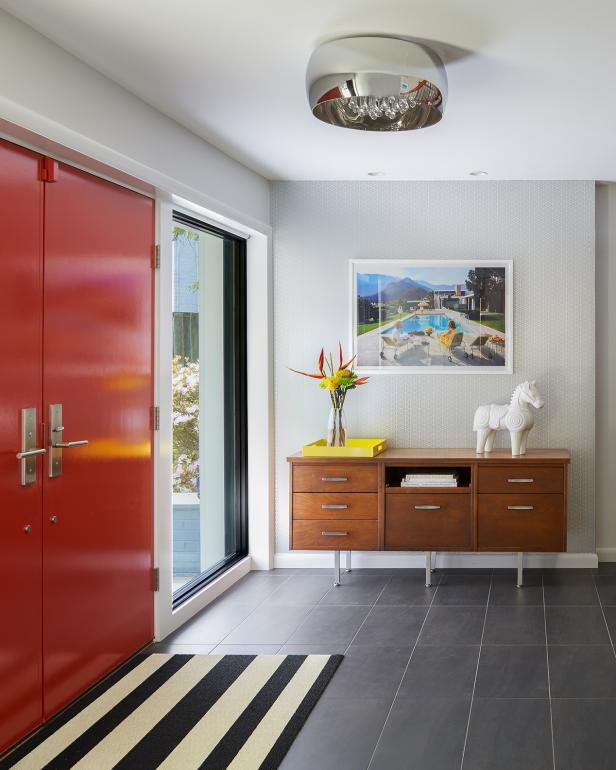 Midcentury Entry With Striped Rug and Console Table
The renovated entry to the home features chic, midcentury modern style with a console table, black and white striped rug and a framed retro photograph.
Anice Hoachlander/ Hoachlander Davis Photography
Technically, porcelain is a type of ceramic, but porcelain is crafted from a mix of higher-grade clays and fired at more extreme temperatures than ceramic. This makes porcelain harder and denser than ceramic tile, and also more durable and less porous.
There are two basic types of porcelain tile. In through-bodied porcelain, the color and texture run all the way through the tile, disguising chips or scratches. Strong and durable, it contains no glaze that can wear off. It's suitable for floors, walls and countertops. Glazed tile is completely covered in a wear-layer or hard finish that is typically colored. It is strong and dense and offers the widest range of colors and designs.
Porcelain tile is a popular choice for bathroom floors since the toughness and low porosity offer greater stain and water resistance than ceramic tile. Since porcelain is so much more durable than non-porcelain ceramic, it's also a good choice for surfaces that receive a lot of traffic, such as kitchen floors and countertops. "Porcelain is a very durable man-made material that can be used in high traffic spaces or in kids' bathrooms," says Nash. "It does not etch or stain over time, like a natural stone."
Porcelain is suitable for radiant in-floor heat to keep feet toasty on cool mornings. Porcelain also offers unmatched design versatility. Tiles can mimic natural stone varieties, such as granite and limestone. Newer designs draw inspiration from exotic locales and fashion runways, with surfaces that evoke leather, fabric or even animal prints.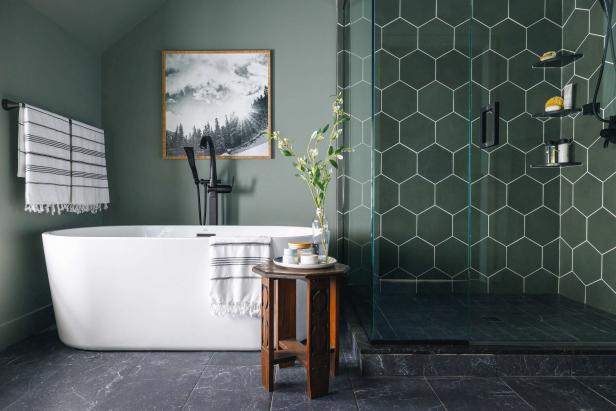 Soothing Green Bathroom
The walls of the main bathroom at HGTV Dream Home 2022 were painted a muted, elevated green. A hexagon tile in the glass corner shower incorporates darker tones of the same shade. On either end of the spectrum, a bright white freestanding tub balances the dusky gray porcelain floor and matte-black showerhead and faucets.
Advantages of Porcelain Tile
Thanks to its durability, porcelain tile will last for years and stands up to heavy foot traffic. The low porosity makes it resistant to splashing water, staining, bacteria and odors. It's easy to clean, requiring a simple sweep or vacuum once or twice a week and cleaning with porcelain-friendly cleansers once a month or so. You'll want to avoid abrasives such as steel wool and scouring pads, and do not use cleaners with bleach or ammonia. Unglazed porcelain requires more frequent cleaning.
Disadvantages of Porcelain Tile
At $3 to $10 per square foot, porcelain is more costly than ceramic but more affordable than natural stone. While its durability can be beneficial, it can also make the tile trickier to install. The tile is extremely hard to cut through, requiring specialty tools. If you want clean cuts and precise installation, you'll want to hire professionals rather than installing yourself. Porcelain tiles also require a modified setting material to anchor it to a substrate. Do-it-yourselfers typically install it with setting material designed for ordinary ceramic tiles, but porcelain's low porosity requires a special compound for setting.
From colorful cabinets and gold accents to statement backsplashes and unexpected range hoods, get inspiration for adding the latest kitchen design trends to your home.
Learn all about the different types of tile and slabs that can be used on floors, walls and countertops including ceramic, porcelain, cement, marble and more. Plus, we'll explain PEI rating, glazing and which tiles are easiest to install.