Ceramic vs. Porcelain Tiles: Pros and Cons
They're oh-so-similar, so what's the difference? There are strengths and weaknesses of each type.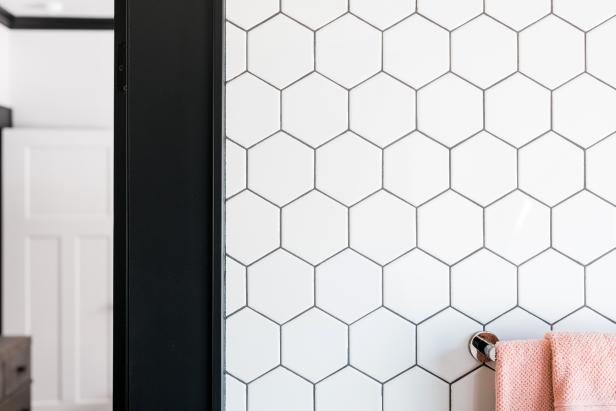 Hexagon Tiles
Semi-gloss, white hexagon glazed ceramic wall tiles add a touch of pattern to this master bathroom.
Robert Peterson; Rustic White Photography
Semi-gloss, white hexagon glazed ceramic wall tiles add a touch of pattern to this master bathroom.
These two popular materials are close relatives, and there are probably more similarities than differences between the two. Both ceramic and porcelain tiles are made with clay and hardened in kilns at high temperatures. They both can be glazed, which means they can be produced in a vast array of colors and textures and both come in a range of prices.
The differences, although subtle, could tip the scales when it comes to deciding between the two. Here are the pros and cons of ceramic vs. porcelain tiles:
Porcelain tile is made with special refined clays and is fired at higher temperatures than ceramic tile, making it harder, stronger and denser than regular ceramic tile.
Best for Outdoor Installations
Hands down, porcelain tile. Its dense structure gives it a very low rate of moisture absorption, which makes it impervious to freeze/thaw cycles and heavy rains. That said, an even better option for outdoor applications is natural stone tile.
Ceramic tile is less dense and less brittle than porcelain, making it easier to cut and shape. That's especially important when cutting irregular shapes, such as around a toilet flange.
Ceramic tile generally is the less-expensive option, with average prices ranging from $2 to $7 per square foot. Porcelain tile is slightly higher at an average of $3 to $10 per square foot. That price difference is offset somewhat by the fact that porcelain tends to outlast ceramic.
Best for Kitchens and Baths
The same reasons that porcelain tile is the outdoor champ hold true in the kitchen and bathroom (and laundry rooms) where spills and splashes can happen. Dense porcelain shrugs off wetness. However, when glazed, both porcelain and ceramic tiles do a great job of fending off moisture. For safety, look for tiles that are rated as "non-slip."
When it comes to ceramic vs. porcelain tile, porcelain is the pricier material. But that's only part of the story. Because of its extreme hardness, porcelain is trickier to work with, making pro installation costs higher than ceramic.
Glazed ceramic tile has color on its surface, but the color of the clay body underneath the glaze doesn't match. If the surface is chipped, the flaw is easy to see. A special type of unglazed porcelain tile called "through-body" has uniform color throughout the tile so that if the surface is nicked, the chip is hardly noticeable.
Ceramic tile is more porous than porcelain and more prone to staining.
Tile hardness ratings are a useful guide for determining the best floor tile for various rooms and uses. An industry standard created by the Porcelain Enamel Institute (PEI) suggests five levels of floor tile hardness and their uses. Most reputable manufacturers include a PEI rating on their product packaging and literature.
PEI 1 is adequate for very light traffic such as guest bathrooms.
PEI 2 tiles are good for most rooms in the house except high-traffic areas such as kitchens, entryways and stairs.
PEI 3 can be used throughout your house, including kitchens and baths.
PEI 4 is a step up in hardness from PEI 3. You can install these durable tiles anywhere in your home. They're also good for light commercial installations.
PEI 5 is the rank for heavyweight tiles that stand up to the heaviest use, including high-traffic commercial locations such as airports and malls.