Reasons to Choose Porcelain Tile
Harder than ceramic, porcelain tile is a smart choice for floors, countertops and walls because of its durability, beauty and countless design choices.
Porcelain tile is a popular choice for bathroom floors. Porcelain is a denser, less porous and harder option that offers greater stain and water resistance than ceramic tile. Plus, it's suitable for radiant in-floor heat to keep feet toasty on cool mornings. Porcelain offers unmatched design versatility. Tiles can mimic natural stone varieties, such as granite, marble and limestone. Newer designs draw inspiration from exotic locales and fashion runways, with surfaces that evoke leather, fabric, even animal prints.
Calcite Azul Countertops Join Porcelain Floor Tile in Main Bathroom
The marble-like porcelain tile floor ascends the walls of the double steam shower.
William Raveis Real Estate, Mortgage & Insurance, a member of Luxury Portfolio International
The marble-like porcelain tile floor ascends the walls of the double steam shower.
There are two basic types of porcelain tile:
Through-bodied. The color and texture run all the way through this type of tile, disguising chips or scratches. Strong and durable, it contains no glaze that can wear off. It's suitable for floors, walls and countertops.
Glazed. This tile is completely covered in a wear layer or hard finish that is typically colored. It is strong and dense and offers the widest range of colors and designs.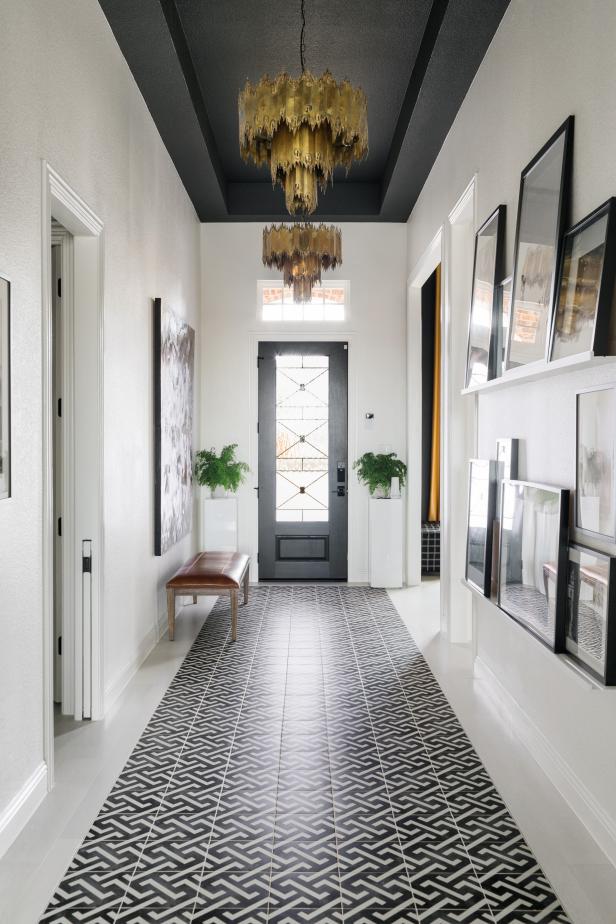 Dramatic Contrast
The entry's very dark gray ceiling provides dramatic contrast for the soft white walls that line this long and lean space that leads visitors to the main living areas of the home.
Considerations When Choosing Porcelain Tile
Tough Enough? Porcelain tile stands up to heavy foot traffic and splashed water and will last for years.
How to Clean: Porcelain is easy to clean. Wipe up water immediately, sweep or vacuum regularly, and damp mop weekly. Avoid abrasives such as steel wool and scouring pads. Unglazed porcelain requires more frequent cleaning.
Underlayment. Porcelain tile should be installed on a subfloor that's smooth, flat and rigid. It can go on a concrete slab, cement-based backer board, underlayment-grade plywood, and existing tile if it's in good condition.
The Lowdown. Porcelain is crafted from a mix of fine clays and minerals fired at extremely high temperatures, making it harder and denser than ceramic tile. Porcelain resists staining, water, bacteria and odors. It's difficult to scratch, resists fire and comes in a variety of shapes, colors and styles. Keep in mind that without radiant heat underneath, tile can be cold on your feet, and it can be uncomfortable to stand on for long periods. Also, be aware that the tiles can crack and the grout can become stained.
Porcelain is fairly difficult to install because it is hard to cut. As such, installation is usually best left to professionals.
Ceramic and porcelain tiles share many similarities, but they also have noteworthy differences. Learn the pros and cons of each material to help you decide which is the better choice for your home project.
Learn all about the different types of tile and slabs that can be used on floors, walls and countertops including ceramic, porcelain, cement, marble and more. Plus, we'll explain PEI rating, glazing and which tiles are easiest to install.