Consider options for peninsula kitchen design, and prepare to add a space-saving and efficient kitchen design to your home.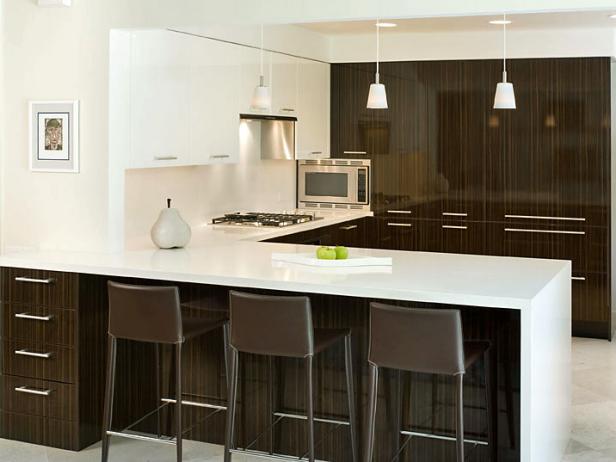 Brown and White Modern Kitchen
A clean white countertop and glossy brown cabinetry, paired with simple brown backed barstools give a modern feel to this kitchen.
Scott Mayoral, Design by Christopher J. Grubb.
A clean white countertop and glossy brown cabinetry, paired with simple brown backed barstools give a modern feel to this kitchen.
If you're planning to install a brand new kitchen or remodel an existing one and space is at a premium, you may want to browse the many options available for peninsula kitchen design.
Peninsula kitchens can be described simply as featuring an island that's connected to a wall — but you'll have plenty of choices to consider when it comes to configuring the space and determining the primary use of the island.
A peninsula can be a great addition to just about any kitchen design, but it's particularly useful in smaller spaces where a freestanding kitchen island isn't feasible because it would take up too much floor space. Likewise, some homeowners with kitchens with three connected walls may want to explore taking out one wall to create a more open flow between the kitchen and dining room or kitchen and living room. Doing so can create a great opportunity to add a peninsula in the vacant space.
One of the more striking benefits of a kitchen peninsula is its utility. Just like a kitchen island, a peninsula has many potential uses. It can be configured to add considerable extra storage via a system of cabinets, drawers and racks that can be used to keep cookware and other accessories organized. Peninsula countertops can add a great deal of surface area to your kitchen design, and they can be used for food preparation and dining. Peninsula countertops can also do double duty in terms of storage and decoration, providing a convenient location for containers and other storage elements while allowing you to keep your favorites on prominent display.
The functionality of a kitchen peninsula doesn't have to be limited to storage, cooking prep and bar-style dining, however. Many homeowners choose to make their kitchen peninsula a fully functioning feature of their kitchen design by adding cooking or cleaning functionality. Adding a stove, refrigerator or sink to a kitchen peninsula can create a more efficient "work triangle" in your kitchen, making cooking, cleaning and food preparation easier and more enjoyable.
When it comes to the appearance of your kitchen peninsula, you'll only be limited by your imagination and your budget. Most homeowners choose to mirror the overall design of the kitchen, particularly since it's usually connected directly to another area of the kitchen, with a single countertop marrying the entire design in an L- or U-shaped kitchen with a peninsula. That said, a peninsula can provide an opportunity to add some visual interest to your kitchen design via unique countertop decorations like glass or porcelain storage containers or bowls of elegantly displayed fruits and vegetables.
More Kitchen Layout Ideas and Options