Contemporary Kitchen Cabinets
Learn about how the sleek clean lines of contemporary kitchen cabinets can transform your kitchen into the modern kitchen of your dreams.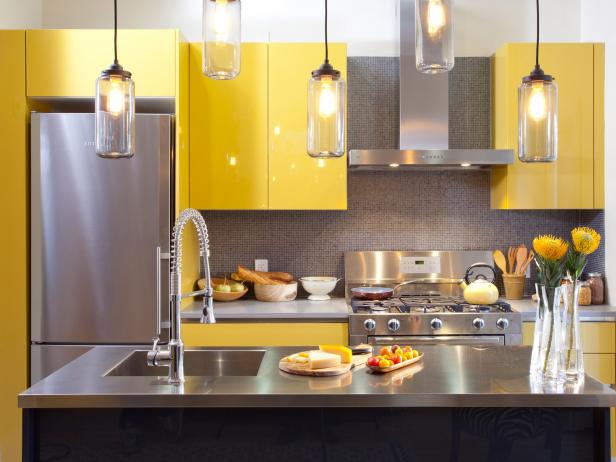 Modern Kitchen With Glossy Yellow Cabinets
Mixing bright yellow and sleek metallic appliances for a contemporary kitchen.
Contemporary design is sleek and minimalist by nature, giving your home a streamlined and clean look. To achieve this effect, contemporary kitchen cabinets generally have flat surfaces and minimal ornamentation.
Contemporary cabinets will favor of a simpler look and will avoid the decorative trim or faux finishes that you might see in more traditional cabinetry.
Contemporary design refers to design that is current to the present era, but it may borrow from its design predecessor—modern design, which features clean, unadorned style. To achieve this clean, spacious look, contemporary cabinets will not have any crown molding or raised panels. Instead, the cabinets will have flat surfaces with sleek, simple hardware and no other decorative accents.
One major benefit to installing contemporary kitchen cabinets is that the flat surfaces found on these cabinets are ideal for use in small kitchens or kitchens with tight spaces. Also, without molding, contemporary kitchen cabinets can be taller and provide more storage for kitchens that lack horizontal storage space.
Materials used in contemporary kitchen cabinets are usually man-made such as metal, concrete, plastic or glass. These materials give the clean, sleek feel that contemporary designers crave; however, can they sometimes give off a cold or sterile feel. To avoid this, homeowners may incorporate wood veneer or some sort of natural stone into their contemporary design to warm the kitchen up a bit. Recycled materials have also become popular for use in contemporary kitchen cabinets, giving the popular industrial look and feel to your kitchen and home.
In terms of colors, contemporary kitchen cabinets may often have a monochromatic color scheme. Blacks, white and grays are popular cabinet colors in a contemporary design. These colors give the clean, sharp look that appeals to many of today's homeowners. Additionally, kitchen cabinets can feature one or more bold colors in order to showcase a particular material or color scheme in the home.
The key to contemporary design is minimal, clean lines—so regardless of the materials, color scheme or hardware you select for your kitchen cabinets, choosing the less-is-more approach to their design will give you a good contemporary look.
More Kitchen Cabinet Styles
Kitchen Cabinet Inspiration