How to Decorate a Galley Kitchen
Explore ideas for how to decorate a galley kitchen, and prepare add style and interest to an efficient kitchen design.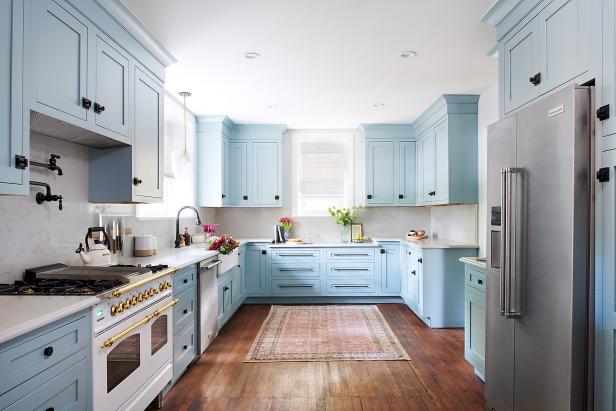 Peaceful Blue Contemporary Kitchen With Antique Accents
A white gas range with polished brass hardware and antique sensibilities joins an understated stainless refrigerator and dishwasher in this graceful blue-and-white kitchen. Stark white walls, face-frame cabinetry and narrow-plank flooring make for a timeless space.
It's easy to enjoy the functional aspects of a small, efficient galley kitchen. Learning how to decorate a galley kitchen can ensure that the kitchen space you spend time in with friends, family and guests will be both functional and attractive.
Galley kitchens take their inspiration from the small, utilitarian kitchens found on ships and aircraft. Generally speaking, these kitchens feature two walls, with a narrow passageway located between them. In a traditional galley kitchen, the passageway measures anywhere from 4 to 6 feet wide, although larger galley kitchens may now expand that width and even feature kitchen islands for added seating, storage and food preparation space.
The two-walled design of a galley kitchen maintains the traditional "work triangle" that's essential to any effective kitchen design—this refers to the triangle created by the stove, refrigerator and sink. If cooks can easily access all of these kitchen features, cooking will be much more efficient and enjoyable. Galley kitchens generally achieve this design by placing two components of the triangle on one wall of the kitchen, and the third component on the opposite wall.
One of the first things to consider when planning to decorate a galley kitchen is the color scheme. Because they tend to be slim, small spaces, galley kitchens occasionally run the risk of appearing dark and cramped. So lightening up the space with the use of light and bright colors can be a great start. Consider using whites, creams or light yellows for walls and backsplashes; try whites or light, natural woods for cabinets.
Add interest and bring nature inside by featuring vases of flowers on countertops, and continue the natural theme with an elegantly placed bowl of fresh fruit and vegetables. Countertops can also be a great place to display unique and attractive storage elements like mason jars or other large, decorative glass containers, filled with stores ready for use in your galley kitchen.
Storage can be an issue in some galley kitchens, so you may want to consider adding a portable kitchen island to your design, if the space will allow for one. An island can add a great storage option, as many of them feature drawers, cabinets and convenient features like pull-out garbage cans or wine racks.
Another decorative flourish to consider in a galley kitchen is lighting. Many galley kitchens utilize most, if not all, of the available height of the space for cabinets—which can mean that upper and lower cabinets are nearly flush with the ceiling and floor, respectively. To ensure that the space doesn't look too cramped, try creating the impression of an overall taller design. Consider adding subtle decorative lighting below and above the cabinets; this will illuminate the floor and ceiling and expand your galley kitchen visually.
More Kitchen Accessories and Decorating Ideas