What You Need to Know About Adding a Kitchen in Your Basement
Building a kitchen in a basement takes some special planning and considerations. Here's what you need to know and what you might expect to pay.
A kitchen in your basement can help turn the space into a rental unit, plush guest suite or a more enticing entertaining space. If you've ever remodeled a main-level kitchen, you know there are often difficult design choices, building challenges and a whole lot of inconvenience. Basement kitchens require similar considerations but with below-grade ramifications. We'll have a look at how basement kitchen installation differs, starting with fundamentals and then looking at design.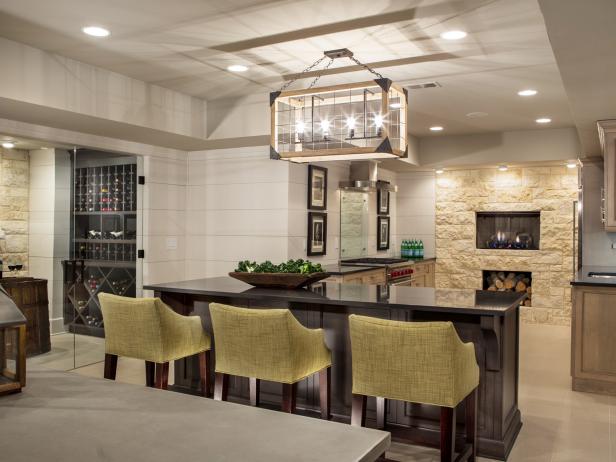 Sleek, Chic Kitchen Makes Most of Basement
This chic basement kitchen has easy access to a built-in wine cellar via frameless glass doors.
Pineapple House Interior Design
Finished basements require at least one emergency exit in the form of a door leading directly outside or an egress window (a sizable window that can be used as an exit). If you are starting with an unfinished basement and don't already have an egress, you should consider this early in your planning because it can be difficult to add later. You'll want to avoid utilities and ensure you don't mess up your foundation drainage system, or cut into your usable wall space. (You don't often see kitchens in the middle of a room!) Along with the egress, your basement kitchen will also need to work around the electrical panel and any utility lines, ductwork and plumbing valves that must remain accessible, as well as pillars and structural supports. An architect or contractor can help figure out how to integrate these details into a newly planned space. For example, you can hide ductwork and pipes behind a tray or coffered ceiling or wrap a support pillar in finished wood and use it as part of the kitchen bar.
Cost: Including the window, egress installation will run somewhere between $2,500 and $5,000. If a basement walkout is an option, a door plus installation will cost between $2,500 and $10,000.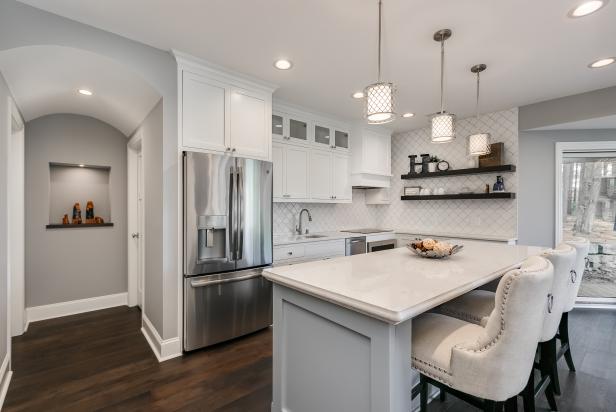 Bright White Basement Kitchen
There are many reasons for including a kitchen in your basement finishing project — as part of an entertainment space, a student or in-law suite, a rental unit or even a home business. Basement kitchens require the difficult design choices and practical building challenges of main-level kitchens, but with below-grade ramifications.
Jeffrey Bartol, courtesy of FBC Remodel
Go With the Flow: Electric, Gas and Plumbing
A kitchen is a power hog and depending what you include, could require several dedicated circuits for appliances, outlets and lighting. You'll also have to extend your gas line if you want to install a gas range. Household plumbing consists of cold water, hot water and drains, and you'll need it all for the kitchen sink and dishwasher. If your washing machine is also in the basement you may have access to plumbing, but Jamie Saer, project manager for FBC Remodel in Denver, explains that you never want to assume that the desired plumbing will work in your existing system. The first step is to map your drainage. "A lot of this can be figured out with a simple drain video, usually $150 or less. [It] will locate your drain lines and tell you how big and how deep they are," Saer says. Also, homes in which plumbing exits above the basement slab will require specialized equipment that could include a backflow valve — exactly as it sounds — and a special ejector pit, which Saer explains works like a sump pump for waste.
Cost: You could spend thousands on this part alone — or substantially less if you have plumbing and electrical lines handy and can avoid having to install specialty plumbing or upgrade your electrical panel.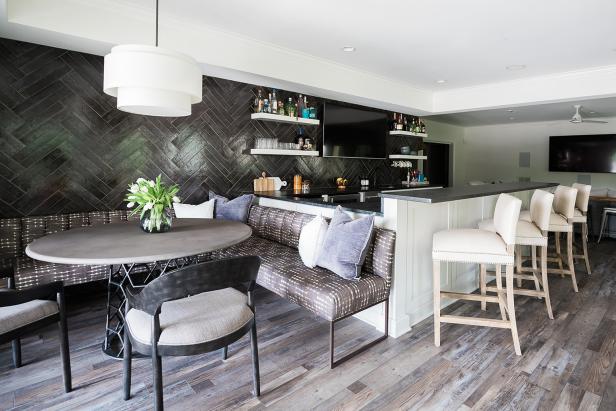 Black and White Basement Bar and Dining Area
This black and white basement bar area features black herringbone tile walls, white upholstered tabletop bar stools, a round cafe table with black chairs and sectional seating, a white drum shade pendant light, and white floating shelves.
Finished basements have general ventilation requirements in the form of openable windows or mechanical ventilation, and kitchens with ranges have their own supplemental needs. Range hoods have the important job of removing moisture, odors and — if things aren't going right — smoke from our kitchens. This job is doubly important in the basement where adequate ventilation can be a struggle. Range hoods come in two varieties — ducted and nonducted — where the former vents to the outside of the home and the latter pulls air through a filter and redistributes it in the room. Nonducted exhaust fans are not good at removing moisture from the air, a service we certainly want downstairs. The ducted exhaust fan comes with its own complication: It can be powerful enough to backdraft a furnace or water heater (pull the appliance's exhaust air into the living space) if not installed with a makeup air system. Also, vents must duct outside and not just anywhere: They have to terminate a certain distance off the ground. McKinley Miller, a designer with FBC Remodel in Chicago says she would never recommend a downdraft range for a basement kitchen simply because of the added expense of the exhaust, explaining that "you have to vent through the outside of the house, which adds considerable cost and need for construction. Though kitchens can really be customized to what you need, your budget is going to be the determiner in what you do or don't add." The moral of the story is to plan ventilation early in the design process and engage the help of professionals who know how to get the ventilation piece right.
Cost: Kitchen ventilation can be as low as $100 using a microwave's vent to closer to $3,000 if you want to purchase a nice range hood and vent it out of the house.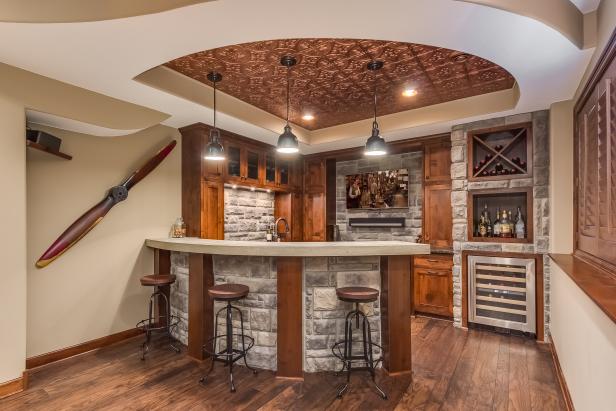 Basement Kitchen with Copper Cladded Tray Ceiling
There are many reasons for including a kitchen in your basement finishing project — as part of an entertainment space, a student or in-law suite, a rental unit or even a home business. Basement kitchens require the difficult design choices and practical building challenges of main-level kitchens, but with below-grade ramifications.
Jeffrey Bartol, courtesy of FBC Remodel
Hardwired smoke alarms are required in all finished basements; the amount will depend on the size and layout of the space. The National Fire Protection Association (NFPA) says to install the basement alarm away from ducts and drafts and 10 feet from any cooking appliances in kitchens. A carbon monoxide alarm may not be required by code, but the NFPA recommends it, especially if you have a gas appliance. You also are not required to have a fire extinguisher but if you're an aspiring contestant for Worst Cooks in America, you may want one.
Cost: Smoke and carbon monoxide alarms can be purchased cheaply, but if your local code requires the hardwired variety it could cost $100 per unit to install.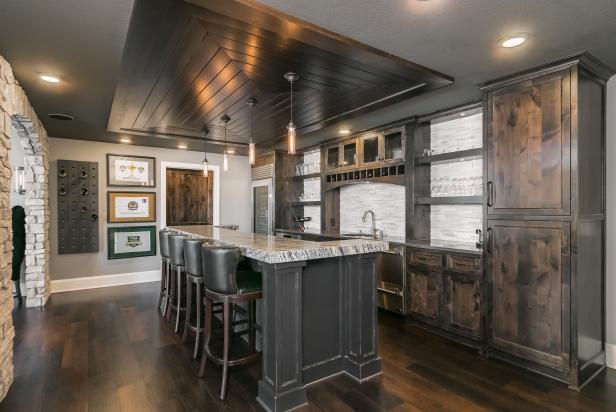 Beautiful Basement Kitchen in Dark Wood and Gray
There are many reasons for including a kitchen in your basement finishing project — as part of an entertainment space, a student or in-law suite, a rental unit or even a home business. Basement kitchens require the difficult design choices and practical building challenges of main-level kitchens, but with below-grade ramifications.
Jeffrey Bartol, courtesy of FBC Remodel
Appliances: Meditations on the Microwave
Refrigerator, dishwasher, range, microwave — all the usual kitchen appliances can be used downstairs as well as the fun ones like a kegerator, wine fridge and pizza oven. That said, what is actually necessary? Designer McKinley Miller says that during this stage of planning she urges homeowners to consider the distance from the main level kitchen to the basement. "If you need to use the cooktop, for example, can you just walk upstairs instead of the cost and construction to create a second cooktop in the basement?" If space is at a premium, size is likely the top consideration in appliance selection. Small doesn't necessarily equal inexpensive in the appliance world and installation requires the same work no matter the size. The good news is that if you research your appliance selections well ahead of time, they may be on sale at some point during your design deliberations. Don't forget to consider utility line obstacles when planning appliance locations.
Cost: Appliances run the gamut in price, from a $50 microwave to a $10,000 refrigerator or range. HomeAdvisor estimates that you'll pay roughly $190 for each appliance to be installed. Together with those service line considerations we examined, this portion of a kitchen installation accounts for the biggest project expense.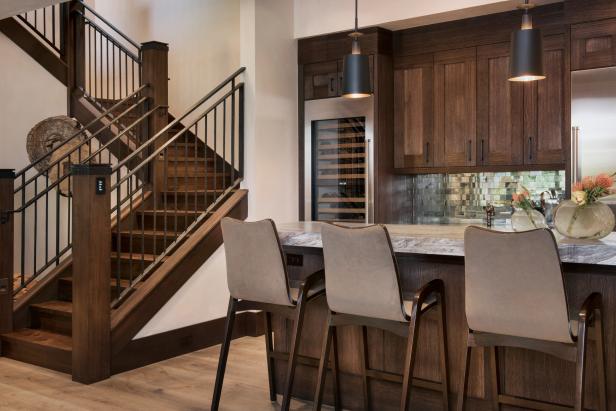 Fully Equipped Basement Bar
This lounge area on the bottom level of an Avon, CO home features a modern wine cellar and eat-in island that's perfect for intimate meals while enjoying a cocktail.
Slifer Smith & Frampton Real Estate, a member of Luxury Portfolio International
Cabinetry and Countertop Contemplations
If the basement kitchen you're designing is a secondary kitchen for your home, it's doubtful you'll have the same cabinet or counterspace requirements as upstairs. So, like the appliance selection, consider this kitchen's use. Entertainment kitchens with glassware, bottles, snacks and serving dishes will have markedly different needs than full-meal kitchens requiring preparation room and storage for big pots and countertop appliances. The size of your space and personal aesthetic may determine the choice of whether to use upper cabinetry or floating shelves. If your ceilings are low, however, it is important to keep eye-level clutter at a minimum. Including a bar gives you food preparation room plus an eating area atop a sizable volume of cabinetry.
Cost: As little as $500 for small or modular solutions to as much as $20,000 for high-end cabinet and countertop materials and large-scale projects.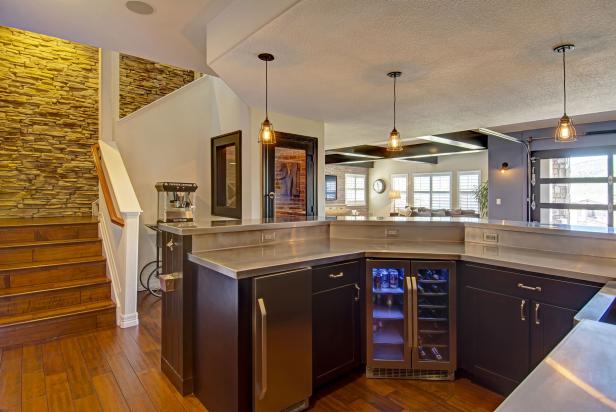 Renovated Basement With Wet Bar and Industrial Lighting
This spacious basement was renovated to include a wet bar with industrial pendant lighting and a stainless steel countertop. The nearby staircase features a stone covered accent wall and hardwood steps.
©Finished Basement Company
Reflections on Light and Color
With little light from windows and doors and those pesky low ceilings, basements often suffer from lighting challenges, but these are surmountable with new LED technologies and smart design. Recessed ceiling lights and under-cabinet lighting are both on the menu, as are pendants and chandeliers. Local code will dictate certain aspects of lighting design like minimum amounts of light and distance from the bottom of fixtures to the floor. The strategic use of reflective elements in the space — glass, mirror, glossy tile, metallic cladding and finishes — will make the most of the light you have. Wise color choices for walls, floors, cabinetry, countertops and backsplash can also change the dimensions of the room. You might be tempted to avoid dark colors in a basement, but don't give in: The counterbalance of dark or bold accents make the most of the lights you're using. HGTV home giveaway designers often feature striking colors and patterns in their basement designs because doing so adds so much personality and energy.
Cost: Installing kitchen lighting will likely cost $75 to $250 per fixture, according to HomeAdvisor averages. Professionals painters often charge $300 to $500 a day and decorative finishes will run into the thousands. Tilers charge roughly $25 to $32 per square foot to install a backsplash.
Brighten, heighten and highlight your basement walls with these flattering paint colors.
Topping It Off: Ceiling and Flooring
Kitchen ceilings can be finished in drywall or a drop ceiling. The latter has the benefit of keeping utility lines accessible. Simply painting or cladding the ceiling can allow for a drop ceiling while retaining the needed height in the space and open up more lighting possibilities. A coffered or tray ceiling is a smart solution because it allows height where possible and masks utility lines and ductwork with the framed portion. Choose basement flooring for durability and moisture resistance. Ceramic tile and luxury vinyl are attractive and hardwearing choices for this area.
Cost: The ceiling could cost between $2-$25 per square foot for simple drywall to a coffered or decorative ceiling treatment. Surface flooring can run between $1 to $40 per square foot.
Explore today's choices for basement floors including luxury vinyl tile, hardwood, carpet, porcelain tile, specially dyed concrete and yes, even laminates.
Code: A Kitchen by Any Other Name
As you may have noticed, custom kitchen installations are complicated. Code can dictate quite a lot about your kitchen build — materials, handling of electrical and plumbing lines, individuals who can complete the work (licensing) and details of the layout and execution. Additionally, local zoning bylaws can prohibit a secondary kitchen altogether or force modifications to your original idea. In some regions, a kitchen is defined by what it does (provide a space for the preparation of food). In others, a kitchen is defined by what's included in it (a space with a range, sink and refrigerator). You'll hear the term kitchenette bandied around quite a bit in basement construction because it's often used to describe a small kitchen where basement space is limited. In practical terms, kitchenettes or partial kitchens (under some building codes) have limited countertop space and cabinetry with fewer appliances. Wet bars can incorporate all aspects of a full-size kitchen but omit the range. Really, what you call your space hardly matters: The important part is marrying what you want with what your municipality allows. If full kitchens with a range are prohibited but partial kitchens, kitchenettes or wet bars are permitted, well, maybe you'd rather have a wine fridge anyway. Project manager Jamie Saer recommends avoiding a range, cooktop or oven to spare yourself many of the code headaches and regulatory problems, noting that between microwaves, toaster ovens and hot plates you can get much of what a range offers anyway. If you do want a full kitchen, he recommends starting with the zoning paperwork. "A lot of it relates to how many people can be in a house and avoiding random rental properties."
Cost: HomeAdvisor national averages run $1,305 for a building permit, but it depends on your location, the size of the kitchen and what you are including in the build.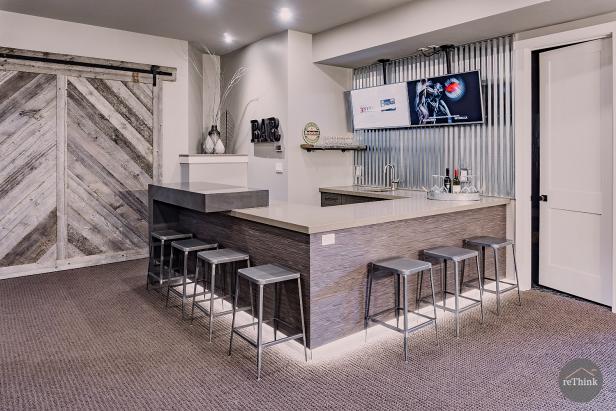 Contemporary Bar With Metal Wall
This bar is contemporary and cool with a corrugated metal accent wall, barn-style door and cantilevered bar area.
Who Can Help and for How Much

The building aspects of a basement kitchen installation can be challenging to DIY, and licensed professionals are required to perform the electrical, gas and plumbing work in most areas, so the idea of hiring a basement contractor or firm is desirable. Small-footprint modular kitchens that include sink, countertop, cabinets and drawers are sold by Ikea and others in limited colors and styles for as little as $500. You'll still need to purchase the faucet and appliances and engage the services of a plumber and electrician, but this budget option may be all you need for a mother-in-law suite or short-term rental. Custom basement kitchens are similar in cost to their upstairs cousins, although you may save money simply because of practical limitations on space and the types of appliances and finishes you can use downstairs. Saer explains, "If it's truly a secondary kitchen then you probably won't be spending the same amount of money as you would for the main kitchen of your home. However, costs can add up if you start having to modify existing structural or mechanical components to make a particular design work." HomeAdvisor estimates a professionally installed kitchen will cost $25,000 to $50,000, with high-end materials increasing the price tag substantially. A basement contractor can plan the construction portion but may require the help of designers and architects for the plans, which can add thousands to the price. The alternative is to use a design-build firm that does it all. You'll likely pay 25% more than a contractor, but in exchange, you get a team approach involving designers and professional tradespeople overseen by a project manager to handle everything for you, from design through execution.
Aspects of Basement Finishing