Adding a Basement Kitchen
Create a welcome space for guests staying the night or an additional area for everyday needs by designing a basement kitchen.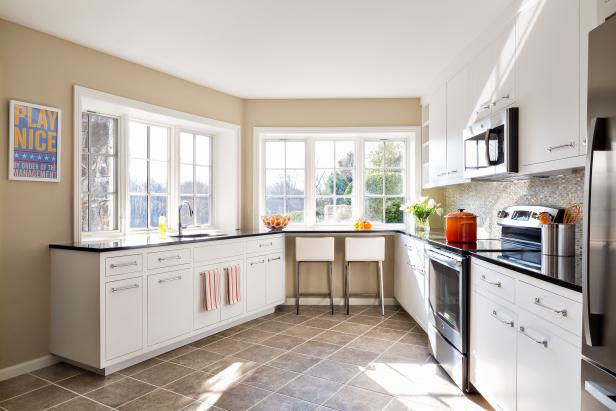 Neutral, Light-Filled Basement Kitchen
Neutral walls, clean lines and white cabinetry characterize this transitional kitchen, which provides maximum function in this basement-level space. Wide windows take advantage of the views and bring in a surprising amount of light. Sleek quartz countertops, modern barstools and a glass tile backsplash give the room contemporary flair.
By:
Caroline Shannon-Karasik
A finished basement can be used for many purposes including a multimedia space, bar area or fitness room. But often a renovated basement is designed as an extra guest room. In this instance, it is worth considering a variety of basement kitchen ideas.
The first step to installing a basement kitchen is to design the space. Proper fire exits, how to ventilate cooking fumes and the best route for connecting appliances, like a dishwasher, to the basement plumbing are all important when deciding on the layout for a basement kitchen.
It is also important to decide what fixtures, flooring, lighting and appliances will work best for the basement kitchen that works best in your home. Budget is, of course, another factor to consider.
If a full-scale kitchen is too large or costly for your basement space, then you may want to consider a kitchenette. A kitchenette provides necessary amenities, like counter space, a dishwasher and a sink, without some of the larger appliances that may be included in a full basement kitchen.
Other Things You Need to Know About Basement Plumbing