White Transitional Kitchen With Old World Appeal
Designer Bo Li created this transitional kitchen space, complete with detailed tile accents and Old World design appeal.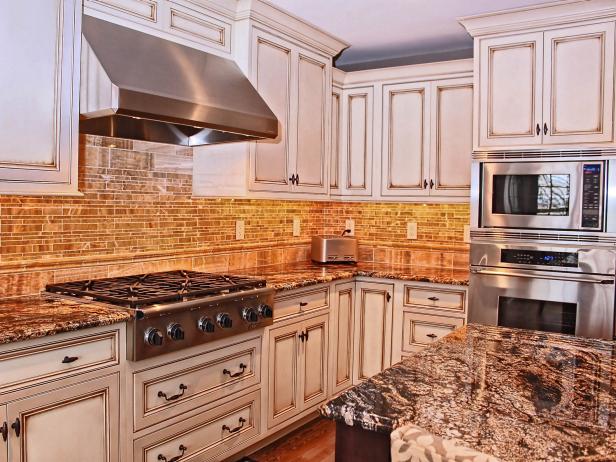 Transitional Family Friendly Kitchen
A multi-functional kitchen was the name of this design game. This kitchen is transitional and spacious yet functional and allows for food prep just as easily as entertaining friends and family.
Given the task of turning a small kitchen into a transitional space, designer Bo Li came up with this spacious design. Leaning on white cabinetry, rich tiles and countertop surfaces, and a simple flow into the dining space, Li created a stunning kitchen area that leans on a bit of Old World design inspiration.
What were the main items on the owner's wish list for this space?
A functional space. They really utilize and cook in the kitchen and wanted a space that was reflective of how often they would be using it.
What was the single-largest issue you wanted to address?
The issue was that the kitchen felt separated from the family room. It is not a very large space, so it was important to take advantage of every square foot without it feeling cramped. As a result, we created a spacious but very functional space.
What was your biggest obstacle in this space?
The homeowner didn't know the exact style she wanted and had a very difficult time envisioning a product in a finished space. We did a lot of listening and going through various pictures to help discover her style and vision.
How does the end result match up with your original vision for the space?
Nothing about this project went as planned, from the planning phase through construction. In the end, however, the space exceeded the homeowner's expectations. With patience and the determination to do it right, the final product is one we were all proud of.
What surprised you the most about this project?
We learned that with custom materials there can be so many variations. When a project is full of custom, natural materials, it is important to educate a homeowner on each product. That way the right expectations are in place and surprises are kept to a minimum.
What are the hidden gems in your plan?
I always saw how well a project is finished reflects how well it was planned. I like to have all the main items selected together before a project starts to ensure that it will all fit together. I think samples are important when using natural materials, as we know every stone slab and bundles of wood finishes can look different.