Building an Outdoor Kitchen
Function plays a more important role than aesthetics in the outdoor kitchen.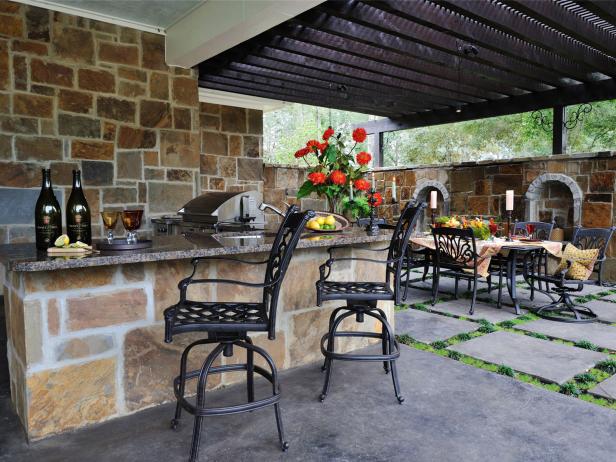 Outdoor Kitchen and Dining Area With Barstools
This decadent outdoor kitchen makes al fresco entertaining a breeze. Adjacent to a covered dining area, it features a gas rotisserie grill, a smoker, secondary gas burner and refrigerator.
Whether you're looking to build your own outdoor kitchen or hire a team to help, building an outdoor kitchen can require nearly the same amount of investment, time and resources as creating an indoor kitchen.
Outdoor Kitchens: Gas Grills, Cook Centers, Islands and More
See All Photos
Of course, the benefits of creating an outdoor kitchen oasis are tangible. A party-ready patio equipped with a kitchen, dining area and comfortable seating can be as perfect for large gatherings as it is for an intimate dinner for two.
For homeowners wondering exactly how to build an outdoor kitchen, it's important to start with the basics: the location (especially for electric, plumbing and gas considerations) and the grill (the centerpiece of every outdoor kitchen!).
Next, determine which features will provide the most bang for your buck. High-quality appliances are a must, as is a form of shelter (shade, pergola or awning) to protect your investment.
Don't overlook lighting for safety purposes, and remember that function plays a more important role than aesthetics in the outdoor kitchen.
More Outdoor Kitchen Ideas
Other Outdoor Kitchen Inspiration