How to Thoroughly Organize the Refrigerator to Achieve Full-On #FridgeGoals
Transform the inside of your fridge with these foolproof tips and editor-approved products.
Keep in mind: Price and stock could change after publish date, and we may make money from these links.
Until recently, I had no idea that there was a right or wrong way to organize a refrigerator. But after making one too many trips to the grocery store to grab something that we already had in the crisper and pushing past half-empty bottles of hot sauce just to reach the salad dressing, I started to suspect that there was a better way of doing things. So I looked into it. And let me just say that the results rocked my world.
As it turns out, not only is there a more efficient way to arrange the contents of your fridge, but it's also so aesthetically pleasing that it has its own hashtag: #FridgeGoals. Think color-coordinated crispers and neat stacks of yogurt, acrylic drink dispensers and eggs out in the open, etc. Totally drool-worthy and surprisingly doable with the right accessories. (Plus, this method will help you cut down on food waste and save you money each week.) If that sounds good and you're ready to "flip" your own fridge, then just keep reading to get all of my tips.
1. Put Things in Practical Spots
I'm pretty sure that "Getting to Know Your Fridge" wasn't covered in Home Economics, so it's okay if you didn't know that some parts of your refrigerator are actually warmer and colder than others. But here are the basics: The top shelf and door tend to be the warmest "zones", while the middle and bottom shelves get progressively cooler. So, you should keep condiments in the door, dairy products, eggs and spreads on the upper shelves, meats and milk on the lowest shelf and fruits and vegetables in the crisper. (More on that in a moment.)
But by putting everything in its proper place, you can help your food last a little longer and avoid spending more at the grocery store.
2. Remove Packaging, Invest in Clear Bins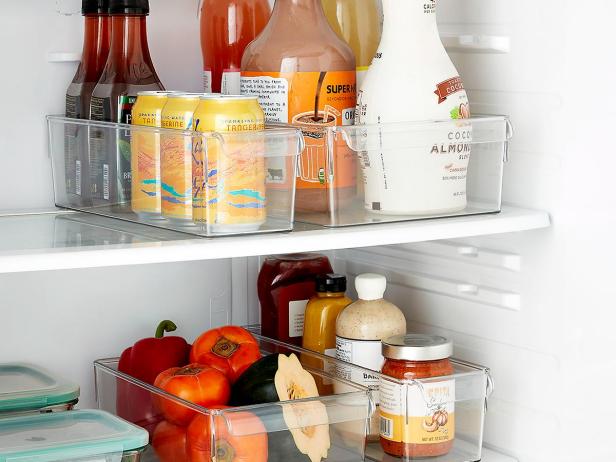 Does anyone love looking at plastic bags and cardboard boxes? I think not. Go ahead and remove the packaging around your fruit, eggs, cups of yogurt, cans of sparkling water, etc. Then, use clear matching containers to organize your items by category and corral them. This step will help your fridge feel a little more uniform and ensure that you can see exactly what's available. And if you have a surplus of condiments (I know I do), you can always use a small lazy Susan for everyday essentials, like ketchup and mustard.
Buy It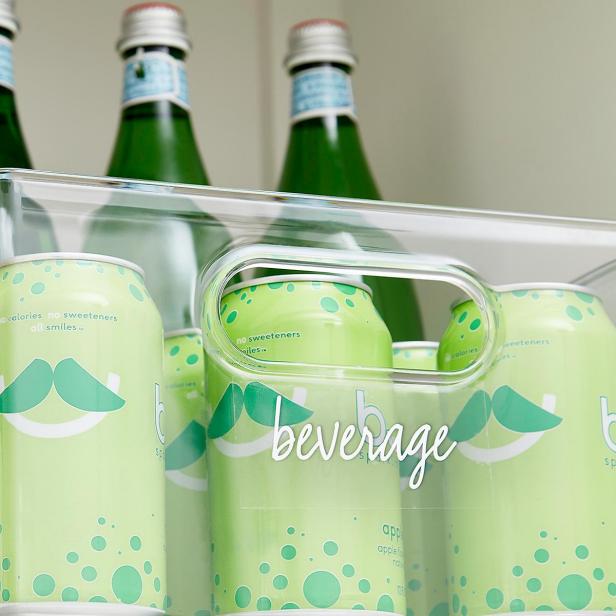 Once you have your clear storage bins, label them with these pre-written stickers. This will help your family find what they're looking for and ensure that everything returns to its proper place in the refrigerator. The script-style handwriting is easy to read and lists everything from "cheeses" and "deli meats" to "leftovers," "snacks" and "sweeteners."
Buy It
4. Keep Perishables Front and Center
You know that saying, "Out of sight, out of mind"? It's way too easy to forget about things like apples, berries and eggs because they're hidden at the back of a shelf or under a lid. So, I say empty all those perishables into colanders, crates and small fruit bowls, and then put them front and center where everyone can see them. This will remind your family to use the perishables first and help prevent unnecessary food waste.
5. Add Lining to Your Bottom Shelf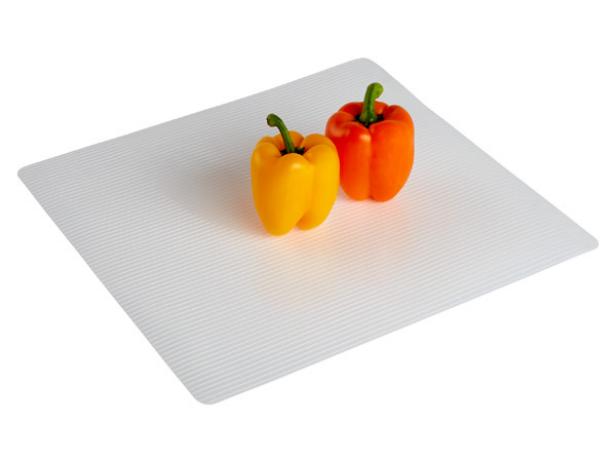 Remember what I said about stashing meat and fish on the bottom shelf? Part of the reason that's such a wonderful idea is because if those brown paper-wrapped packages leak, the juices won't drip onto everything else. What's more, you can make cleanup a breeze by adding liners to your shelf and crispers. This package features three pre-cut ribbed liners, which will help air circulate around your food and ward off mold and mildew.
Buy It
6. Separate Your Fruits and Veggies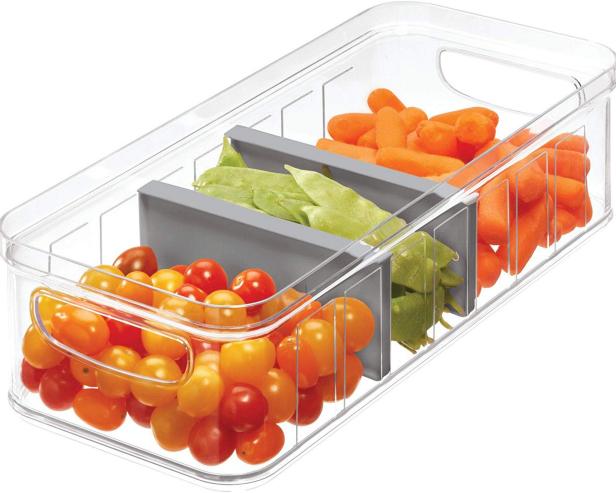 By now, you probably know that you should separate your fruits and vegetables. (Especially since most fruits produce a gas that can cause vegetables to decompose faster than usual.) But if you really want to make your fridge a feast for the eyes, then you can also install a bin with built-in dividers to further separate your items. A divided crisper drawer would prevent carrots and tomatoes from rolling around and make it easier for your kiddos to grab a healthy after-school snack.
Buy It
Want to see our tips in action? Check out the video down below.
More Easy Does It
Refrigerator Storage Hacks
01:32
Keep your refrigerator clean and organized with these helpful hacks.