The Best Kitchen Canisters and Dry Food Storage
Keeping fresh food and a fashionable pantry is easier than you think. Shop our favorite storage containers and canisters for the organized kitchen of your Pinterest board dreams.
Keep in mind: Price and stock could change after publish date, and we may make money from these affiliate links.
If your dry goods are overwhelming your kitchen pantry or cluttering your countertops, it's time for a change. Bring order to the chaos by investing in a set of cohesive dry food storage containers and kitchen canisters that work overtime to bring next-level style and function to your daily routine. Plus, airtight storage containers guard your food against passing pests and maintain food freshness longer than the packaging it came in from the store.
If you're overwhelmed by never-ending options online and unsure what type of storage containers would work best for your lifestyle, you're in the right place. There are, quite literally, endless containers to choose from and some will be better suited for your goals than others.
Choosing the Right Kitchen Canisters
First, ask yourself what food items you want to store. Are you searching for a pup-proof storage container for dog food? A light and air-shielding container for coffee beans? A space-saving solution for dry spaghetti? It's helpful to have an idea of what you want to store before you start shopping.
Determine Where Your Canisters Will Live
Your next move? Figure out where you plan on storing your items. Do you want to keep your baking staples accessible in glam canisters on your counter? Or do you want to maximize your pantry space like an organization pro using a sea of cohesive containers? There's no wrong answer, but determining your desired dry food location gives you a jumping point for measurements and aesthetic requirements.
Consider the Material of Your Canisters
The final factor to consider is what material you want your dry food containers to be. Plastic containers are versatile, space-saving and make ideal additions to your pantry closet or lower cabinets. Eco-friendly ceramic, metal and glass containers are visually striking and are perfectly poised to become a permanent fixture on your countertop.
Once you make it through the failproof checklist, you're ready to shop! Find the best dry food storage containers and kitchen canisters to cater to your storage needs in the links below.
Make the most of your small kitchen with a streamlined food storage system customized to fit your needs. The Mepal Modula Stackable Storage Containers from Food52 earn our blue ribbon for pint-sized kitchens. The space-savvy collection includes four container sizes that work for standard pantries and deep drawers alike. Pick and choose between the sizes based on your go-to groceries, or snag a set of five or seven to cover all your bases.
Buy It
Stale, flavorless coffee is no way to start your morning. Leave the lackluster lattes in the past and treat yourself to rich, aromatic coffee at the start of every day with these opaque storage containers from Food52. The innovative, stainless-steel containers maintain coffee bean freshness using a patented lid technology that pushes air from the canister. And, as the name suggests, the sleek containers feature an opaque finish that blocks out sunlight to preserve your beans' freshness longer than ever.
Buy It
The OXO Good Grips POP Food Storage Container Set is a popular fan favorite and for good reason! The three-container set makes a failproof addition to any pantry arsenal. Each airtight plastic container comes with a pop-handle lid and holds 4.4 quarts, providing sleek storage for five-pound bags of daily baking essentials like flour, sugar or oats. Half-cup scoops attach beneath each lid, and the containers' corners are designed for mess-free pouring every time.
Buy It
Keep your spices within reach and in tip-top flavor with this spice storage rack from The Container Store. The compact set includes a modern acrylic rack, 20 glass spice bottles with removable plastic sifters and 48 pre-printed spice labels. Bonus: Each kit also includes 12 blank labels for a bottle of your homemade Cajun blend or your favorite local BBQ spot's iconic seasoning.
Buy It
For salt and pepper that you may want more accessible than the rest of your herbs and spices, these large salt cellars are perfect. This particular box comes in several combos of acacia wood, white marble and black marble. If you use one with a wood base and white marble top for salt and another one with a wood base and black marble top for pepper, you can easily identify which is which. Plus, they'll look beautiful on display and easily accessible next to your stove or prep area.
Buy It
We're sorry, there seems to be an issue playing this video. Please refresh the page or try again in a moment. If you continue to have issues, please contact us here.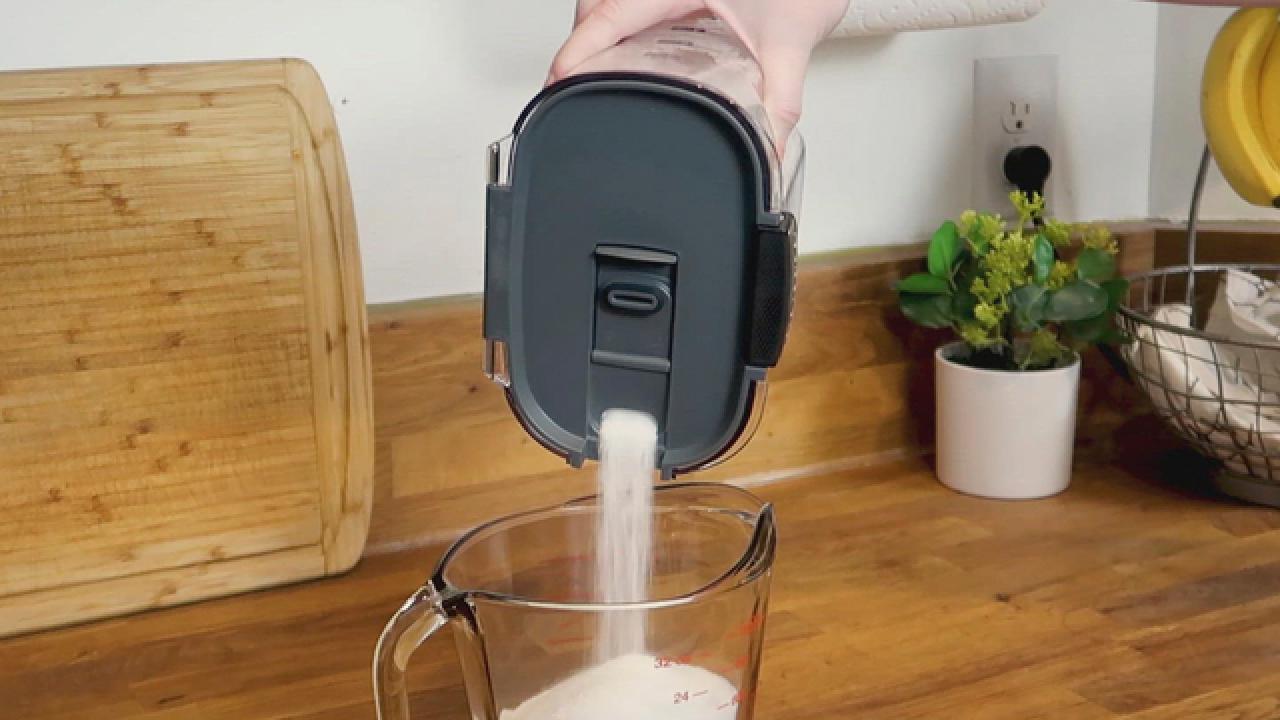 More Kitchen Organizing Ideas