You're Just 7 Products Away From a Perfectly Organized Kitchen
Create a functional, beautiful kitchen with everything in its place.
Keep in mind: Price and stock could change after publish date, and we may make money from these affiliate links.
Updated on February 16, 2023
Fumbling through cluttered kitchen drawers, pushing aside loose cleaning bottles for the container of dish soap, searching for a food storage lid — it doesn't have to be like this. Clever solutions like drawer dividers and wall-mounted storage take the frustration out of everyday tasks by making household items more visible and accessible.
When you can't stand the mess anymore, these clever organizers will get your kitchen into tip-top shape for weeknight meals, weekend baking and everything in between. See the seven nifty gadgets that quickly brought order to our disorganized test kitchen.
Photo By: Brittney Gazaway
Constantly fumbling around for matching food storage lids or your favorite baking sheet? An expandable cookware rack will make those frustrations things of the past. With an adjustable rack, you can store lids, pans, cutting boards or bakeware in upright positions, making it easier to find the exact item you need. We set up our lids in deep drawers next to nested containers and had no issues with everything staying in place. You can also use this rack for filing pans in a larger cabinet, especially if you have non-stick pans that need separation to protect the non-stick surface from scratches and friction caused by stacking pans.
Buy It
Photo By: Sarah Busby
Laying out spice bottles horizontally in a drawer makes it easy to see at a glance what you have on hand. The beauty of this one is its expandable design, so you can fit it into any kitchen drawer. We got serious satisfaction out of seeing our spices and pretty baking supplies laid out so nicely.
Buy It
Photo By: Brittney Gazaway
Talk about a multipurpose buy. This clear plastic caddy mounts to any surface, providing instant storage. We like using it on a cabinet door under the sink to hold extra cleaning supplies or on a tiled backsplash to corral olive oil and vinegar bottles.
Buy It
Photo By: Brittney Gazaway
Loved by professional organizers and real-life homeowners alike, extendable drawer dividers allow you to customize storage space to fit your needs. These dividers are perfect for non-standard drawer sizes and for getting a custom look in the kitchen. They can even be used to sort deep drawers or vertical cabinets. We were amazed at the transformation that took place in our own drawers. Some drawer organizers are sold as one piece, but we loved that these dividers could be moved and arranged to fit our exact needs.
Buy It
Photo By: Brittney Gazaway
To really maximize vertical space in the kitchen, store coffee mugs, dry food, dish towels or aluminum foil in an under-mount basket. This instantly creates more storage where before there was none. We liked using these underneath our open shelves to create a little coffee station. The basket was the perfect height to store mugs and looked less cluttered than a countertop organizer.
Buy It
Photo By: Brittney Gazaway
Ditch the bulky boxes of tea and instead separate tea bags by flavor in one handy organizer. Twelve clear plastic removable bins hold up to 120 tea bags and allow you to quickly see what options you have on hand and what varieties need replenishing. We loved that this box looked like a display at a local coffee shop. The setup was super simple and using it makes everyday tea-making feel special.
Buy It
Photo By: Brittney Gazaway
Narrow down your knife assortment and ditch the bulky knife block in favor of a sleek wall-mounted magnetic strip. Not only does this storage option free up counter space, but it also allows you to show off a curated knife collection. The wood finish options from this small Minnesota-based business Woodsom really sold us on this particular knife strip. Instead of looking like just another piece of metal in your kitchen, the beautiful wood strip serves as a rustic accent that keeps knives organized. Choose from 12 wood finishes and 12 sizes, or you can even customize the length in your order.
Buy It
We're sorry, there seems to be an issue playing this video. Please refresh the page or try again in a moment. If you continue to have issues, please contact us here.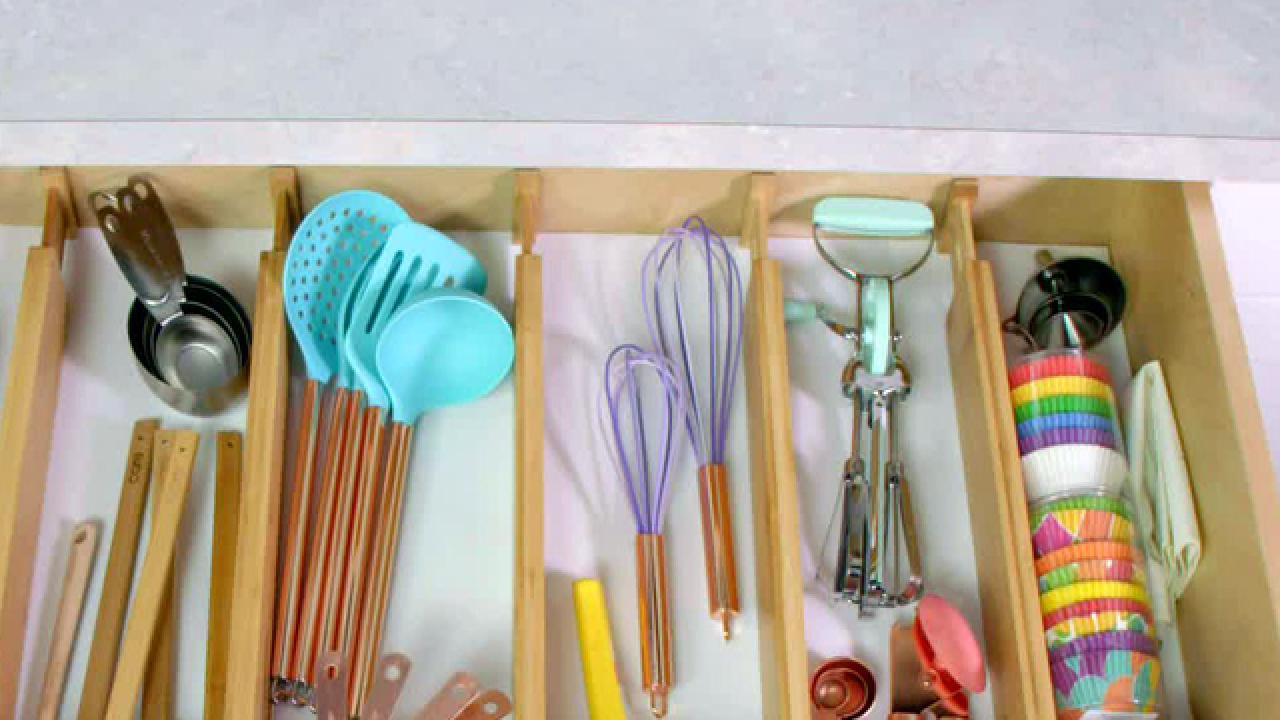 More Organization Buys You'll Love