10+ Ways to Prep for a Major Home Renovation
Say goodbye to unnecessary chaos during a home improvement project with these handy tips.
Do you think you might be the type of person who would break down under the pressure of a big home remodel? With patience, foresight and equal amounts attention-to-detail and willingness to adapt to change, you can navigate the experience and get through the process without losing your mind. Start by following these tips, and commit to a roadmap that'll leave you thinking "Okay, that wasn't too bad."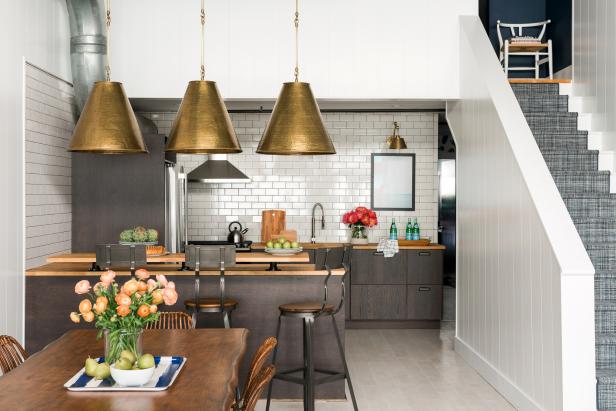 Functionality is Key
When it was time to rethink the loft's original kitchen the primary focus was making it more functional and MUCH larger. With the plumbing luckily located in all the right places, the reno was relatively painless. Cabinetry in a washed gray topped with butcher block looks clan and inviting. A nice mix of metals feels right at home to one another. A trio of over-scale pendants hovering above the elevated breakfast bar add just the right amount of drama to the space.
Take Audit of Your Belongings
Whether you're remodeling a bathroom or gut renovating your kitchen, having a list of your permanent home items is important for a few reasons:
For insurance purposes: It's not easy to keep track of your valued assets, so use this as an opportunity to list all of your belongings and their values.
Make it easier to clear out: Tidy up and decide whether there's anything you'd part with before the renovation. Sub-divide belongings into four piles: donate, sell, hand-me-down and save. Anything that won't be used post-renovation, get it out before you start the demo.
Identify a storage solution: Anything you are going to keep will need to be stored while work is being done in the space. Maybe you have a spare guest room or a basement, but for large items or seasonal items that may not be in use for a long time, consider renting a portable storage container you can park in your driveway or get a storage unit so that your belongings are organized, safe and out of the way.
Decide how much to keep at your fingertips during the renovation: How much do you really need to keep unpacked? For example, reserve one table setting for each family member during a kitchen reno and commit to cleaning them immediately after use, so they're ready for the next meal. Downsize your bathing products and accessories to fit in a simple shower caddy during a bathroom remodel, especially if you're having to borrow showers and bathtubs during construction. Keep the coffee maker unpacked if you can't go without your daily perks, but box up the blender if you only mix smoothies once a month.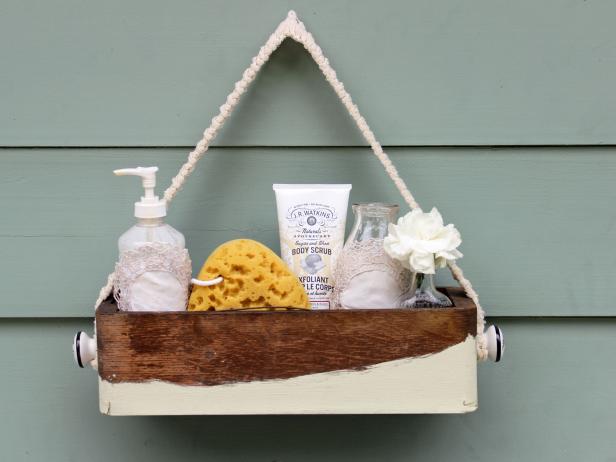 Chic Bathroom Caddy with a Rustic Look
Turn an old wooden box into a caddy for your bath and body essentials, or stock it full of travel toiletries for overnight guests. Hang the finished bath caddy in your bathroom, or the guest bathroom, and fill with a variety of bath and body potions only an arm's length away from the tub or shower.
Reduce the amount you'll need to pack by using it up in advance. Call it what you will – the "pantry challenge," the "use all your shampoo samples challenge," the "let's eat everything in the freezer challenge" – use it now and have less to deal with in the future.
Update Your Security System
During a renovation or remodel of any kind, there may be days when your home feels like a revolving door of designers, contractors and delivery people. You may be relying on these parties while you're at work or out of town, so put yourself at ease by adding security elements:
Buy an in-home safe to protect documents.

Use a video doorbell to monitor deliveries while you're away.

Install smart locks that can be easily reprogrammed to grant access to contractors for limited periods of time.
Keep Ideas, Contracts and Receipts Organized – Digitally
Make digital bookkeeping your goal. Spend a Saturday mapping your organizational structure.
Have shared idea boards with your family members and designers on sites like Pinterest.

Choose a cloud storage system and use your phone to scan and create PDFs to digitize contracts and receipts for permanent safekeeping.

Use shared spreadsheets and calendars to keep the important information available to anyone who needs to be in the know.
Have a (Safe, Functional) Appliance Plan
Putting your appliances out of service for any period of time is one of the biggest inconveniences of a kitchen renovation. Consider temporary downgrades, such as to a mini-fridge for simple necessities and a countertop-sized convection oven. Your outdoor grill might become your most-used accessory, so if you're upgrading that too, choose one that will fit your needs. Be certain that any appliances you're using are suitable for ordinary 120v outlet receptacles and consider upgrading outlets to GFCI to detect ground faults and protect your home. Put any appliances that require special ventilation in storage until they can be properly hooked up.
Think Through the Other Inconveniences Too
Consider joining a gym so you have somewhere to shower during a bathroom reno.

Adapt the home so that's it's more convenient to use different entryways.

Create a safe room for your pet if they will be left alone with workers during the day.

Add a drying rack for dishes to your bathroom, so you're less inconvenienced during a kitchen remodel.

Roll up area rugs throughout the house to keep them clean, both from work boots and from the dusty environment.

Keep extra fitted bedsheets available to cover furniture to prevent expected dust from settling on couches and chairs.

Attach plastic sheeting to the front of large open shelving units, to prevent items on the shelves from dust build-up.

Keep doors to other rooms closed during construction for dust control.
Rolling Out the Rugs
With all rugs laid side-by-side, next identify where the pattern repeat matches up on each rug. To do this, you may need to rotate each rug several times.