How to Organize Your Pantry in 10 Steps + Essential Products You'll Need
Follow these pantry organizing tips to make your kitchen look professional-level organized.
Keep in mind: Price and stock could change after publish date, and we may make money from these links.
Organizing the pantry is no small feat. You need patience and a keen eye to sort through all of the canned goods, cereal boxes, snack pouches and miscellaneous baking ingredients that have piled up. And then, once everything's organized, you need the whole family's cooperation to keep your pantry tidy.
But first, you need a game plan — which is where we come in. Here are 10 simple steps for organizing your pantry, plus our go-to products to help you get started.
Things to Look For in Pantry Organizers
Transparency: While it's certainly tempting to purchase matte black or glazed ivory canisters, we suggest sticking with clear bins as much as possible. The transparent sides will allow you to see your supplies and keep track of what's still in stock. Clear bins are also easier to mix and match, which will help your space look more uniform.
Stackability: Every inch of space counts in a pantry. So, when shopping for food storage containers, consider how they'll fit together. Square or rectangular containers with flat lids stack easily and will allow you to fit more items on the same shelf.
Functionality: Your organizers should make sense for the whole family. (Note: If they're easy to use, your partner or children will be more likely to keep the pantry clean.) If you have little kids, look for large open bins or containers with easy pop or flip-up lids. If you have tweens or teens, opt for containers with locking or screw-top lids for an airtight seal.
1. Start With a Clean Slate
Empty your entire pantry, and thoroughly clean it before you begin the organization process. Check expiration dates, and toss anything that's past its prime or no longer in use. This will free up space in your pantry and help things stay organized longer.
After clearing out old items, you can easily see what's left to organize and start assigning storage containers. Make a list of your pantry staples and update it regularly. When it's time to go grocery shopping, take your list with you.
Next, place like items together. A lazy Susan makes it easy to keep oils, condiments, snacks or baking essentials in one place so you can quickly find what you need.
Busy packaging can make your pantry look cluttered. Remove any plastic bags or cardboard boxes, and decant dry ingredients into clear canisters. Odd-shaped items, like chip bags and root vegetables, fit nicely in bins as opposed to being stacked loosely on the shelf. Choose clear food storage containers to keep everything looking cohesive.
Label bins, containers and shelves so every member of your household knows where items are located. Use a Bluetooth label maker for quick labeling or chalkboard labels so you can easily update the writing.
If you have doors on your pantry, hang organizers over them to free up shelf space. Canned goods, spices, oils and jars are usually good fits for these types of organizers.
7. Make a Kid-Friendly Spot
Fill a bottom shelf with water bottles, snack bins and cereal dispensers, so your kiddos can help put away groceries and grab something to eat. Use bins with built-in dividers to offer a variety of healthy choices (like protein bars, fruit gummies and crackers). Visibility and labeling are key so kids can keep up the organization.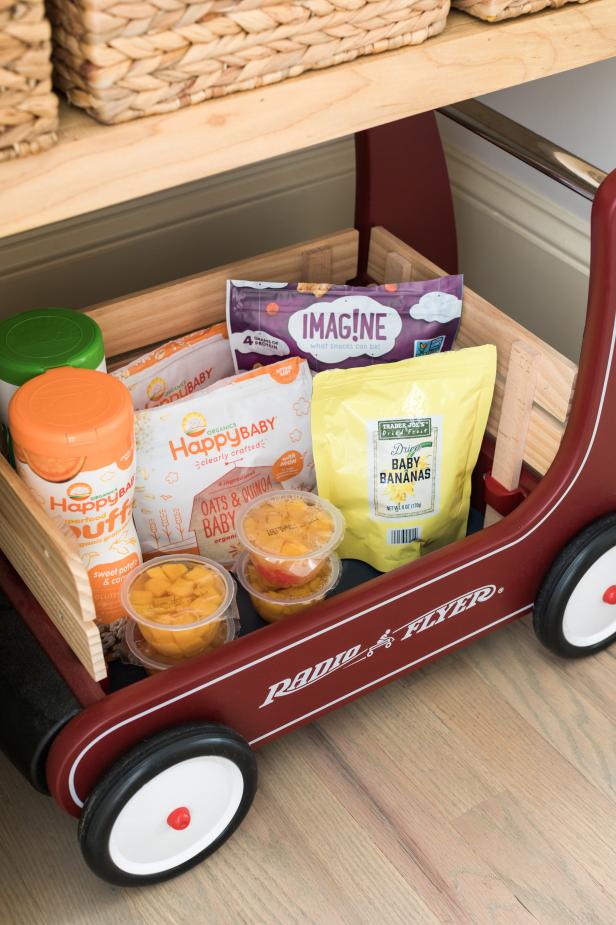 Mobile Kid Snack Station
Encourage your little ones to fetch their own healthy snacks by keeping them at kid height and in a rolling vessel that makes it easy to access and move to the dining table. This wooden cart has a vintage look and removable side panels for little ones to take out and put back their favorite parent-approved snacks.
If you have it, wall space can be a game-changer for organizing a pantry. Hooks can hold non-food items like aprons, brooms and reusable grocery bags. You can also use a wall-mounted bag dispenser to hold trash bags and easily replace what's in the can.
MORE IDEAS
Keep even the smallest pantry organized with these clever storage tips and smart, space-saving products.
Shelf liners can help prevent produce from falling through wire shelves and boxes from tipping over. Liners can also keep wet ingredients, like oils and condiments, from slipping off the shelves and spilling onto the floor.
Your pantry can get disorganized after a while. To help maintain your space, always put items back in their appropriate spot, and get the whole family on board by keeping food accessible and visible. Schedule a quick cleaning twice a month to make sure that everything is up-to-date and in place, so you don't have to spend hours organizing again.
Shop More Clever Organizers
7 Products for a More Organized Pantry
01:29
These smart storage solutions will keep the pantry organized and maximize usable space. From our favorite spice shelf to a smart label maker, check out our recommendations for pantry organizers that'll bring order to your food storage.
More Storage + Organizing Must-Haves