12 Best Kitchen Drawer Organizers, Trays and Dividers
Kick clutter to the curb with these life-changing kitchen drawer organizers for cutlery, cooking utensils, coffee pods and more.
Keep in mind: Price and stock could change after publish date, and we may make money from these affiliate links.
Nothing takes the joy out of cooking a family meal quite like pulling two back muscles while frantically rummaging through your chaotic kitchen drawers for your favorite spatula. Let's skip that entire scenario and make the kitchen your happy place again with some space-saving, streamlined and accessible drawer organizers.
How to Choose the Right Drawer Organizer
The first step to getting your kitchen drawers in tip-top shape is determining what items your plan to store in each drawer. Take cues from the location of each drawer when deciding what goes where. Store your spices near the stove, cutlery near the cabinet you store plates and linens near the sink. You get the idea.
Location, Location, Location
Once you have the location nailed down, take inventory of your cluttered drawers. Toss damaged pieces and donate any duplicate items that overwhelm your space. Editing your collection creates visual breathing room and provides the necessary space for your go-to kitchen tools.
Pull out your measuring tape and measure, measure, measure. Triple-check the size of your drawers before investing in any in-drawer organizing systems. It sounds simple, but do you want to spend your afternoon checking the tracking number and peeking onto your porch every hour only to open your new drawer organizers and realize they don't fit?
Put our tips to the test and shop our top kitchen drawer organizers in the links below.
Working with limited kitchen storage? Put the Yamazaki Expandable In-Drawer Utensil Organizer at the top of your shopping list. The life-changing organizer features three nesting trays that glide and expand to fit your cutlery drawer needs. Each piece expands to 17.75 inches to store your wooden spoon collection and contracts down to 9.5 inches, freeing up extra drawer space for linen towels, potholders or your trusty kitchen timer.
Buy It
Take your herbs and seasoning storage system to the next level with this sleek, expandable spice rack drawer organizer. The space-saving tray provides an in-drawer platform to display your spice bottles in one accessible location. The best part? You won't waste time searching for your lost shaker of salt because all your dry spices and herbs are front and center for stress-free seasoning.
Buy It
Few things compare to the frustration that is reaching into your coffee pod canister to brew your morning cup o' joe only to discover that you are, in fact, out of coffee. Keep your caffeine dreams alive with this in-drawer coffee pod organizer. The modern acrylic tray provides easy-to-reach storage for 16 pods at a time. Plus, each pod is stored label-up so you can keep track of your favorite flavors with ease.
Buy It
Storage container lids are the bobby pins of the kitchen. If you don't keep on top of them, they will grow legs and run away without an ounce of remorse. Our advice? Corral your flight-risk storage lids in one location with the YouCopia StoraLid system. Perfect for deep drawers or cabinets, the YouCopia Storalid features five adjustable dividers and two side handles for easy maneuvering.
Buy It
The Joseph Joseph two-piece knife holder and drawer organizer is the answer to your chronically cluttered kitchen dreams. The BPA-free plastic set includes one silverware organizer with storage for 48 utensils and a narrow knife block organizer with nine storage slots. Pair the hardworking duo side by side in a drawer near the stove for maximum efficiency. If you don't need the knife storage, you can also buy a slim flatware storage container from this brand individually.
Buy It
Make the most of your deep lower cabinet drawers with an adjustable pegboard organizer system. This budget-friendly set comes ready for customization with two pegboard trays and several pegs to support plates, bowls and more. Bonus: The storage strays double as mobile drying racks for delicate pieces.
Buy It
Keep your daily silverware and cooking utensils in one easy-to-reach drawer with this double-duty expandable organizer. The eco-friendly bamboo drawer organizer features five sections to break up your cutlery collection and two long side sections to stow larger tools like wooden spoons, silicone spatulas or tongs.
Buy It
The SmartStore Handled Tray Starter Kit is a must-have for tidy chefs and clutter-prone cooks. The two-piece set includes a pair of removable top-handled trays. Each tray comes equipped with two separate (and roomy!) compartments for storing essential kitchen tools. Pro tip: Remove, clean and reorganize your drawer organizers with the seasons to combat clutter throughout the year.
Buy It
We're sorry, there seems to be an issue playing this video. Please refresh the page or try again in a moment. If you continue to have issues, please contact us here.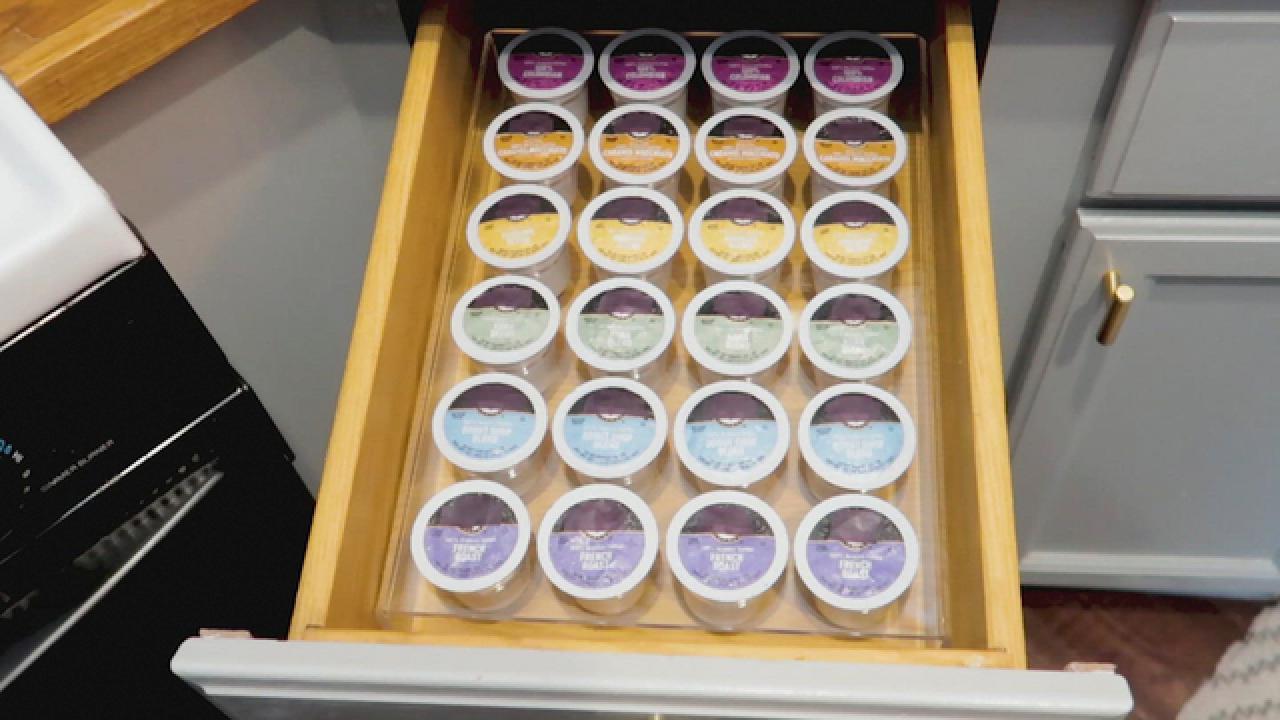 More Kitchen Organizing Ideas
Shop More Organizing Essentials