Get ideas and inspiration for tropical kitchen decor, and prepare to install a lively and bright design theme in your kitchen.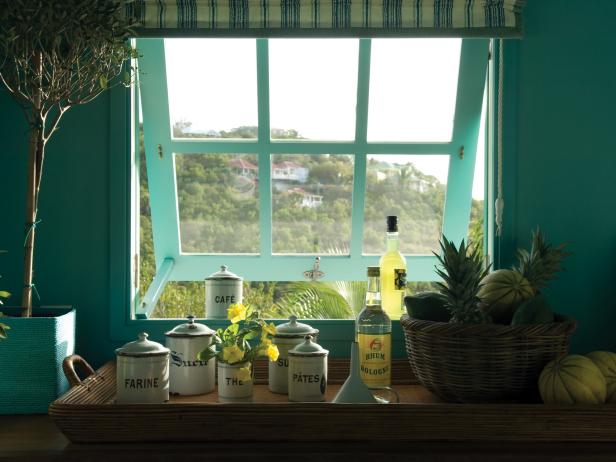 Kitchen Jalousie Windows
Jalousie windows let in the tropical breezes and frame a dreamy view of the ocean. Turquoise walls repeat the color of the waters outside.
Photo Credit: Edward Addeo, Gibbs Smith, Barry Dixon Interiors, Brian D Coleman, Edward Addeo (photographer)
Whether you're refurbishing a vacation home kitchen or just want to turn your existing kitchen into a space that says "permanent vacation," you may want to explore ideas for tropical kitchen decor.
Tropical kitchens tend to favor an overall design that's bright and airy, incorporating lively colors, plenty of flowers and plants, and decor touches that hint at a laid-back tropical lifestyle.
Color is one of the most important features of tropical kitchen design. Shades tend to range from base colors of gentle and soothing whites and creams to accents of bold, expressive greens, oranges, blues and yellows for pops of color throughout. White is a predominant wall color, and beadboard is a popular wall choice as well, giving the impression of a beachside cottage or vacation property.
Backsplashes in tropical kitchen decor can be a fantastic opportunity to incorporate both color and artistic expression into the overall design. Mosaics with tropical themes like palm trees, sea life or other flora and fauna can be a great addition, especially if they add bold, colorful accents to complement an otherwise soft and soothing design theme. Similarly, brightly colored tiles in any style, featuring tropical greens, turquoises and blues, can liven up any kitchen design.
Lighting in tropical kitchens is often subtle and soothing, complementing the laid-back color scheme that's often featured. Decorative, task and main lighting can be used to brighten key areas. Low-profile track lighting can be used for main lighting, tropical-themed pendants can hover over the sink, stove and cooking preparation areas, and rope lights or subtle LED lights can lighten up spaces above and below cabinets.

Decor for tropical kitchens often reflects a laid-back seaside lifestyle. Curtains, placemats and linens may show off seashell or sea life designs depicted in bright, bold oranges, blues and greens. Actual seashells can be arranged decoratively or used for centerpieces. Artwork often hints at maritime culture or the relaxed flow of the tropics, with seascapes, fishing themes and the exotic birds and other wildlife of the tropics often featured.
Furniture and cabinets in tropical kitchens tend to be constructed from hardwoods, in some cases exotic ones that might be found in tropical regions, like ebony, teak, mahogany and bamboo. Wooden furniture is often kept unfinished or finished in a way that shows off its natural grain and appearance, emphasizing the close connection between life in the tropics and nature.
Other Kitchen Theme Ideas