Espresso Kitchen Cabinets
There are many ways espresso kitchen cabinets can transform your kitchen.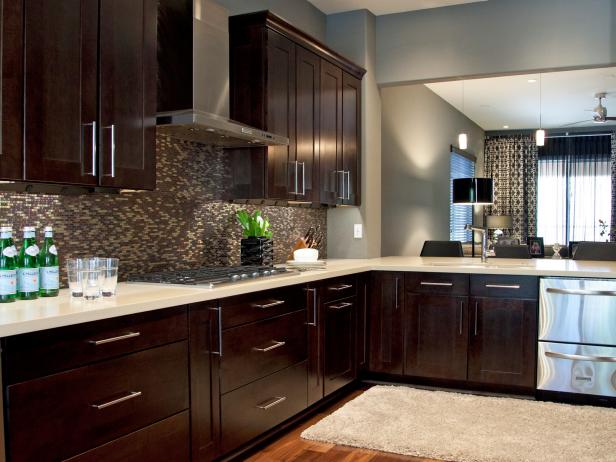 HSTAR7_Britany-Simon-Black-Gray-Contemporary-Kitchen_4x3
The client for this complete home renovation requested a luxurious, modern feel. The high-end kitchen remodel features warm walnut floors, dark espresso cabinetry and quartz countertops. Britany tied the look together with a modern glass and metal backsplash.
Second only to white in terms of popularity, espresso kitchen cabinets are a beautiful, elegant deep dark brown that pairs well with classic whites and creams, cool blues and greens, and bold contemporary reds, silvers and blacks.
Kitchen Chronicles: I'm in Love With My Kitchen Makeover
See All Photos
With espresso on your cabinets, just about any color your heart desires will combine to give your kitchen cabinets the perfect contrast of light and dark that can range from casual fun to formal opulence. It is the classic, traditional color choice that never goes out of style and brings warmth and sensibility to your kitchen.
Espresso kitchen cabinets give you this by combining conventional grace and lived-in comfort, making the kitchen feel less like a functional workspace and more like a family hangout. Often reflecting a home's historical origin, it brings balance to competing elements to create a subtle blend of contemporary flair and traditional, classic nuance. Whether you are looking to balance out the warmth of a red kitchen island or break up the monotony of white kitchen floors, countertops and walls, espresso kitchen cabinets bring it all together perfectly for a touch of dignity that still keeps the space comfortable.
Staining is a really popular technique to achieve the look of espresso without having to gut the whole kitchen and replace all of your cabinets. Espresso is also very common with refacing options. You can get solid wood with espresso finishes in muted shades or in trendier metallic finishes. The color is so versatile it's hard to imagine a style it doesn't fit in with perfectly. Espresso is like the popular kid in school who slides into any social setting and simply belongs.
If you're more of a traditionalist with a historical bent, the antique look of distressed espresso kitchen cabinets is right up your alley. For a modern and clean look, Shaker-style kitchen cabinets in espresso are probably the ones for you. Or maybe you're right at home with the opulence of espresso kitchen cabinets complemented by deep warm reds for relaxed luxury. Throw in nickel-plated hardware and select glass fronts, and you've successfully transcended contemporary with classic charm. Whatever style speaks to your heart, there is an espresso kitchen cabinet out there to meet it. Enjoy the discovery!
Other Kitchen Cabinet Colors and Finishes
Kitchen Cabinet Inspiration