Explore ideas and inspiration for a kid's bathroom decor, and get ready to decorate a kid's bathroom with fun and functional style.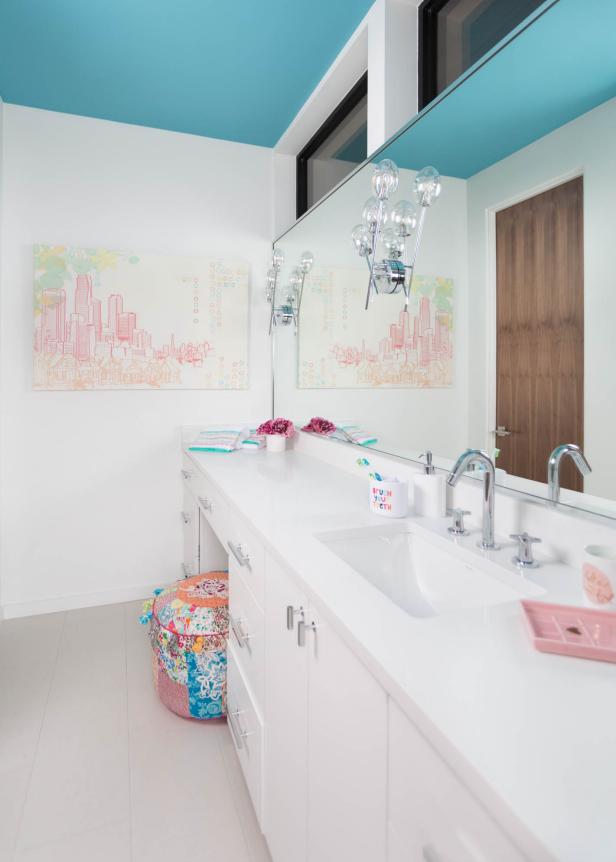 Fresh Kids' Bathroom With Bright Blue Ceiling
This modern kids' bathroom features a white countertop and vanity paired with a neutral tile floor. A fun blue ceiling and patchwork vanity stool add pops of color, while stylish lights decorate the wall-to-wall mirror.
Kids' bathrooms and bedrooms can be a great opportunity to have a ton of fun with design and decorating, and if you're contemplating a new kid's bathroom install or an update to an existing one, you'll want to explore all your options when it comes to kids' bathroom decor.
Generally speaking, bathrooms in homes that are specifically set aside for use by kids run the risk of becoming chaotic, disorganized affairs. Visions of linens and toiletries strewn everywhere, bath paint covering the walls like graffiti and an explosion of bath toys blanketing the floor like so many leaky, squeaky land mines spring immediately to mind. But whether you're working on a girl's bathroom or a boy's bathroom, with a few decor flourishes, your kid's bathroom can be organized, efficient, attractive, and still a fun space for its primary (school) clientele to address all that mud spatter.
One of the first decor elements you'll want to consider in a kid's bathroom is color. Many homeowners seek to emulate the color scheme of their kid's bedroom when it comes to their bathroom design. Bright, primary colors are popular, with bold blues, yellows greens and reds common choices. Some parents may choose to employ different hues for different genders, even demarcating space in a Jack and Jill bathroom this way. Compared to bathrooms intended for use by their grown-up counterparts, however, kids' bathrooms tend to much more colorful affairs, with wall paint, wallpaper and surfaces all fair game for bright, bold pops of color.
When it comes to decor flourishes like wallpaper, you'll have many options to explore for a kid's bathroom. There are plenty of choices specifically intended for kids and featuring favorite cartoon characters, animals and nature themes, or even sports themes. Additionally, generic designs featuring abstract geometric shapes, stripes, polka dots or other unique, colorful designs can add a fun and funky look to a kid's bathroom space.
When it comes to accessories in a kid's bathroom, you'll be free to choose from themed items featuring characters they love — a toothbrush holder emblazoned with their favorite movie character, for example — or generic but still kid-themed items (think of the same toothbrush holder, but in the shape of an elephant). Many home goods stores have lines specifically designated for children, with both branded and generic items to choose from.
Finally, when it comes time to choose linens, curtains and other fabrics for your kid's bathroom, you'll have another opportunity to add visual interest and fun-factor to the space. Shower curtains can be a great opportunity to feature characters or fun designs (clever underwater scenes or bold patterns featuring sea life, for example). Towels can similarly show off bold, fun designs, and rugs are widely available in animal or character shapes, helping to create a space that actually makes kids look forward to cleaning up.
More Bathroom Decorating Ideas
More Bathroom Styles for Your Home