Explore the options for luxury kitchen design, and prepare to create a best-in-class kitchen in your home.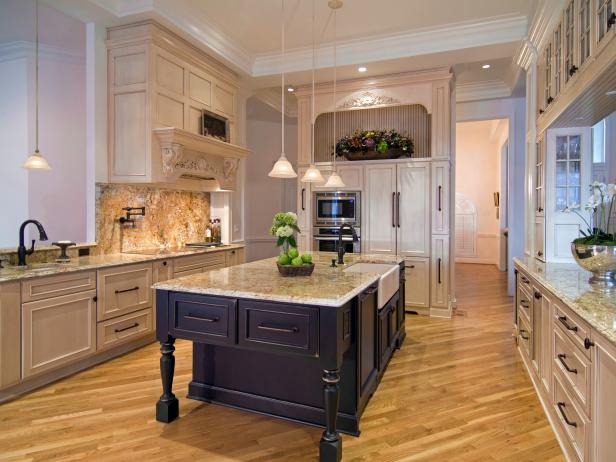 Old World Kitchen With Glazed Floor-to-Ceiling Cabinets and Granite Backsplash
Mushroom-colored walls and cabinets, combined with golden granite countertops and custom wood moldings, complete this Old-World kitchen remodel. A large dark-finished island complements the neutral tones in the space.
Luxury kitchen designs tend to combine the highest-quality materials, leading-edge technologies and top-of-the-line appliances (and, like it or not, a heaping helping of budget) to create magazine-worthy kitchens.
If you're contemplating a kitchen remodel or installing a new kitchen, and budget isn't your second, third or even a top ten concern, you'll definitely want to explore the wide range of options available for luxury kitchens. Many homeowners begin their luxury kitchen design process by considering the layout of the kitchen of their dreams. There are several options to choose from.
Galley kitchens are fairly straightforward affairs featuring a narrow passage between two walls. One wall generally features cooking components and storage, the other generally features cleaning components and more storage. Galley kitchens are common in smaller homes, and would be a less common choice for a luxury kitchen—they're efficient affairs, but their configurations limit the luxe level considerably.
Next up, L-shaped kitchens offer a slightly more high-end option, with an angled cooking and cleaning area, more room for storage, and a better opportunity to feature a kitchen island.
Finally, U-shaped kitchens are probably best suited for a luxury kitchen design—they feature three walls ready for cooking, storage or cleaning features, and they're often large enough to accommodate a considerable center island for food preparation and extra storage.
In terms of appliances, accessories and cooking and cleaning implements, the sky is the limit in many luxury kitchens. Double-door refrigerators, double and triple sinks, ranges with row upon row of burners and fast-cooking, high-tech ovens are all common features.
While no particular style is more common for luxury kitchens than another, some seem to naturally lend themselves to a luxurious approach. Traditional, contemporary and modern style kitchens are common in luxury homes, although if your budget will accommodate a luxury kitchen design, no one's going to stop you from creating one in a rustic, country or farmhouse style.
Materials for luxury kitchens tend to be high-end, durable and attractive. Countertops are often granite, backsplashes may be as well, or they may feature tile in mosaic, subway or other styles, to add visual interest.
Luxury kitchen cabinets are usually similarly high-end, often custom-made from expensive woods like cherry or ebony. They typically feature durable high-quality hardware with expert interior construction. Traditional cabinet doors may feature intricately carved faces or molding, while modern and contemporary styles will be sleek and unadorned but boast similarly sturdy construction and expert craftsmanship.
Other Kitchen Theme Ideas