Browse ideas for western kitchen decor, and get ready to add classic, warm and welcoming western elements to your kitchen space.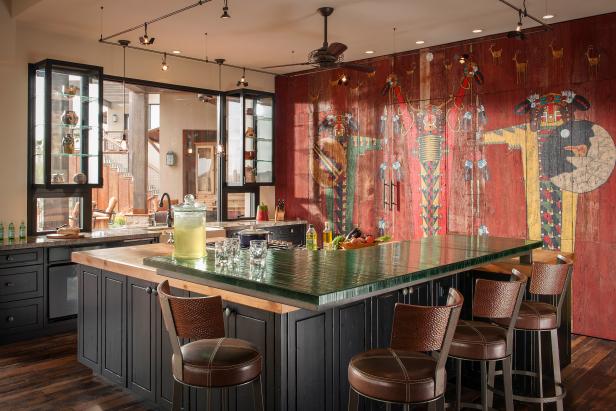 Southwestern Kitchen Features Custom Glass Details
In the kitchen, steel and glass upper cabinets disappear into an interior window, which allows as much light as possible into the kitchen and provide a spot to display art and dishes. Custom hardware adorns the lower cabinets and showcase a logo created just for the homeowners. Quarter-inch strips of glass were fused together to create the floating upper island top and are supported by steel hidden within the cabinets.
Mark Boisclair Photography, Inc.
If you're contemplating a kitchen remodel or getting ready to install a brand new kitchen, and your tastes are in the "down-on-the-range" range, you may want to explore the bountiful options available for western kitchen decor.
From rustic flourishes to western-themed artwork, creating a warm and welcoming (and maybe just a little bit wild) kitchen design is well within your reach.
Western-themed kitchens often incorporate regional decor into their designs, reflecting a particular geography of the sprawling American West, or even suggesting a particular historical period. Southwestern-style kitchens, for example, often start with the burnt oranges and terracotta tiles familiar in places like Arizona and New Mexico. This style often combines the history and culture of these western states with those of Mexico for a stylish melange that's as much about cuisine, weather and desert living as it is about particular hues and textures.
Similarly, decor that's inspired by the western mountain states often reflects the natural grandeur and hardiness of the culture there. Raw, unfinished wood, fur throws and trimmings on cushions and seating and accessories like wood stoves all speak to a cabin culture used to weathering winters in anticipation of spectacular springs.
Artwork is often a feature of western-style kitchen decor, from wall paintings and prints to colorful murals and backsplashes in terracotta or mosaic tile. Themes often build on the history of life in the west, from cowboys on lonesome cattle drives to the historical interactions between Native Americans and settlers. Nature is a common theme in classical western art as well, with the west's historical residents — no longer indigenous but forever immortalized — commonly depicted in the form of wild horses, wolves, bears and cougars.
Nature tends to spring up everywhere in western-themed kitchens, via furniture, artwork, ceilings or surfaces. Exposed wood beams are a common touch for ceilings. Furniture may be hand-carved from local woods, with cedar and knotty pine among the more popular choices. Countertops and floors are often matte as opposed to glossy. They're usually found in natural materials like stone and granite, grounding the western theme with a substantial and practical feel. Cabinets are also often constructed from sturdy, solid local wood choices and left unfinished to show off their natural grain and knotting.
Whether your goals are to create a sun-baked color scheme of rusty reds and deep yellows, to deploy a collection of artistic decor flourishes, or to add subtle stylistic elements like monogramming, choosing a western kitchen theme will give you the opportunity to create a kitchen design that's both visually and historically interesting.
Other Kitchen Theme Ideas