Entertainment-Friendly Kitchen
Designer Heather Guss created an entertainment-style kitchen by including a wet bar and picnic table dining area in her spacious design plan.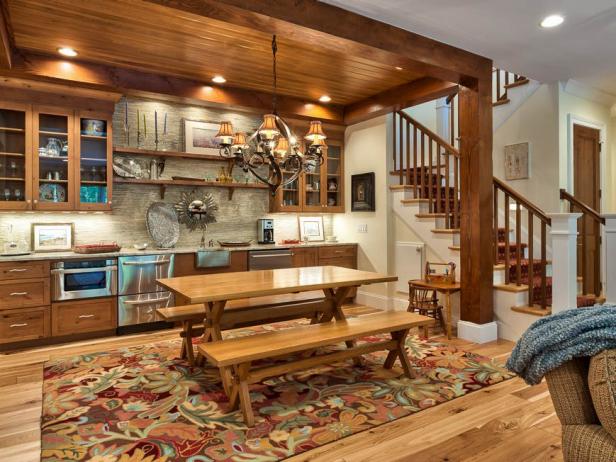 Transitional Dining Room With Picnic Table
Designer Heather Guss gave this kitchen a communal feel by adding a picnic table-style dining table and wet bar perfect for entertaining.
What were the main items on the owner's wish list for remodeling this space?
Having all of the conveniences of a kitchen, but making it look like a wet bar.
What was the single-largest issue you wanted to address for the owner?
Making all of the appliances work in the space. We added the area to the left as a wine storage area to keep the wall from being too appliance-heavy.
What was your biggest obstacle in this space and how did you overcome it?
Making everything symmetrical without putting cabinet panels on the under-counter appliances. We kept many of the appliances symmetrical and chose to not worry about the microwave drawer having a wood panel.
How does the end result match up with your original vision for the space?
The farm sink changed after the cabinets were ordered.
What are the "hidden gems" in your plan?
The decorative pull on the wine storage unit is beautiful, and with the integrated panel it really sets off the wine niche area.