Antique Kitchen Decorating Ideas
Browse antique kitchen decorating ideas, and prepare to add a historical and elegant design to your kitchen.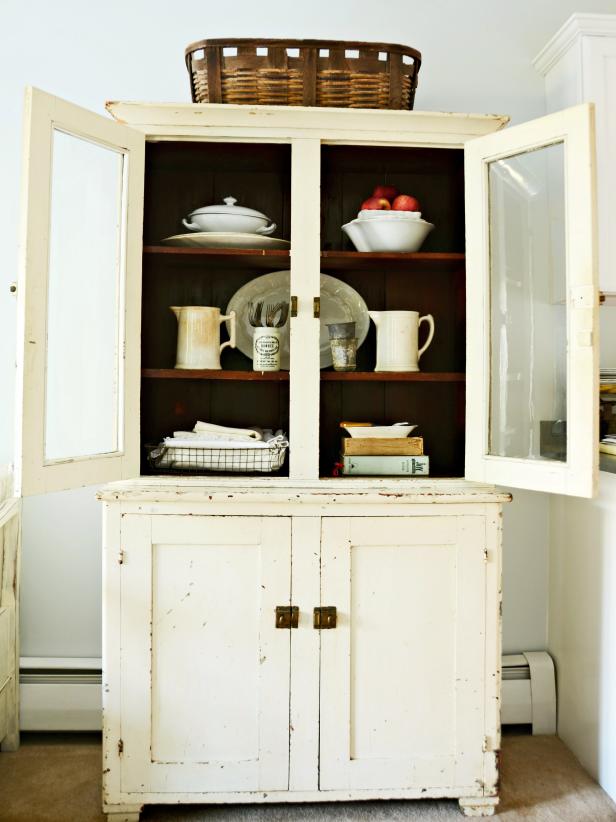 Vintage Kitchen Hutch With Natural Wood Shelves
This vintage hutch has been turned into unique kitchen storage, with a wicker basket on top, and inside, on the hutch's three shelves, kitchen goods, including a butter plate, bowl, pair of pitchers, turkey plate, books, and wire sorting tray.
Antique kitchen decorating ideas are plentiful. With antiques widely available from fairs, brick-and-mortar shops and online retailers, you're sure to find great antique elements after some concerted research and eagle-eyed browsing.
An antique kitchen design can afford any homeowner great decorating opportunities — from unique, historical artwork to antique kitchen implements.
Antique kitchens can take many forms, from colonial-inspired designs to slightly more contemporary styles that toe the line between antique and vintage. One shared aspect of most antique kitchens is that they tend to reflect a more rustic, pastoral design, particularly when it comes to the antique elements they feature, which will almost universally date to an era when cooking was much more closely connected to agrarian traditions. For this reason, antique kitchens may have a "farm table" or "country kitchen" feel, based on the heritage of their decorative elements.
One of the most common ways to incorporate vintage decorative flourishes into your kitchen design is to feature cookware that dates to a particular historical era. Pots and pans, cutlery and other kitchen implements are all available — from still-sharp knives to virtually indestructible iron skillets, some kitchen antiques can still be used in everyday cooking. Others may be better suited to display within your kitchen design — for example, oil-rubbed-bronze pots and pans can hang from a decorative rack above the stove, adding both visual interest and a nod to a bygone era in a colonial kitchen design.
Artwork is another opportunity to feature antique looks in your kitchen design. Paintings, drawings or etchings from various historical eras can liven up any kitchen wall, and they're widely available at art and antique fairs or from online specialty shops. They may feature scenes of nature or historical farming techniques or tools, or pastoral scenes rich with flora and fauna.
Another way to add interest to an antique kitchen design is with carefully chosen storage options. Antique glass jars are widely available in a range or colors and sizes, and they often feature intricate designs, logos or artwork reflecting themes prevalent during their era. Large porcelain storage jars may also be available, once again connecting an antique kitchen design to agricultural traditions.
Finally, consider wallpaper for your antique kitchen design. Floral or toile designs are available in a range of styles and colors, featuring designs that are both attractive and authentic to their historical era.
Other Kitchen Theme Ideas