Which Countertops Are Most Expensive?
In the market for new countertops? We're giving you the lowdown on seven high-end countertop material options.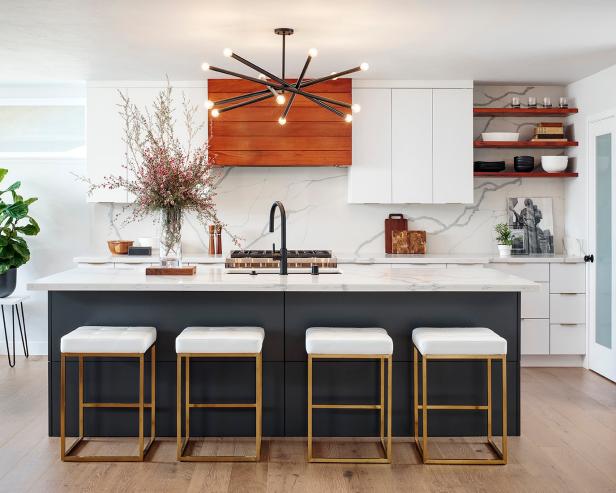 Modern Kitchen with Clean Lines, Striking Light Fixture
This modern kitchen features plenty of light and clean lines. The clean white cabinetry offers brightness that is reflected in the marble-top island. The square brass bar stools with white leather cushions provide seating that is both stylish and functional. A stunning design focal point is the striking modern light fixture.
When choosing new countertops for a kitchen or bathroom, your first step is establishing a budget and matching it to a material that fits your means. Beyond the price of the material itself, be sure to factor in other fees such as professional installation and sealing.
While there are dozens of countertop materials available starting around $15 per square foot, spending a bit more on a quality product is often worth it for the added durability and beauty. Let's look at some of the most popular high-end countertop materials and their pros and cons. This list will help you gauge what material is the best fit to incorporate into your home and your lifestyle.
Jennifer Boomer/Getty Images
The ultimate in durability, concrete countertops are also very versatile. $100-$150/square foot.
Adaptable to color changes with different stains and dyes

Heavy!

Relatively easy to custom cut

Typically limited to more contemporary home design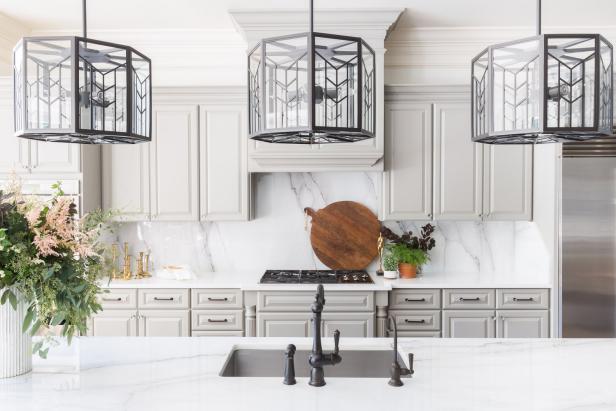 Crisp Midcentury Modern Kitchen Design With Marble Backsplash and Octagon Pendant Lights
This beautifully crisp kitchen design features a polished light color scheme and sharp lines. A trio of octagon pendant lights hangs over the island marble countertop. The backsplash echoes the marble finish between light, neutral cabinets.
Marble tops the most-expensive list due in large part to its elegant looks. The good: It will instantly lift your kitchen or bathroom to another level. The bad: It requires some regular maintenance to ensure its legacy. Plan on $75-$250 or more per square foot.
Incredibly good looks

High maintenance cost

Not a good choice for heavy use areas

Susceptible to chips and stains

Money-saving tip: Choose "lesser" grades and colors and go with tile instead of a slab
Recycled Glass and Cement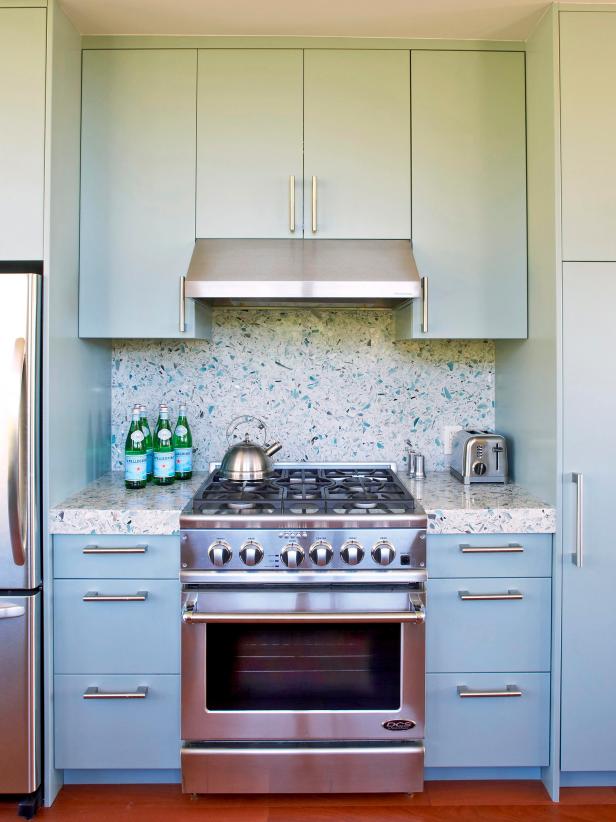 Terrazzo Backsplash in Kitchen With Blue Cabinets
Designer Massucco Warner Miller chose terrazzo, concrete mixed with small bits of recycled glass, to create a sea-glass-inspired, eco-friendly kitchen backsplash.
Photography by David Fenton
This eco-friendly material mix looks great in contemporary rooms. Prepare to spend $100-$160/square foot.
Very durable
Eco-friendly
Unique and attractive
Customizable
Can be harder to find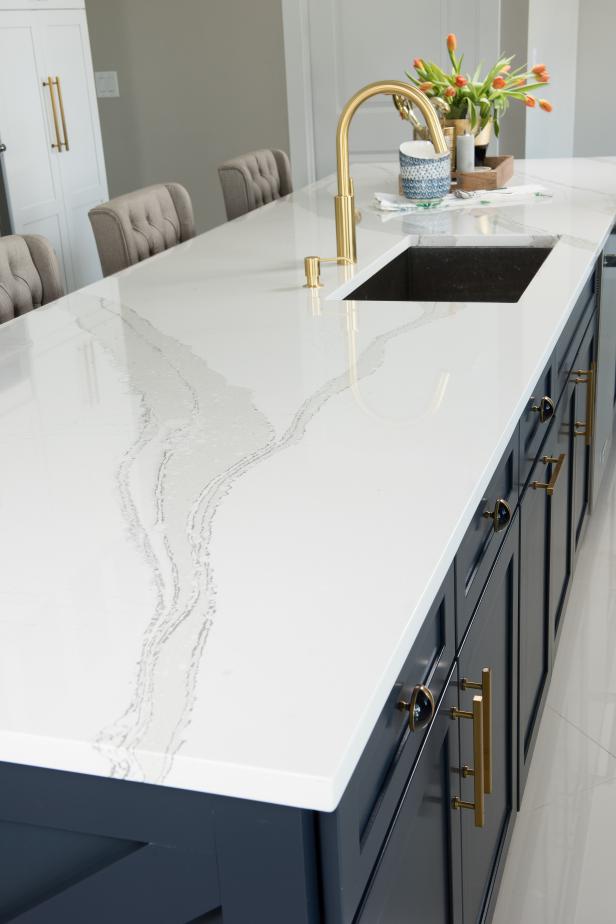 White Cambria Quartz Countertop on Wide Blue Kitchen Island
Durable white quartz tops this wide blue kitchen island, providing a great place for food preparation or casual dining.
Engineered quartz countertops are made from about 93 percent natural quartzite crystals, as well as resins, dyes and various other materials. A big plus is it comes in lots of attractive colors and even allows customized coloring during production. Quartz tips the scales at $55-$155/square foot.
Very durable and will basically last a lifetime

Low maintenance cost

Has a beautiful gleam

Tile installation saves money but takes longer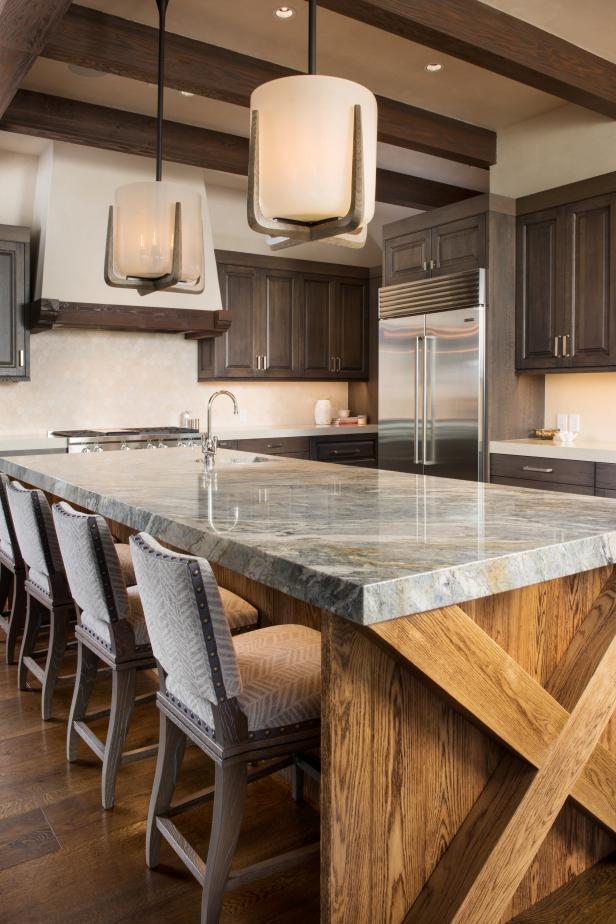 Glamorous Features in Contemporary Kitchen
This large and glistening granite kitchen island sings out in the kitchen of this Avon, CO mansion.
Slifer Smith & Frampton Real Estate, a member of Luxury Portfolio International
Super tough and a very popular choice in kitchens and bathrooms alike. Fortunately, prices have reached more palatable levels. Like marble, granite needs a little TLC, such as regular sealing. $45-$200/square foot.
Sophisticated looks that dress up any room

Durable and very heat resistant

Thousands of available colors

Medium to high maintenance cost

Susceptible to chips if not sealed

Save money by installing tiles instead of slabs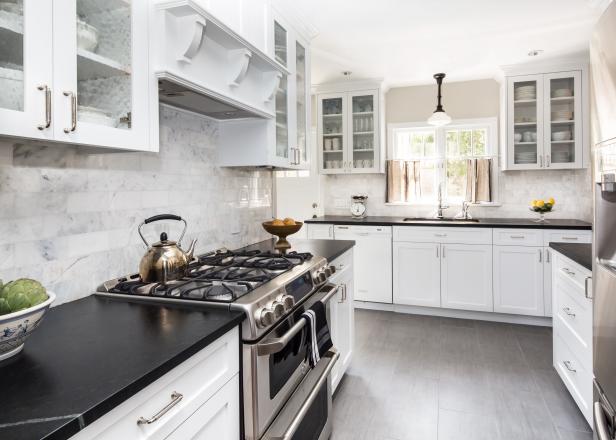 Bright, Transitional Farmhouse Kitchen
The goal for the kitchen was to keep the original charm of the client's home while updating the kitchen in a way that was fresh and current. Dark soapstone countertops offer beautiful contrast against the crisp white cabinetry, and Carrera marble subway tile for the backsplash adds a timeless and luxurious touch to the design. The stainless steel appliances and sink create a more transitional feel, while the shaker style cabinetry doors and schoolhouse light fixture reflect the original style of the home.
ERIKA BIERMAN PHOTOGRAPHY
Soapstone lends an enduring, natural look to a room with its darker color and smooth texture. It's a favorite in older homes and takes on a unique patina over time. $70-$120/square foot.
Stain resistant (to a point)

Rich color tones

Low maintenance

Must be treated with mineral oil

Susceptible to scratches

Requires professional installation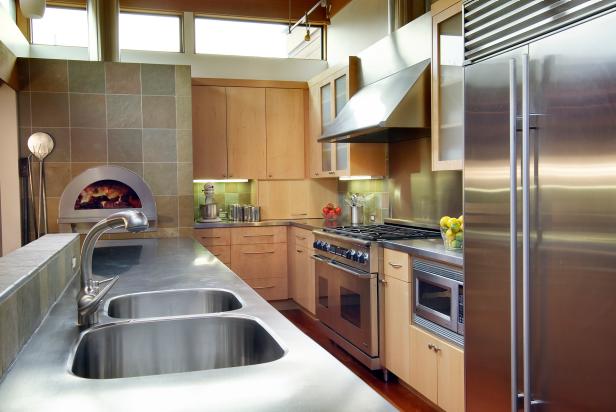 Stainless Steel Countertop In Contemporary Kitchen With Light Wood Cabinets and Clerestory Windows
Light wood cabinetry and neutral pastel tiles soften the industrial look of the stainless steel countertop and appliances. A clerestory window lets in natural light to keep the space bright. The thin floor space is maximized by building the fixtures alone both sides leaving a clear isle and uncluttered counters.
The lower end of the high end, stainless steel brings a mix of pros and cons. $80-$100/square foot.
Stainless is great for cooking and entertaining

Resistant to heat

Super easy to clean

Attracts fingerprints and can scratch easily