Learn about the different options for Tuscan kitchen cabinets and how they can evoke the culinary tradition of the warm Italian countryside.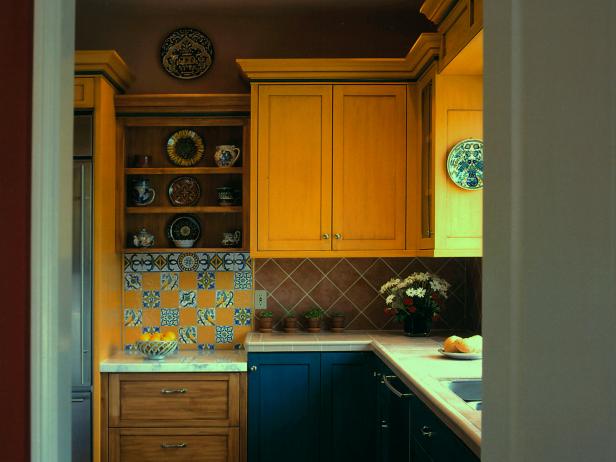 Tuscan-Style Kitchen
Painted pottery sits on yellow shelves in this Tuscan kitchen by designer Linda Adams. Natural light streams through the window, and potted plants and a bowl of oranges dot the counters. Blue and yellow tiles and a tiled backsplash are partnered with yellow and blue cabinets to give this cozy kitchen an Old World feel.
Tuscan kitchen design comes from the fabled Italian countryside, known for its natural beauty and culinary tradition. Traditional Tuscan kitchen cabinets evoke warmth and elegance, with an emphasis on the joys of cooking and eating.
Tuscan kitchen cabinets are predominantly made of quality woods such as cherry or maple. They tend to be stained into rich brown colors to evoke a natural feel while conveying a sophisticated elegance. Cabinet doors tend to have raised panels and decorative wood accents such as ornate hoods, shelves and cornices.
Glass-paneled doors featured in corner cabinetry and cabinet underlighting are common additions seen in Tuscan kitchens. Ornate iron, bronze, copper and brass are metals used to complement the wood cabinetry in order to evoke a Mediterranean feel. Rustic or Italian tile work is popular in Tuscan kitchens and complements the rich tones and ornate details of the wood cabinets.
While rich woods are the materials of choice in a Tuscan kitchen, deep reds and greens are also popular and can be used as decorative accents or even as painted cabinet colors in order to evoke the warmth seen in Tuscany. Wrought iron chandeliers are also popular accents above kitchen islands along with ornate wrought iron pot racks displaying appealing, functional cookware.
Since Italy is a country that celebrates cooking and eating as a form of art, Tuscan kitchens often display cookware, spices and even food as accessories that are appealing to the eye and the stomach.
More Kitchen Cabinet Styles
Kitchen Cabinet Inspiration