Granite Countertop Prices
Make sure you know your stuff when pricing these gorgeous, but expensive, countertops.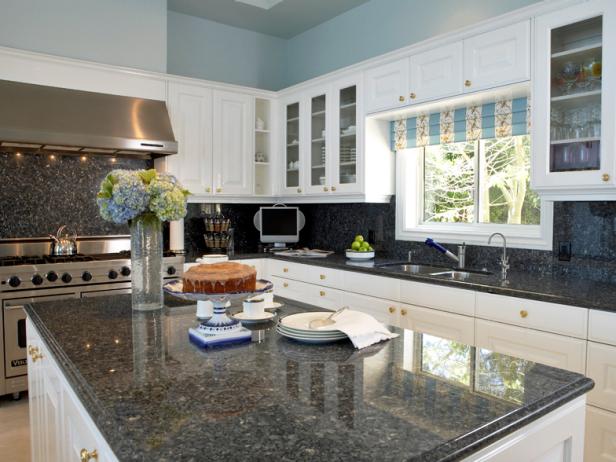 Oversized Kitchen Island with Plenty of Space
This kitchen has plenty of white cabinets for storage, a white kitchen island, granite countertops, and stainless steel appliances.
By:
Caroline Shannon-Karasik
The most popular countertop choice in American homes, granite brings warmth and elegance to a kitchen. Granite's natural beauty makes granite countertops the top choice amongst kitchen surfaces.
Not only do they look stunning in a variety of kitchen spaces, but they're also durable. They're available in a variety of colors, ranging from white and cream to deep gray and forest green.
That beauty and brute strength does, however, come with a hefty price tag, making granite one of the more costly among the various kitchen countertop options.
Tips for Choosing Granite
If you are thinking of choosing granite for your kitchen as you consider kitchen remodeling ideas, options and solutions, then be sure to first measure your surface area. Granite is sold by the square foot, so it will be helpful to have this information when pricing the material at various dealers.
Average Granite Counter Cost
The cost of a granite countertop will, of course, depend on the size of your surface area. However, the average granite countertop will cost approximately $50 to $200 per square foot. In addition to the size, the cost will also depend on how thick you want the slab to be.
One way to reduce the cost of a granite countertop is by purchasing your choice through a wholesaler. These companies will often charge a customer less than a home improvement store for the cost of installation and materials. Another budget-friendly option is laminate which is available in wide variety of colors and textures that are made to mimic granite.