Granite Countertops for Kitchens
HGTV.com helps you determine if one of the most popular surfaces chosen by homeowners, developers and kitchen designers alike, is right for you.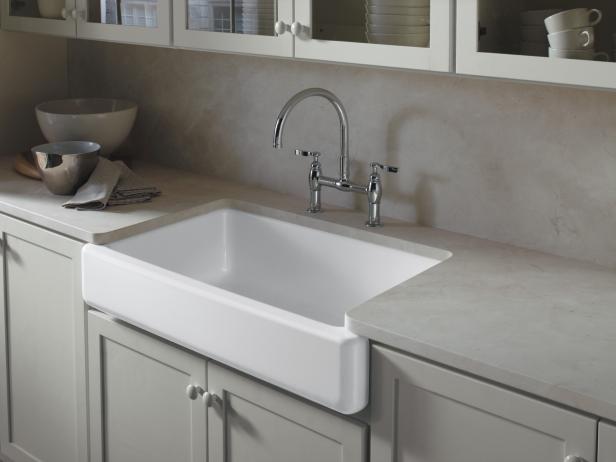 Kitchen-Countertop-Materials_s4x3
Kohler's apron-front cast-iron sinks (shown in white) come in a variety of colors, including new neutral tones Dune, a soft sandy shade, and Suede, a dark hue that pairs well with granite countertops. "Apron-front sinks have never gone out of style," says interior designer Christine Baumann. "They add a timeless focal point to any kitchen. From a practical standpoint, they're deep enough to hold large pots and platters for easier cleanup — a shorter person can even benefit from better access to the sink." Christine notes that because of their visual weight, apron-front sinks are best suited to medium-size or large kitchens. Image courtesy of Kohler
Many kitchen designers and homeowners refer to granite kitchen countertops as the gold standard. The most popular natural stone countertop material, granite is what many homeowners turn to when it's time to upgrade. The sharpest knives won't scratch it, and a bubbling pot won't mar it. Granite is available in hundreds of colors, both bold and muted, including shades of white, black, gray, green, blue, red, pink, yellow and tan. Patterns are speckled, dotted, veined and more. Every piece possesses its own mineral makeup, meaning each countertop is a unique work of art.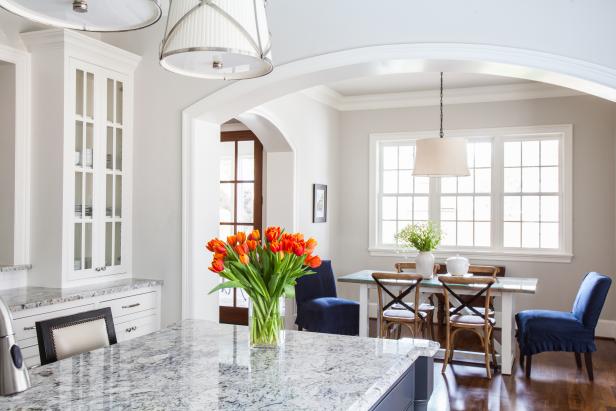 White Open Plan Transitional Kitchen With Tulips
In a white kitchen, it's helpful to incorporate texture as it visually breaks up the stretches of cabinetry and walls. Glass-front cabinet doors and granite countertops do the job nicely in this pretty kitchen.
What is it? An igneous rock (formed by the cooling and solidifying of molten materials) composed chiefly of quartz and feldspar, granite is one of the hardest surfaces on earth. Because of the considerable variation, it's wise to visit the stone yard to choose your own piece, if possible, to avoid surprises.
Granite Countertop Positives
Highly praised for their stain- and scratch-resistant surfaces, granite countertops are also tough, durable and nearly maintenance-free. Homes with kitchen granite countertops, in fact, have been known to sell for a higher price — how's that for a return on investment?
Granite, like most natural stone, can be expensive. Here's everything you need to know to install countertops yourself, saving 20% to 30% over a professional installation.
Speaking of investment, granite kitchen countertops tend to come with a hefty price tag. While costs will vary by location, project and contractor, in general, thicker slabs, more intricate edge fabrication, and a uniform patterning will all result in increased costs.
One way to reduce the cost of a granite countertop is by purchasing your choice through a wholesaler. These companies will often charge a customer less than a home improvement store for the cost of installation and materials. If you are interested in a warranty to protect against damage, then it is important to ask these companies about what they will be able to provide in terms of insurance.
Granite Countertop Color Options
Granite countertop colors can be as simple or as high-fashion as you'd like. There are so many patterns, colors and mineral inclusions available that finding a shade of granite to complement the unique look of your home should not be a problem.
Granite countertops are available in a variety of colors, ranging from white and cream to deep gray and forest green. Patterns are speckled, dotted, veined and more. Every piece possesses its own mineral makeup, meaning each countertop is a unique work of art.
Visit a home or kitchen design store and look through their selection of guides and samples to determine the color that will work best in your kitchen area. Ask if the store allows customers to purchase or borrow samples so that you can take a few home and hold them next to your kitchen cabinetry.
As with any major purchasing decision, make sure you see and touch a sample of the slab you'll use in your project to avoid making any costly mistakes.
Considerations When Choosing Granite Countertops

Thickness, Overhangs and Edges. Countertop thickness varies by geographic location, from 3/4-inch to 1-1/4 inches (preferred). Thicker slabs cost more. Standard overhang is 1 inch to 1-1/2 inches. Larger overhangs — for workspace or seating—may require additional support starting at 8 to 12 inches. A range of edge treatments is available, including straight, beveled and rounded.
Forms. Granite counters can come as slabs or tiles.
Slabs. Granite slabs offer a solid and seamless look. These typically come in 10-foot-long pieces. If your counter is quite long or L-shaped, curved or arched, a seam will be required, but should not be too noticeable if done properly.
Tiles. If you love granite but it's not in your budget, consider tiles. While they require a bit more maintenance, granite tiles cost less than slab and also offer more installation flexibility.
Finishes. Three types of finishes are recommended for granite countertops.
Polished. This smooth, reflective surface draws out the color and texture for a rich look. It's the least porous finish option, which is great for spills. But the shiny surface also accents any imperfections (and crumbs). Polished is the most popular, perhaps due in part to ease of cleaning.
Honed. While still smooth, this finish is not shiny and reflective. Though a honed finish doesn't bring out the color as much, it does cut down on glare and mask imperfections. The surface is slightly more porous.
Leather. This finish, created when fabricators move diamond-tipped brushes across the surface, conveys the look and feel of textured leather. Like a polished surface, it is less porous and highlights the color; like a honed surface, it disguises crumbs and streaks.
Maintenance. Wipe the countertop with a soft cloth and warm water daily. Mild household cleansers are suitable. Certain oils and acids can stain. Most natural granite should be resealed annually.
The Bottom Line. Granite imparts a timeless, high-end look ideal for traditional and classic spaces. Smooth and cool to the touch, it is popular for baking centers due to the ease of rolling out dough.
Maintaining Granite Countertops
Granite can be easily cleaned with a mild soap and soft cloth, making the maintenance process an easy one.