Cool, sleek and completely modern, dark granite countertops can add a touch of sophistication to any kitchen area.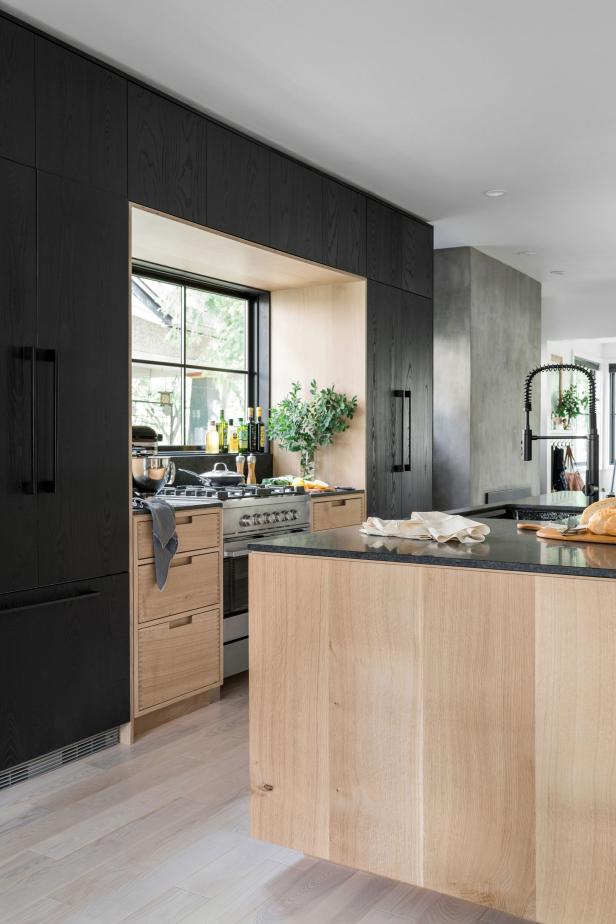 Contrast and Drama
The lighter natural oak base of the island coordinates with the drawers by the range, and provides contrast for the island's matte Mesabi Black Granite counter and the matte black cabinets flanking the range.
Robert Peterson, Rustic White Photography
By:
Caroline Shannon-Karasik
Granite countertops are available in a wide array of colors, including yellow, beige and white. But dark granite countertops, like black and gray, are an option most often chosen in a modern, sleek kitchen design.
Like all granite, dark granite is a durable and dependable surface. Visit a home or kitchen design store and look through their selection of guides and samples to get an idea of the color that will work best in your kitchen area. Ask if the store allows customers to purchase or borrow samples so that you can take a few pieces home and hold them next to your kitchen cabinetry.
Kitchen Styles That Work With Dark Granite
Dark granite pairs well with a classic or contemporary themed kitchen. The surface is rather eye-catching when it is used in a kitchen that has stark white cabinets and stainless steel appliances. Bold accents, like red placemats on a kitchen island or an orange vase would also work nicely in such kitchens.
How to Save Money on Granite
If a dark granite countertop is too pricey for you, then consider making your purchase through a wholesaler. These companies will often charge a customer less than a home improvement store for the cost of installation and materials. Another budget-friendly option is laminate which is available in wide variety of colors and textures that are made to mimic granite.