Granite Countertop Colors
Don't mistake granite for just any old stone—this surface is available in a variety of colors, making it a suitable option for any number of kitchen designs.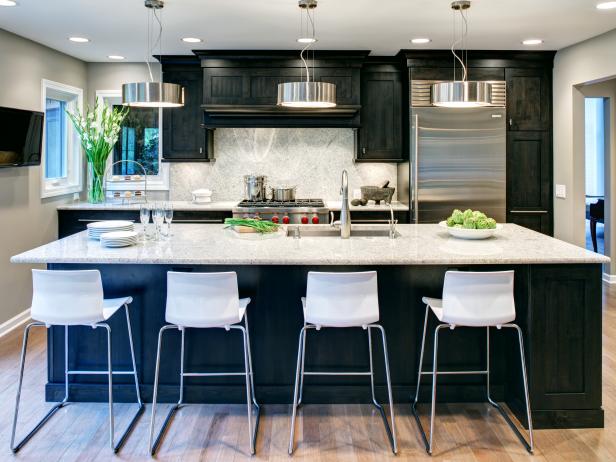 Large Dark Wood Kitchen Island With White Barstools
Inspired by the clients' ideas and preferences, this transitional kitchen remodel is packed with custom features. They include a spacious island – designed for prepping and entertaining, dark chocolate cabinetry, light granite countertops for contrast, built-in Sub-Zero refrigeration and stainless pendants. The full height granite backsplash provides a dramatic look and is practical for easy cleaning.
By:
Caroline Shannon-Karasik
Known for its top spot in the kitchen counter department, granite is a beautiful and durable option when choosing a surface to match your cabinetry and appliances. Granite is a natural stone and it is available in a variety of colors, including white, black, brown, beige, blue and red.
Pure and absolutely classic, white granite is the top choice in the traditional kitchen setting.
Pure White Can Be Challenging to Source
Pure white granite countertops are hard to come by. The typical white variety of granite countertop is generally available with gray, black, and even red or blue flecks of stone throughout its surface. White countertops are striking when paired with cherry wood cabinets or used in a small kitchen space to create a more open environment.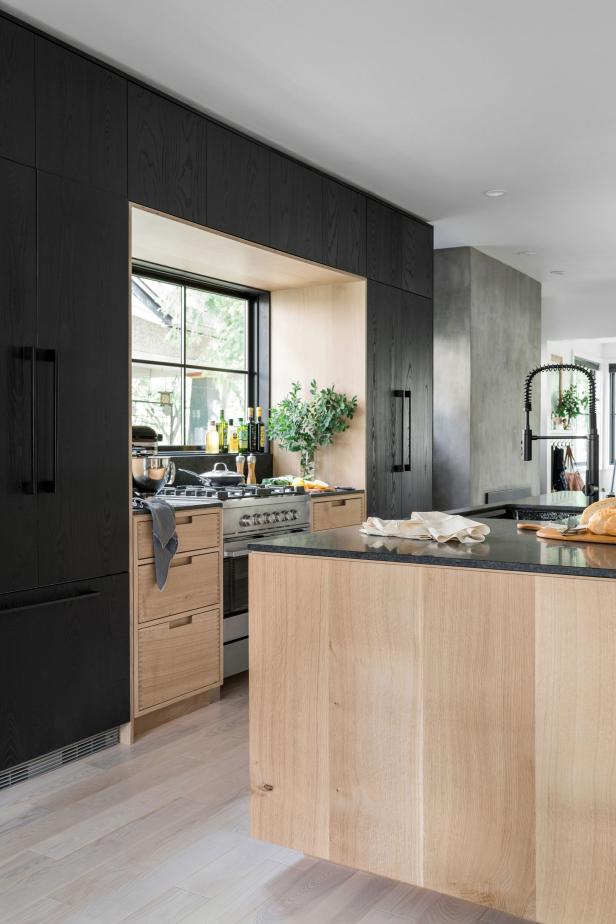 Contrast and Drama
The lighter natural oak base of the island coordinates with the drawers by the range, and provides contrast for the island's matte Mesabi Black Granite counter and the matte black cabinets flanking the range.
Robert Peterson, Rustic White Photography
Black Granite Is Ideal for Contemporary Kitchens
Black and gray granite countertops give off a very dramatic appearance and are often best suited for contemporary kitchens that boast light wood or white cabinetry. But while dark granite countertops can only be used in a limited variety of kitchens, brown or beige granite can be featured in a number of kitchen styles.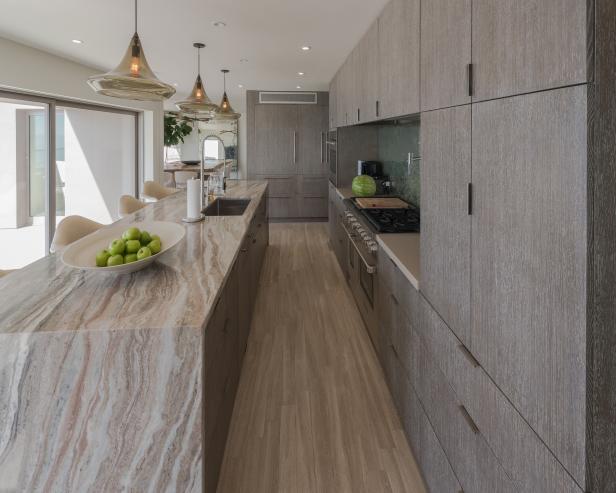 Sophisticated Cool Gray Kitchen with Waterfall Countertop
A combination of cool grays and crisp whites create a sophisticated kitchen that boasts a sleek, modern aesthetic. The island's sleek, waterfall countertop is an eye-catching focal point.
Alternative Colors Offer Granite Drama
Red and blue granite countertops are less common in kitchen designs, but they make an exotic and eye-catching statement. Pair these options with light colored cabinets and a muted paint palette for the walls, creating a stunning kitchen design scheme.