Marble Vs. Quartz: Which is Better?
Marble and quartz both make gorgeous countertops, but each material comes with its own strengths and weaknesses.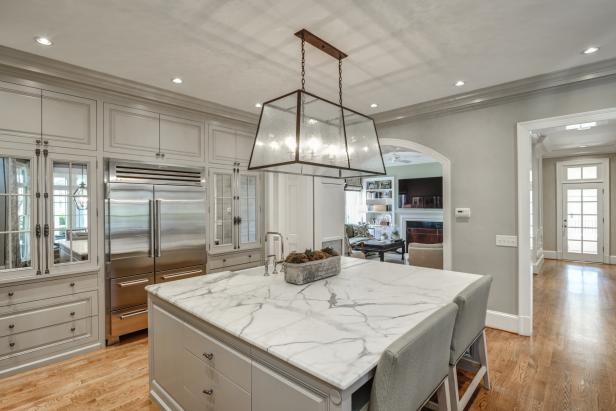 Gray Transitional Chef Kitchen With Marble Countertop
Marble countertops are popular for their beauty and look of luxury. But when comparing marble vs. quartz, what are the advantages of each material?
Harry Norman, REALTORS, a member of Luxury Portfolio International
Marble countertops are popular for their beauty and look of luxury. But when comparing marble vs. quartz, what are the advantages of each material?
Quartz and marble are two of the most popular choices for countertops out there because a lot of homeowners want the look of stone in their kitchens.
How do these two materials compare? It's a question many have as they remodel bathrooms and kitchens. Homeowners know they want the look of stone, but aren't sure which one is the best choice.
Both marble and quartz for countertops add beauty and dimension to a room. Both come in an array of colors that go with contemporary, traditional and transitional home styles. Both are installed in slabs and give a room a polished look, but each material has specific traits related to maintenance, durability and cost that will determine which one is the right choice for you.
Use this guide to help you decide whether marble or quartz is the best pick for your home.
What are Marble and Quartz?
Marble is a natural stone that has been used as a building material for thousands of years. Emperors and artists — from Julius Caesar to Michelangelo — have used marble in the greatest buildings and works of art ever created. Marble is a metamorphic rock that can be found all over the world, and it comes in colors ranging from white to blue to pink to gray. The finest marble is translucent and you can see the artistic touch of the Earth in each piece.
Quartz countertops are manmade. Considered an "engineered stone," quartz for countertops is made with quartzite (a naturally occurring stone) that's ground into a powder, mixed with resin and pigments, and then molded into slabs that can be used like natural stone.
Marble has natural veining that runs through the stone. Each piece of marble is unique because it's the product of geological processes, so marble is available in an almost infinite variety of colors and patterns. Marble is one of the most beautiful natural stones available.
Quartz is made by humans, so the slabs are more consistent. It comes in a variety of styles, many of which look just like natural stone slabs. White quartz countertops look a lot like marble.
Marble and quartz are comparable in cost.
Marble countertops cost $100 to $200 per square foot installed.
Quartz countertops cost $115 to $200 per square foot installed.
Marble is strong and resistant to heat. It's metamorphic rock, after all. But marble is porous and will stain easily. Marble is also susceptible to etching from acidic liquids like vinegar and lemon juice.
Quartz is strong and resistant to cracks, but not quite as resistant to heat. Quartz countertops can be burned with a hot pan. Quartz is not porous, so it doesn't stain and doesn't need to be sealed.
Countertop Comparison
We break down the two most controversial countertop materials.
Marble kitchen countertops need to be resealed about every six months to protect them from damage. Minor scratches or dings in marble can be filled with color-matched epoxy or resin you can buy at a big box store. You'll need to call a pro to repair bigger cracks.
Quartz countertops do not need to be sealed and are less likely to crack or chip. To repair a chip, use a color-match epoxy or resin repair kit that can be bought at a home improvement store.
Marble is a premium material that screams "luxury!"
Each slab of marble is one-of-a-kind, a piece of art vs. a piece mass produced.
Marble is drop-dead gorgeous.
Marble is porous and prone to staining.
Marble is soft and, in a kitchen, can be scratched by knives, pots and pans, or etched by acids in foods like lemon juice or ketchup.
Marble must be sealed periodically to protect it from staining and scratching.
Engineered quartz can be molded into specific shapes, such as counters with sinks integrated into the slab.
Engineered quartz comes in many colors and styles
Coloring and texture is more uniform
Quartz is stronger and less brittle than natural stone
Quartz is harder and less prone to stains and scratches
Seams can be visible.
Quartz counters are manmade, so they don't have the cachet of marble.
Quartz is not as heat-resistant as marble.