White Granite Countertops
Pure and absolutely classic, white granite is the top choice in the traditional kitchen setting.
By:
Caroline Shannon-Karasik
Classic and timeless, white granite countertops have been a prime choice in many kitchen designs throughout the years.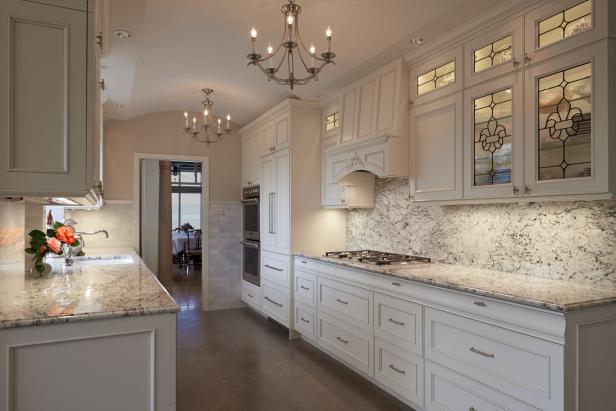 Elegant Kitchen With White Cabinets and White Ice Granite Countertops
A subtle glazing enhances the visual appeal of the creamy white, beaded cabinet doors in this elegant kitchen. White ice granite slab backsplashes and countertops brighten the color palette of pale creams and whites, adding drama and textural interest.
Consider Granite Color Variations
Perk up your kitchen without draining the bank with these kitchen countertop ideas.
White granite countertops are similar to any granite surface in that they are luxurious and durable. If you are seeking a neutral-toned countertop, but don't necessarily need stark white, then consider a beige granite countertop. Beige countertops incorporate various shades of white and brown to give it a versatility that works well in a number of kitchen designs.
White Granite Can Add Brightness
Light granite countertops are also ideal for giving a smaller kitchen area a brighter look. The fresh color makes a room feel open and airy, providing a welcome atmosphere. If your cabinetry is dark, then you might consider white granite countertops so that the room doesn't get the "stuffy" feeling that could come from having too many dark tones in the color palette.
White Granite Works in Both Traditional and Modern Spaces
While white granite is certainly a classic countertop, the surface can also work well in a modern kitchen design. Consider pairing it with dark wood cabinets to establish a contemporary theme.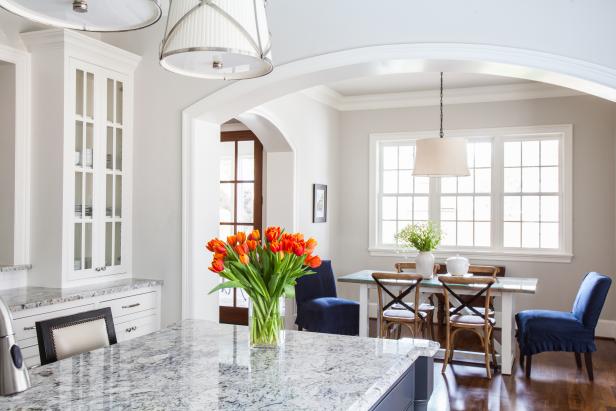 White Open Plan Transitional Kitchen With Tulips
In a white kitchen, it's helpful to incorporate texture as it visually breaks up the stretches of cabinetry and walls. Glass-front cabinet doors and granite countertops do the job nicely in this pretty kitchen.
Consider Your Lifestyle Before Making a Granite Selection
Be sure to consider how you will be using the countertops when choosing your granite. If you will be spending a lot of time with food preparation and entertaining guests, then you may want to choose a light granite countertop that has a pattern in order to hide some of the inevitable marks that will result from normal wear and tear.