How Spring Cleaning and Organizing Can Change Your Life
Purging what you don't need and appreciating what you have left can lead to a better life, or so the trend says. Are you ready to try? 
This post is sponsored by eBay, written by me and owned by HGTV.
Are you the only person who hasn't read Marie Kondo's "The Life-Changing Magic of Tidying Up"? If so, check out 6 things Marianne learned from the book, or let me give you the skinny: It's not just about going through and getting rid of all your stuff (though that's a big part of it). It's really about appreciating your stuff and only having things you can fully appreciate. Which leads you back to the first part — getting rid of stuff that you don't use (because use is a form of appreciation) — and to a more fulfilling life.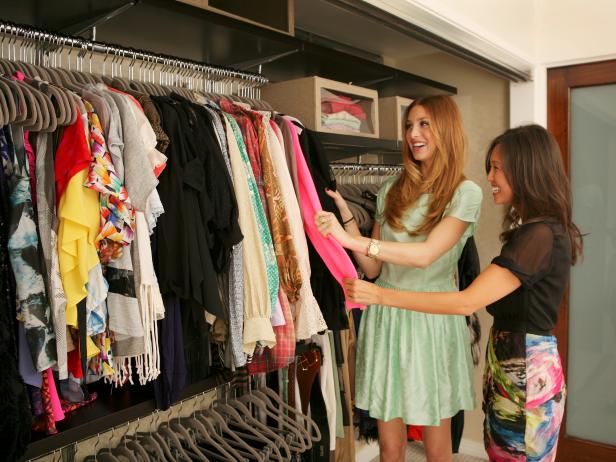 Organized Clothes Closet
Lisa Adams, CEO of LA Closet Design Company, knows what it takes to transform your closet into a space you'll actually want to spend time in. She suggests going through your closet and taking inventory of all the items as the first step. Once you know what you want to keep, separate them into categories to help you organize them in the best way possible.
Even if you don't fully embrace the KonMari craze, you probably know that (A) you have too much stuff and (B) you need to get more organized. And there's really no better time for A or B than spring. Shed your skin, shake off the dust, reawaken and start anew — all the seasonal clichés apply. It helps to start with a clean slate, both literally and figuratively. That's why I'm starting by getting rid (read: donating or selling) the stuff I don't use (and thus don't appreciate) and then cleaning top to bottom. Here's my plan of attack — use it to inspire your own spring cleaning and organizing extravaganza.
Step 1: Warm Up in the Kitchen
Clean the Fridge in 5 Minutes
01:09
Here's how to freshen up your fridge inside and out in only five minutes.
I'm almost finished with a small, though lengthy (it's taking forever!), kitchen renovation, and having everything in chaos is giving me the opportunity to clean and reorganize. These 10 Steps to an Orderly Kitchen are a big help. On the "sell" list is a juicer that takes up too much space and has been replaced by a blender, and on the "buy" list is a paper towel holder that will go inside my cabinet, getting it off my short-supply counter space. I'm also feeling inspired by this handy video for How to Clean the Fridge in 5 Minutes. Shelf mats in the fridge — what the what?! Going on the buy list.
Step 2: Tackle the Paperwork
This step-by-step spring cleaning gallery is giving me lots of inspiration, but I'm stuck on home office. Since I got married and combined lives and paperwork nearly four years ago, I've been much less diligent about cleaning out and organizing bills, taxes, manuals and the like. But there's no time like the present (read: tax season) to tackle paper clutter. I'm thinking it's time to donate the plastic filing box I've been using for a few years, and upgrade to a simple metal file cabinet that can double as a side table (here's my inspiration).
After that, it's time to step outside, my happy place. We built a garden shed last summer but have yet to fully organize it. (That was supposed to be a winter project …) A few duplicate tools might get sold (how many trowels does one woman really need?). At the same time, I'm looking for cute hooks and wire shelving that will help get all the remaining garden tools, as well as our bikes, on the walls and off the floor. I love these clever ideas for outdoor storage with or without a dedicated shed; isn't that obelisk the coolest?
I think that's about it for me for now, and I feel better (renewed, even) just by having a plan. Wait, you know what space I forgot? The closet. And that's where Marie Kondo says to start. Oh well, there's always next spring.
It's time for spring cleaning! Sell your extra stuff on eBay, then spend that extra cash on some outdoor fun this spring. Visit ebay.com/sell/spring.