10 Best Closet Systems for Walk-Ins, Reach-Ins and Spaces Without One
Make the most of your wardrobe, however big or small, with a closet system that will do the sorting and organizing for you.
Keep in mind: Price and stock could change after publish date, and we may make money from these links.
I have a love-hate relationship with my closet. And by that I mean that I love my closet when it's organized and hate it when it's messy. (Which is it's current state, coincidentally.) Clutter gives me anxiety, so there's nothing worse than opening the double doors of my reach-in and seeing sweaters, dresses and jeans packed in tight, as though the whole thing's seconds away from bursting at the seams.
If I can't snap my fingers and magically make the space neater, then the next best thing is clearly installing a closet system, which is designed to do the sorting for you. There are all different types of systems out there — for walk-ins, reach-ins and even homes without closets to begin with — so I've rounded up the best by need and price to make finding a solution even easier. I'm not breathing a sigh of relief, you are!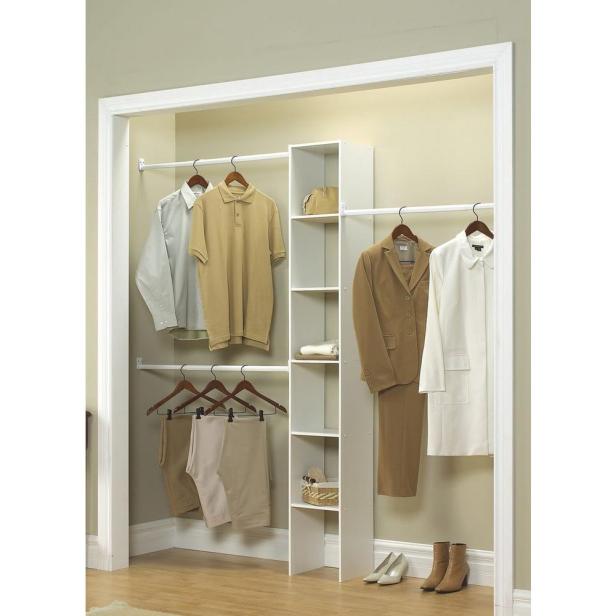 For a basic organizer, you just can't beat the price of this one at $65. Make your small reach-in much more functional with this simple yet impactful piece, which features three clothing racks connected by a central shelving unit. It's affordable, easy to assemble and can be squeezed into any corner.
Buy It
Best Closet System for Entryways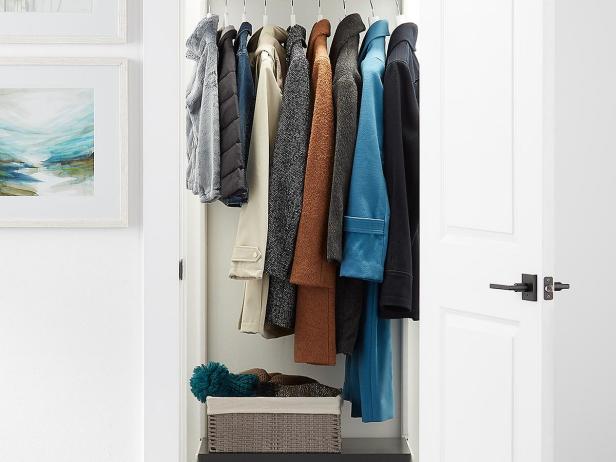 Reimagine and reorganize your tiny entry closet with a system that was made specifically for it. At just two feet wide, this kit will fit squeeze into most spaces and offers an upper shelf for seasonal items, a clothing rack for long coats and jackets and two mesh drawers that can hold up to six pairs of shoes. If you don't have a traditional mudroom, this is a great way to DIY your own.
Buy It
Best Closet System for Reach-Ins
The best thing about this closet system just might be its ability to adapt to any setting; it can add functionality to a standard reach-in or help fill out a spacious walk-in. A center shelving unit anchors the kit and can be customized with three drawers (sold separately), while three clothing rods can help separate each person's items.
Buy It
Best Closet System for Renters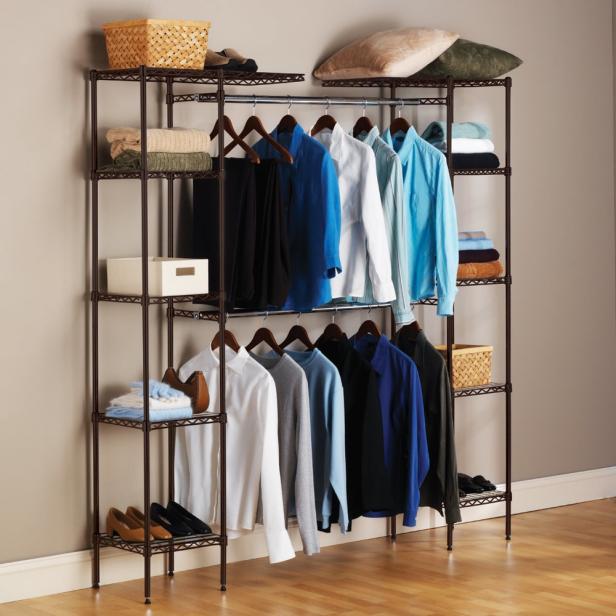 The perfect solution for apartment-dwellers and renters in general, this freestanding system gives you organization without any installation. Lay it flush against the wall to make the most of its slim silhouette, and use the stacked clothing racks and side towers for shoes, accessories, linens and more. If you need a little more space, you can always snag two and push them together to create one large unit. You'll love how the bronze finish mimics the look of wood and brings warmth to a room.
Buy It
Best Closet Systems for Kids' Rooms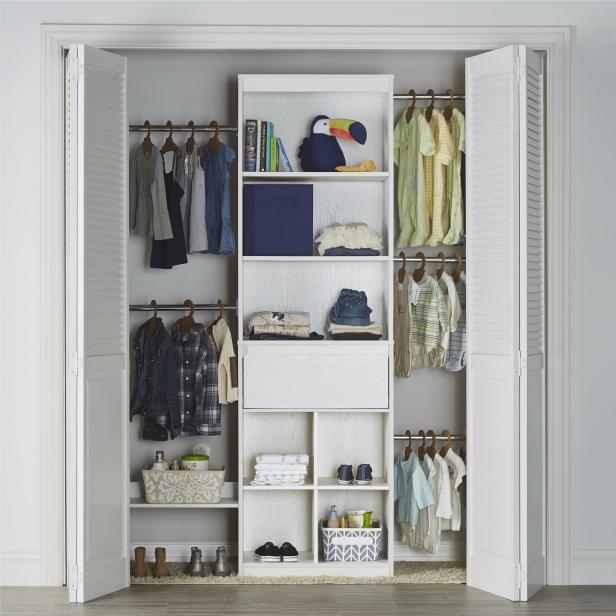 Help your kid stay neat and organized from the start with a closet system that's easy to transition from a nursery to a teen's room. The kit contains three open shelves for sweaters and folded jeans, a drawer for PJs or underwear and four easy-to-reach cubbies that can be used for toys now and shoes later. The kit also includes five adjustable clothing rods, so you can customize it to fit their space. It's a total steal at $200 if you ask me.
Buy It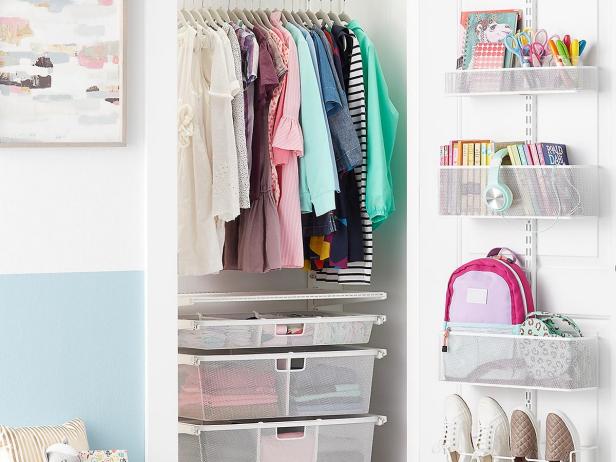 Another great option for kids' rooms, this closet system comes with an over-the-door organizer for their books, backpacks and shoes. You can use it to save precious floor space and transform their closet into an all-in-one wardrobe. The horizontal top shelf is the only piece that attaches to the wall and can be used to hold seasonal items or even old toys and board games. Beneath the adjustable clothing rack, four mesh drawers ensure there's plenty of room for shirts, pants, socks and more.
Buy It
Best Closet Systems for Walk-Ins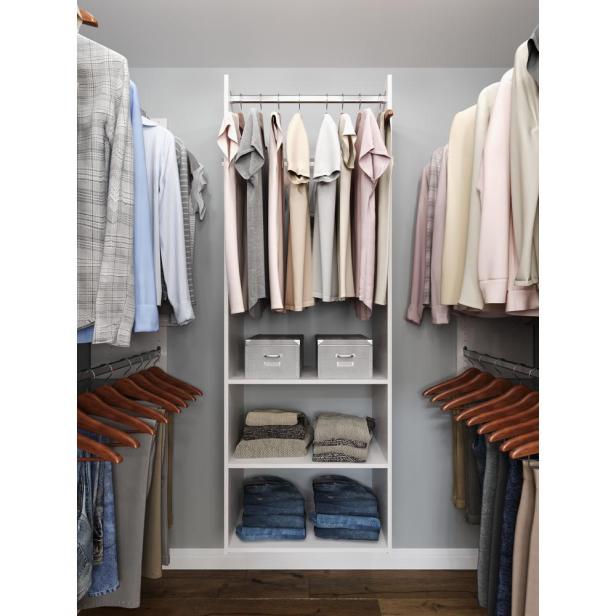 There's always that one spot in the back of a walk-in that sits empty. Put every inch of space to work with this wall-mounted tower from Closet Evolution. A clothing rack up top gives you two extra feet for any blouses and button-downs, while three shelves down below make room for jeans, purses, shoes and more. And if white's not really your style? The system's also available in espresso and rustic grey.
Buy It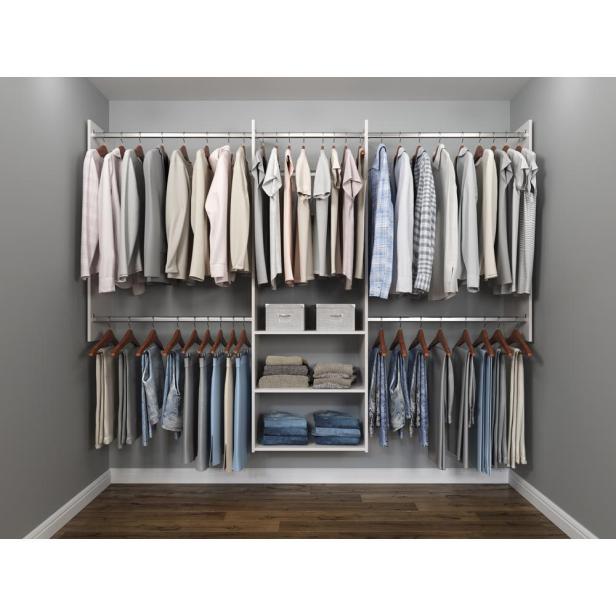 Add some definition to your spacious walk-in with this Deluxe System from Closet Evolution. The kit easily fits four-foot to eight-foot spaces and boasts five hanging racks, plus three generous open shelves. It can also, conveniently, be combined with other kits, so you can tack on shelves and drawers as needed.
Buy It
Best Closet System for Awkward Corners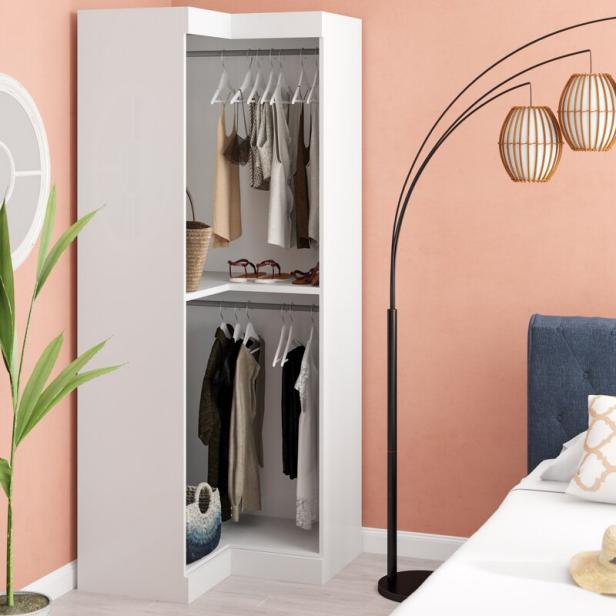 Say goodbye to those awkward corners. Crafted from sturdy manufactured wood, this unit fits right into empty nooks and makes them much more functional. Two steel rods keep clothes wrinkle-free, while two shelves offer room for bags and accessories.
Buy It
Best Closet System for Couples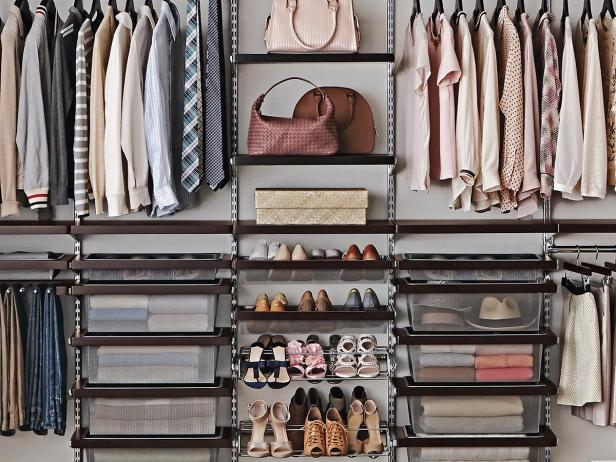 You know what'll do your relationship some good? A closet that can fit both of your wardrobes. Though it's definitely on the pricier end at close to $2,000, this system by Elfa gives each of you two clothing racks, five mesh drawers for accessories and folded garments, four shoe racks and space for purses — so you're certainly getting the best bang for your buck.
Buy It