Top 10 Organizing Tips You Need to Try
HGTV asked viewers to share their best decluttering and organizing tips. See which clever life hacks made the list.
Door Storage
"I love the hanging clear shoe organizers! I have one on the inside of every door in my house. One is in the entryway for hats, gloves and scarves, another in the garage for nails, screwdrivers and smaller items and one in the bathroom for trial-size items. I use one in the kitchen for spices and small bags and another in the linen closet for washcloths and pillow cases. And of course, one in my closet for shoes — how clever!" —Christine Frazer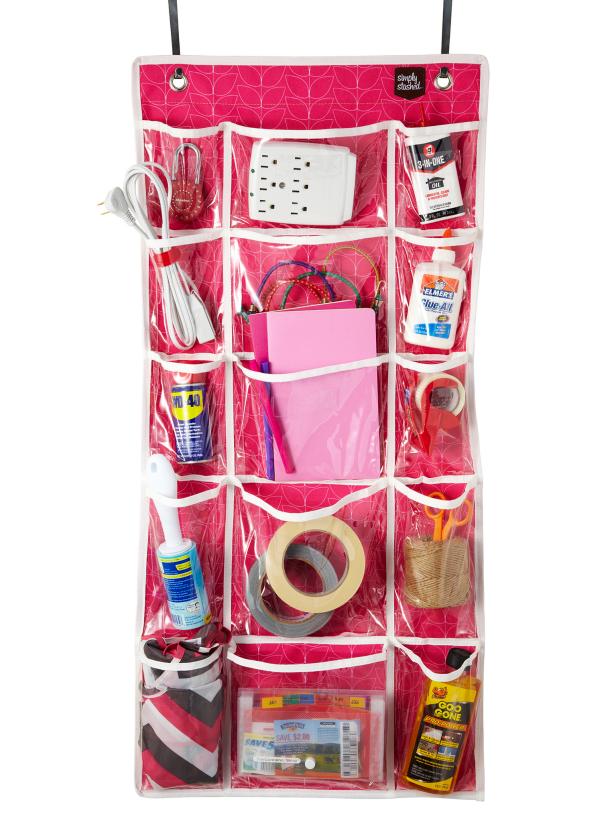 Over-the-Door Organizer With Clear Pockets
The clear pockets on this organizer make it easy to see what you've stashed in them. The Mini Stash, $15, simplystashed.com
Courtesy of the Manufacturer for HGTV Magazine
T is for Toaster
"Use an A-Z accordion file for storing instruction booklets for appliances and electronics. Staple the receipt to the inside of the booklet and then file it under the letter of the alphabet it fits. Example: toaster goes under T and not under the brand name. This system makes it possible for anyone in the household to find instruction booklets without having to ask or search the entire house since they're all stored in one location." —Beth Butler
Race to the Finish
"Before the kids go to bed, have a 10-minute race to see who can pick up the most stuff." —Susan Ramsay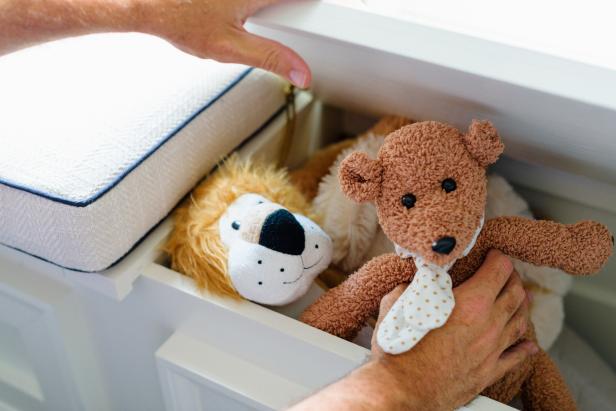 Toy Storage in Window Seat
Window seats are excellent storage solutions for great rooms. In addition to providing comfy seating in breakfast nooks or unused corners, they make clean up quick and easy. Plush toys and games can quickly be tossed inside and hidden from view just before company arrives.
Flynnside Out Productions
Project Central
"Use photo storage boxes to sort and store buttons, threads, elastic and trims. Use plastic sweater-size storage boxes to keep all items of a project together, such as fabric, pattern, thread, drawings and ideas, then name the project and label the box." —Marsha Coble-Karman
It's in the Bag
"Store plastic grocery bags in an empty tissue box." —Marsha J. Robinson
Box It Up
"Use plastic school pencil boxes with lids to organize your medicine cabinet. Sort all medicines by type and put them in the boxes. Then label the side of the box and store on a shelf in the cabinet. I use the same types of boxes to keep my junk drawer organized as well." —Holly Robinson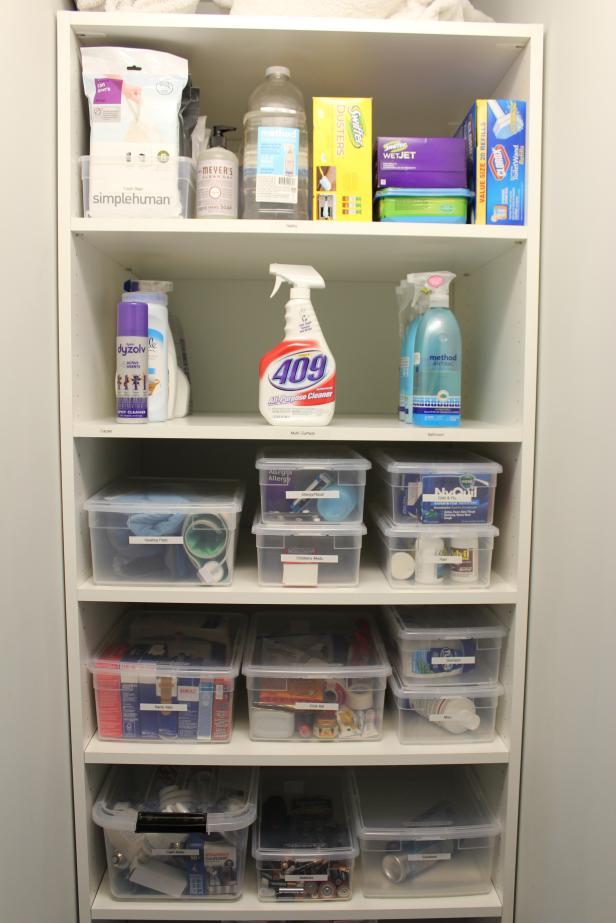 Neat Method: Bathroom Organization Project in Minneapolis
Our main challenge was sorting through the many toiletries and medicines that had accumulated over the years. After discarding expired items and implementing categorized and labeled bins, the end result was a perfectly functional closet. Now anyone in the home, from the client to their cleaning service, can easily find anything they may need to use." - Ashley Murphy and Molly Graves, founders of the Neat Method.
Clothes by Occasion
"I organize clothes by the four uses I have for them: formal, work, casual and sport. I keep all clothes for those different categories in different parts of my closet. From there, I organize my clothes by color and style (for example, short- and long-sleeved shirts or pants and skirts) so that it's easier to create outfits and think of different options." —Kelli Smith Orrela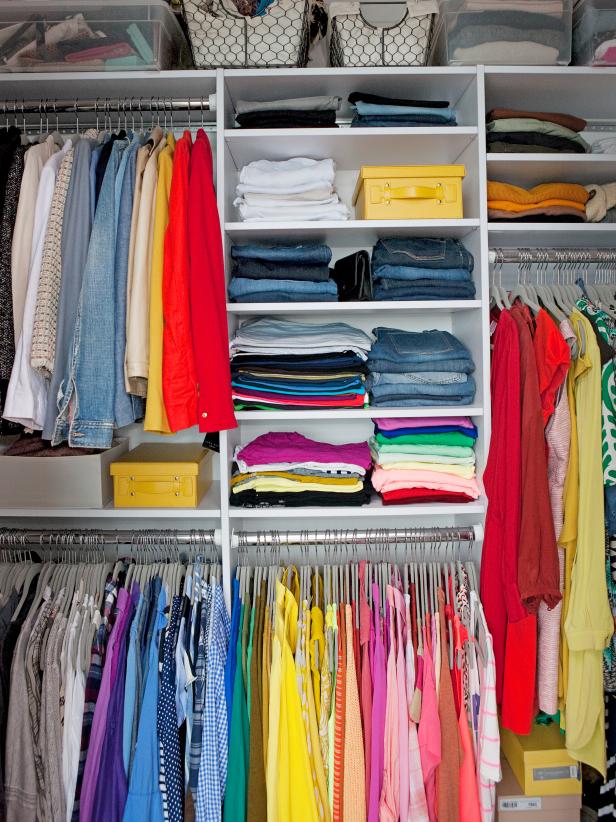 Organized Closet Sorted by Color
"All my stuff is organized by category — skirts, tank tops, long-sleeve shirts — and within those, I sort by color. I started out doing lightest to darkest but quickly realized that wasn't going to last long! I use only Huggable Hangers, which take up a lot less room ($10 for set of 10, containerstore.com). If I had more room, I'd insist on at least a finger's width of space between each hanger," says Sabrina.
Seasonal Shoes
"I store out-of-season shoes in shoe boxes in the top of my closet. I write a description of the summer shoe on one end of the box for storage during winter. I use the same box for my winter shoes and write the description on the other end." —Diane Walton
Dual-Purpose Dresser
"I use my daughter's dresser to organize her toys. I hang most of her clothes in her closet then use the top two drawers in her dresser for pjs and undergarments. The last three drawers, which are easy for her to reach and open, store her toys. One drawer is for Barbies and accessories, another for baby dolls and accessories and the third for small objects like Legos. Each drawer keeps like toys together so we both know where a specific toy is, along with its accessories. It also helps her keep her room neat and makes cleanup easier for her." —Trish Bosso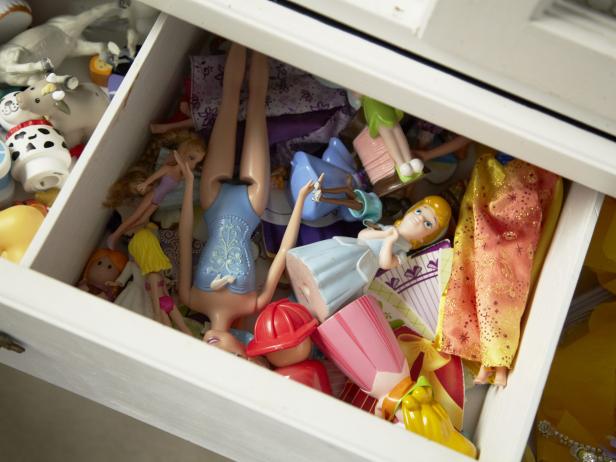 Toy Storage for Genevieve Gorder's Daughter
Figurines, princess dolls, and their clothes go in the middle; accessories and animals are on the left; and fairies and big dolls are on the right. The two '60s-era armoires in designer Genevieve Gorder's daughter Bebelle's room were ugly wood with pockmarks, but you'd never know it once Genevieve had them painted white.
The Easy Way to Donate
"I keep a cardboard box in my laundry room for clothes that need to go to the thrift store. When I sort the laundry I toss in the clothes my kids have outgrown. When it's full, I simply put the box in the car and drop it off at a local shelter or thrift store." —Lisa Christianson