15 Storage Benches for Every Room in the House
Cut down on clutter, then kick back and relax with these incredible organization ideas.
Keep in mind: Price and stock could change after publish date, and we may make money from these links.
Storage benches just make life easier. Place them by the front door, and they give you a comfortable spot to lace up your shoes or slip on your coat. Put them in the living room or den, and they offer an extra seat while keeping pillows and blankets within arm's reach. And if the nursery or playroom is always a mess? A storage bench can help reduce clean-up time. (And restore some parental peace of mind.)
Suffice it to say, storage benches are the ultimate cure-all when it comes to clutter — and we've found the best for every room in the house. Scroll on to see our favorite pieces and relish in the instant organization.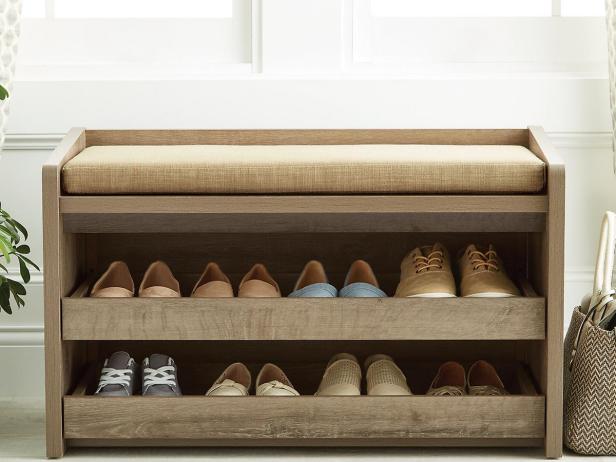 Keep your entryway free of clutter and tripping hazards with this thoughtful storage bench. A padded cushion on top invites you to sit and remove your shoes, while two pull-out drawers move them out of the way until you're ready to leave the house.
Buy It
If you want to streamline your entryway, just swap your console table for this all-in-one, midcentury-style bench. Two drawers become a drop zone for magazines and mail, which you can peruse from the comfort of the gray cushion.
Buy It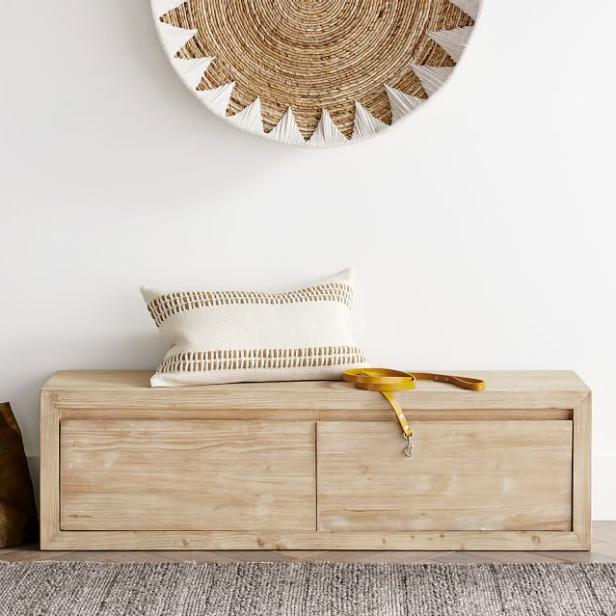 Not a fan of visual clutter? Slip personal items out of sight with help from this sleek wood storage bench. Two drop-down doors conceal everyday items and help your entryway look clean and contemporary.
Buy It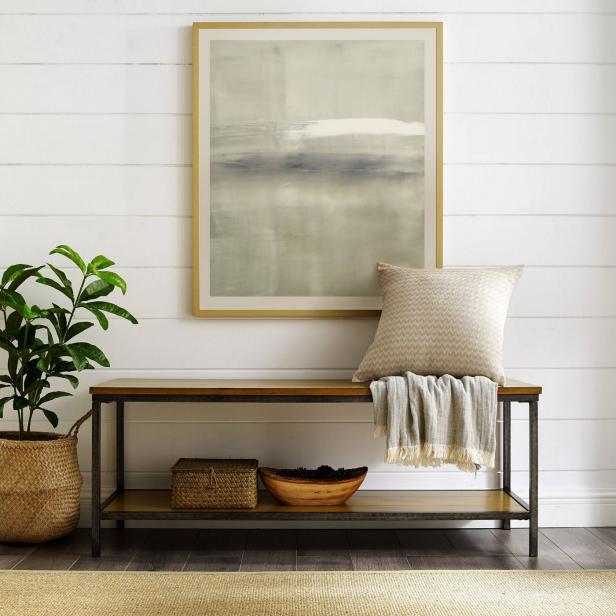 When in doubt, add functionality to an empty stretch of hallway with this versatile bench. The lower level is wide enough to accommodate baskets or stacks of books. Complete it with a large piece of art or a potted plant and you're all set.
Buy It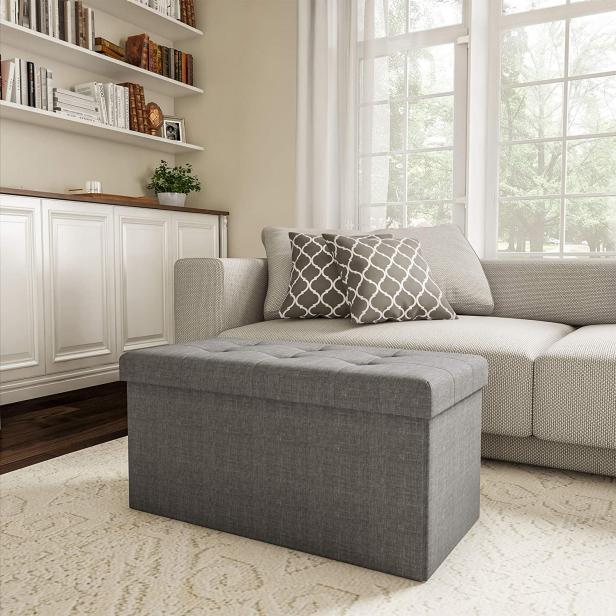 With this tufted storage bench, you can tidy your living room in minutes and then promptly put your feet up. The large interior compartment is perfect for tucking spare blankets and stray toys out of sight and even has a slot for remotes and books.
Buy It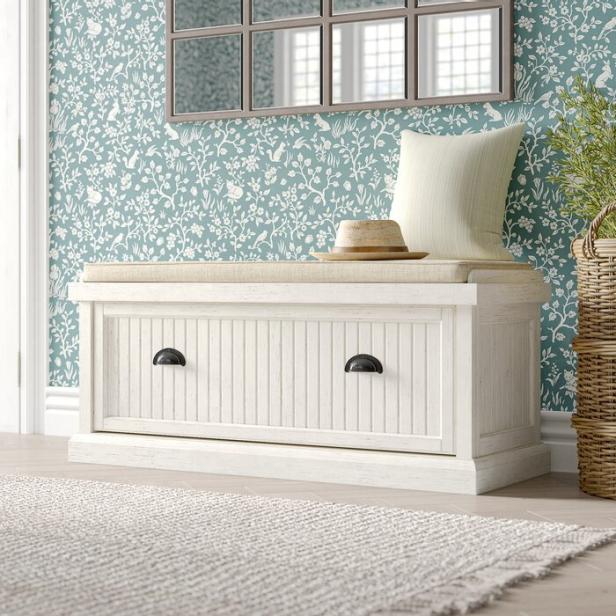 Create an impromptu window seat anywhere in the house with just this cushioned bench and a couple of throw pillows. Shiplap paneling in a soft white finish enlivens the front, while cup pulls open to reveal two cubbies for your books or records.
Buy It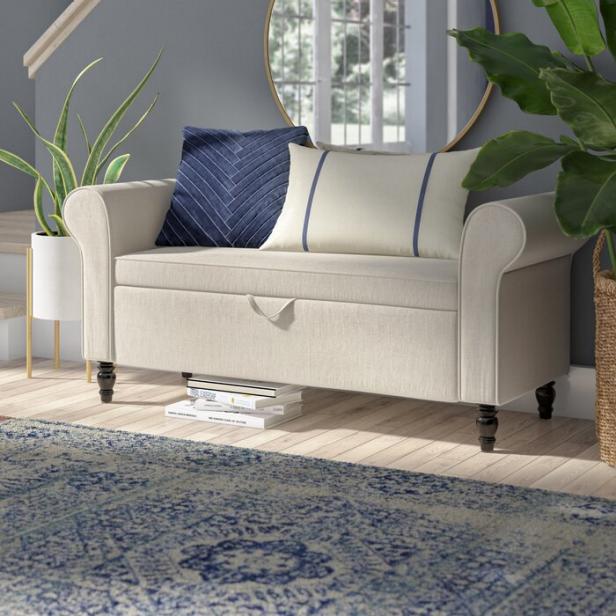 Why choose between extra seating and storage when you could have both in your living room or office? This upholstered bench offers the best of both worlds, with gently rolled arms, a supportive base for stretching out and a large compartment for your tech.
Buy It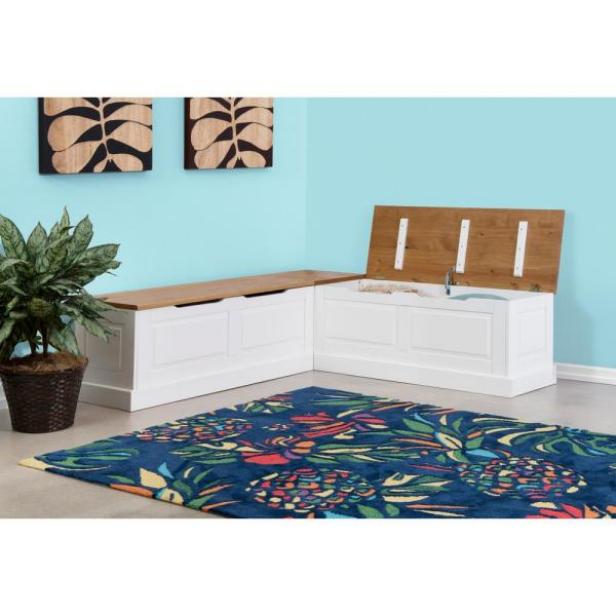 Make the most of your breakfast nook or smaller dining space with this L-shaped banquette. The backless design ensures that it'll fit against any wall and allows multiple people to sit at one time. And best of all, the solid pine seats open up to roomy compartments for placemats or seasonal decorations.
Buy It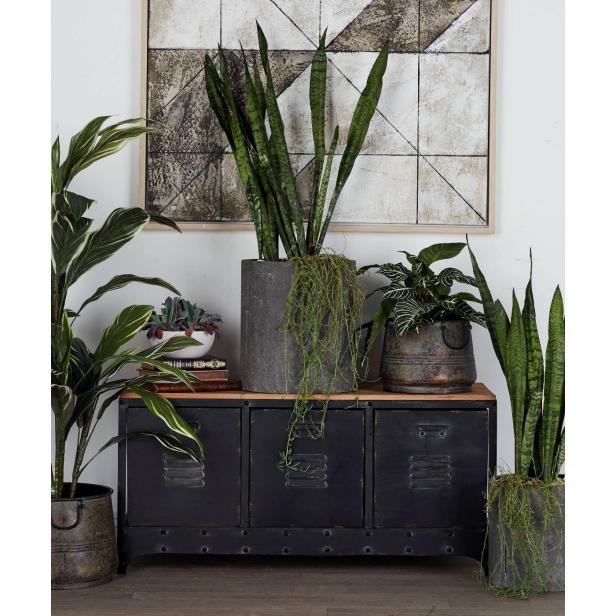 Secure your pet's food from curious snouts and paws with this industrial-style storage locker. You can display pet-safe plants along the top, and stash treats, toys and waste bags in the three cubbies below.
Buy It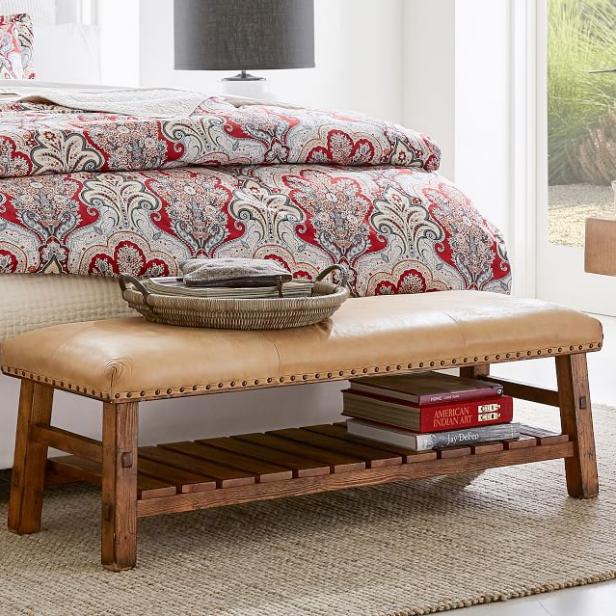 Here's one of our favorite designer secrets: Put a bench at the foot of the bed to elevate the space and create a comfortable spot for changing. We love that this brown leather bench includes a slatted shelf, so you can clear off your nightstand but keep books and blankets close by.
Buy It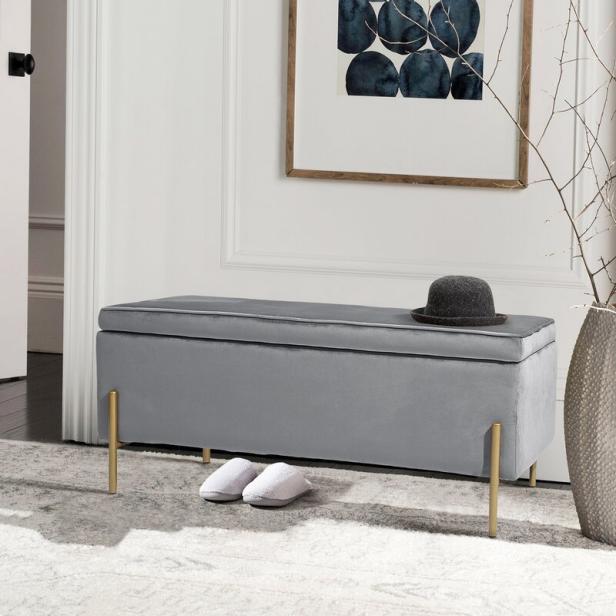 If you're lucky enough to have a large walk-in closet, why not add some stylish and multi-functional seating? This soft gray storage bench would look great in the center of the space and would give you extra room for shoes, purses or even workout clothes.
Buy It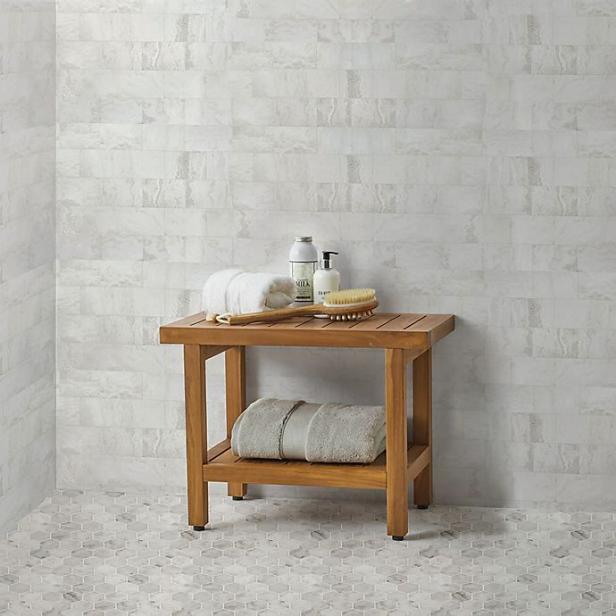 There's something incredibly luxurious about having a bench in the shower. See for yourself and upgrade your space with this teak wood stool. It's crafted from a water-resistant material with rubber feet and features a shelf for your toiletries, robe and towel.
Buy It
Help your little one learn to tidy up with this three-cube storage bench for their books, toys and stuffed animals. The low-level design puts all of their favorite items within arm's reach and encourages them to put things away after playing.
Buy It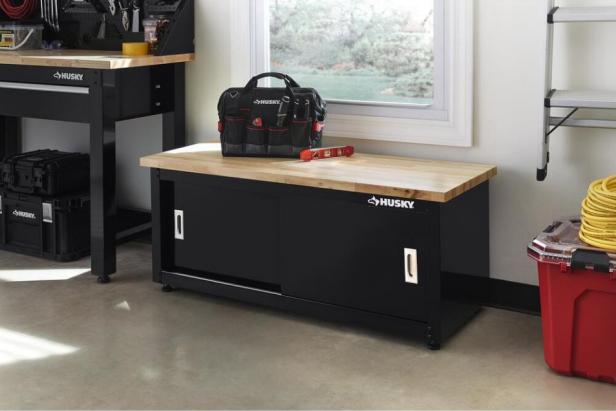 Need a better solution for your garage? No problem. Put this storage bench to work, where sliding steel doors conceal anything from camping gear to tools. The sturdy frame holds up to 600 pounds and can withstand extreme temperatures, as well as daily use, ensuring it will last for years.
Buy It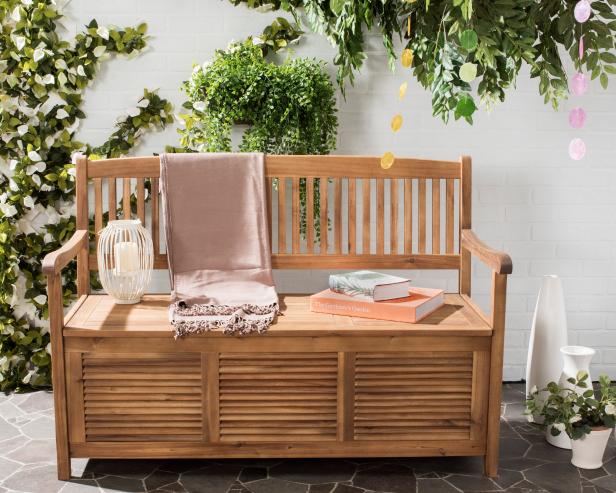 Free up space in your garage or basement by stashing outdoor pillows, pool floats and more in this wooden bench. The seat is large enough to accommodate two people and protects your items from the elements.
Buy It