9 No-Fail Ways to Keep Your Makeup Organized
Ready to tame your makeup mess? Check out these major organization wins.
Keep in mind: Price and stock could change after publish date, and we may make money from these links.
If your bathroom counter is looking like a war zone in the morning, it might be time to get serious about organization. And a great place to start is with your makeup collection.
Makeup is a challenge when it comes to organizing as you're dealing with so many objects of different shapes and sizes that all need to be contained. And depending on the size of your makeup collection as well as the size of your space, you'll have a variety of different options for storage.
We want to help you wrangle the clutter, so we've rounded up some of our favorite makeup organizing tools to use in your bathroom, on your dresser or on top of your vanity.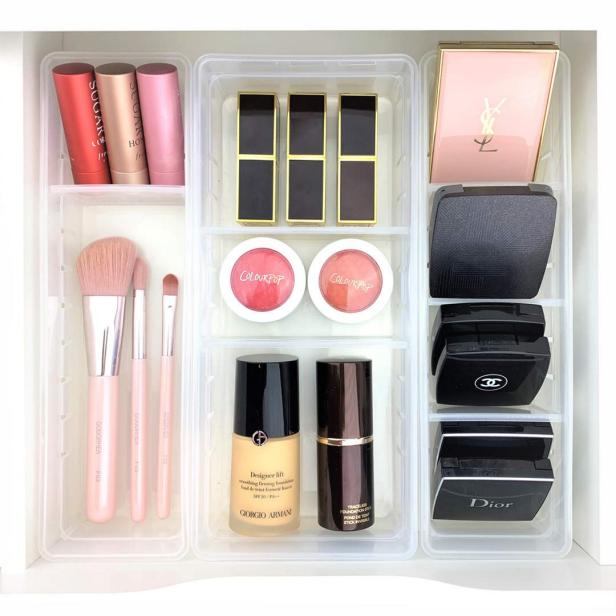 If you prefer to keep all of your makeup tucked away, you might want to consider an insert tray for your bathroom drawer. Depending on how much drawer space you have, you could even purchase several of these to keep across all of your available drawers. You could then use the divided sections to separate all of your makeup and keep it neatly organized in the drawer.
Buy It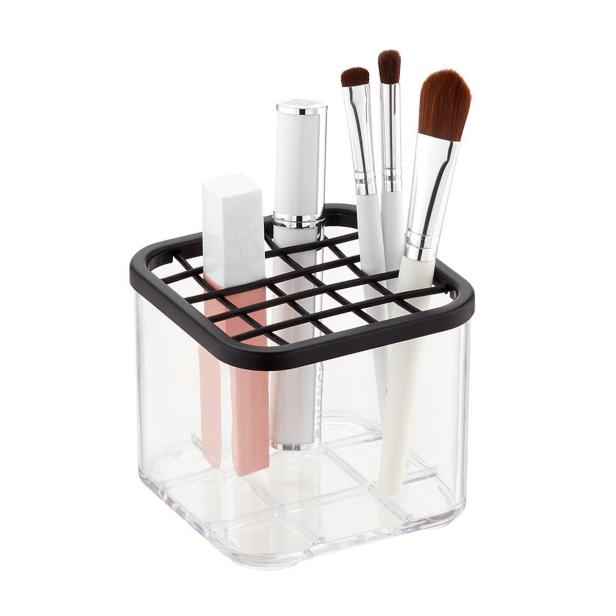 If you have a lot of makeup brushes, you need an easy solution for storing them all when they're not in use. An acrylic organizer with different sections allows you to separate your brushes by function while still keeping them all easily accessible.
Buy It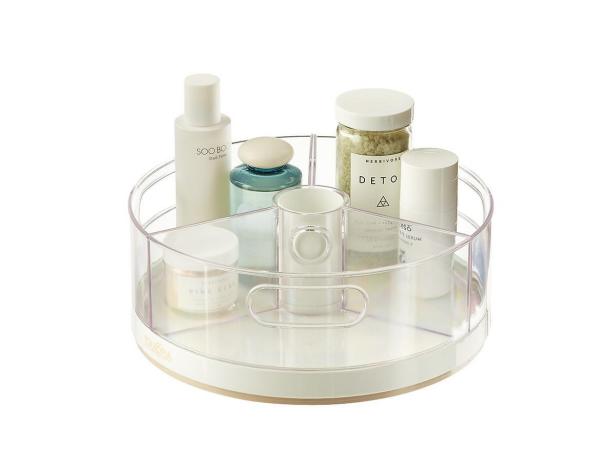 This rotating organizer spins around 360 degrees, providing easy access to your entire makeup collection in one spot. There is room for brushes, nail polish, palettes and even larger skincare items or perfumes. The bins are removable, too, so you can customize it to fit your products.
Buy It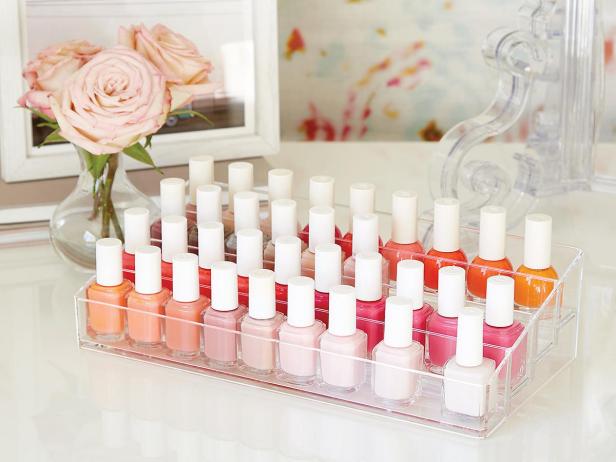 This organizer is a perfect option for nail polish junkies. There's enough room to store up to 40 bottles, and it fits polish from all of the major brands. The caddy is pretty enough to leave on display on your counter, so you can easily reach for any of your favorite hues whenever you want to quickly switch up your mani or pedi.
Buy It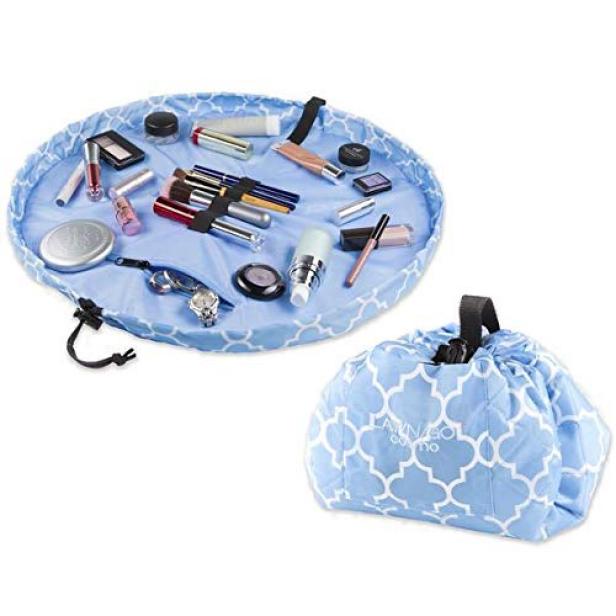 Once you have your storage sorted at home, it's nice to have a good makeup storage option for when you travel. This flat cosmetic bag is a super easy solution to use on quick trips. There is enough room for your everyday makeup as well as a few brushes, too.
Buy It
The effortlessly chic and compact Small Train Case has a mirror, sliding top trays, a spacious interior compartment, a secure latch closure, and metal feet.
Buy It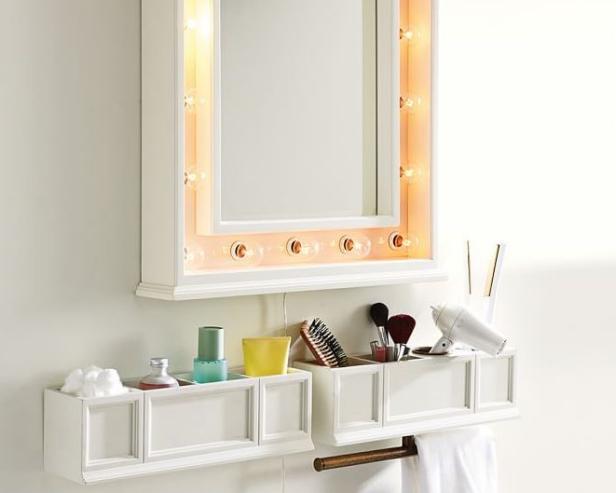 This wall-mounted shelf option is another good choice if you're short on counter space. There are special sections to store your hairdryer and curling iron and additional storage for bottles, makeup and other supplies. There is even a built-in rod for hanging wash clothes, towels or jewelry.
Buy It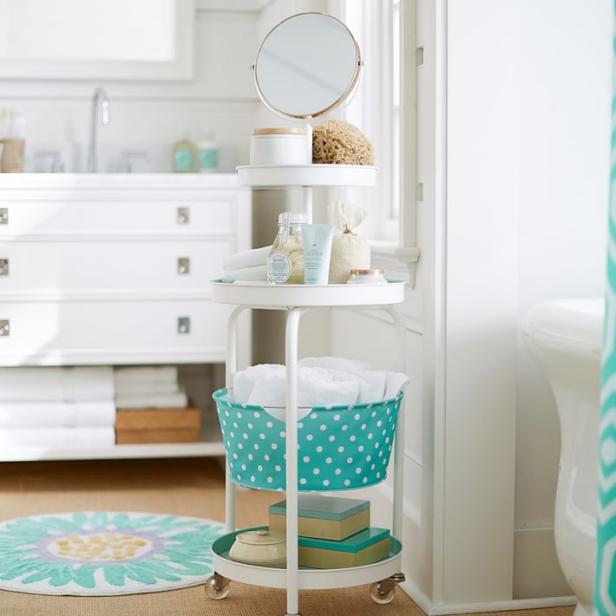 Turn any space into a getting-ready station with this organized and spatially efficient stand. With a bin and trays, a mirror and wheels, it's a clever place to store all your beauty essentials.
Buy It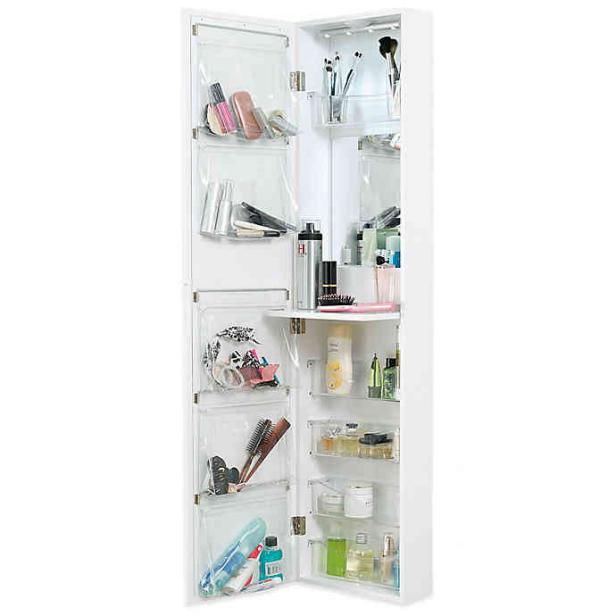 When you're short on counter space, an over-the-door storage option like this one is a perfect choice. It can be hung over your bathroom door or even over a closet door. The larger section on the bottom can be used for bigger items, while smaller bottles, compacts or lipsticks can sit in the top two sections. There's even a built-in light!
Buy It
DIY Makeup Organizer
01:00
Keep your bathroom counter clutter-free with this hanging organizer.