How to Unclog a Shower Drain
Is your shower water slow to drain? Put on some gloves and learn how to unclog a shower drain without resorting to calling the plumber.
Keep in mind: Price and stock could change after publish date, and we may make money from these affiliate links.
We've all faced the unfortunate reality that shower drains are not self-cleaning. You may wash the floor of your shower and scrub around the drain to remove obvious buildup and loose hair strands, but most people do not instinctively know to also remove the drain cover and tackle "what lies beneath" unless pressured to fix poor drainage.
Shower drain blockages can be blamed on a number of contributors, including:
hair
skin cells
hard water
buildup of shampoos and other products
other small objects that break or get lost down the drain, such as the cover for a razor blade or a torn piece of your loofah (these solids can become trapped in a hair blockage and worsen the severity of the clog)
When you begin to notice a drainage problem, start with one of the following simple solutions to break down the buildup. Simple treatments are easiest, often effective, and can be done safely and regularly to keep buildup at bay.
Note: You should never use bleach cleaners at the same time as white vinegar treatments. The chemical reaction produces hazardous gasses.
If your shower drains slowly, wait for the water to drain fully. It's easiest to treat the underlying issue when the pipes are not filled with water.
If your shower will not drain and there is standing water in your way, try to move the water through the pipes using a plunger.
You can usually clean parts of the drain by hand. In case that's not enough, we'll also look at simple tools and cleansers that can break through buildup.
2. Remove Your Drain Cover
Some bathtub drain and shower drain covers have a screw holding the grate in place. Others can be twisted off. Other types of stoppers have a set screw that pinches the drain to a rod to block water flow. For nearly all drain covers, you can count on being able to remove the drain cover using either a flat-head or Phillips-head screwdriver.

3. Remove Hair and Visible Buildup From the Shower Drain
Once you've removed the drain plug and grate, you will be able to see into the drain.
Remove any loose hairs that are caught around the crossbars of your drain. You may be able to grab them with your hand (put on a glove if it makes you feel better) or use needle-nose pliers to pinch at clumps and pull them free.
When you've removed all visible debris, run water down the drain again to see if you have fixed the issue.
If your shower or bathtub is still draining slow, try these steps to treat the blockage:
How to Unclog a Shower Drain With Baking Soda and White Vinegar
If your shower is still draining slowly or you exposed a world of grime once you cleaned the hair away from the crossbars, take a moment to perform a deep clean. A deep clean tackles buildup in the pipes and targets grime that's out of sight in the P-trap.
Pour 1 cup of white vinegar into the drain, followed by 2 tablespoons of baking soda. You will immediately begin to see and hear a chemical reaction.
Pour an additional cup of white vinegar into the drain to intensify the reaction. By adding more vinegar, you can push the solution into the pipes and allow it to break through more buildup as it drains.
Let the vinegar and baking soda sit for 30 seconds. Then, turn on the shower to rinse the baking soda and vinegar through the rest of the plumbing.
Run the shower for a minute to let water completely fill the pipes.
If the shower is draining well, you did it! If it is still draining slowly, continue to the next intervention.
More Advice
Clean your drain for a fraction of the cost using pantry staples.
How to Unclog a Shower Drain with a Plumber's Snake
If the drain still seems blocked, use a plumber's snake to check for larger blockages in the area of the P-trap.
There are many small snakes available for less than $10 as well as heavy-duty augers that can make this chore easy. (Augers are good to have if you need to clean blockages that are deeper than the P-trap).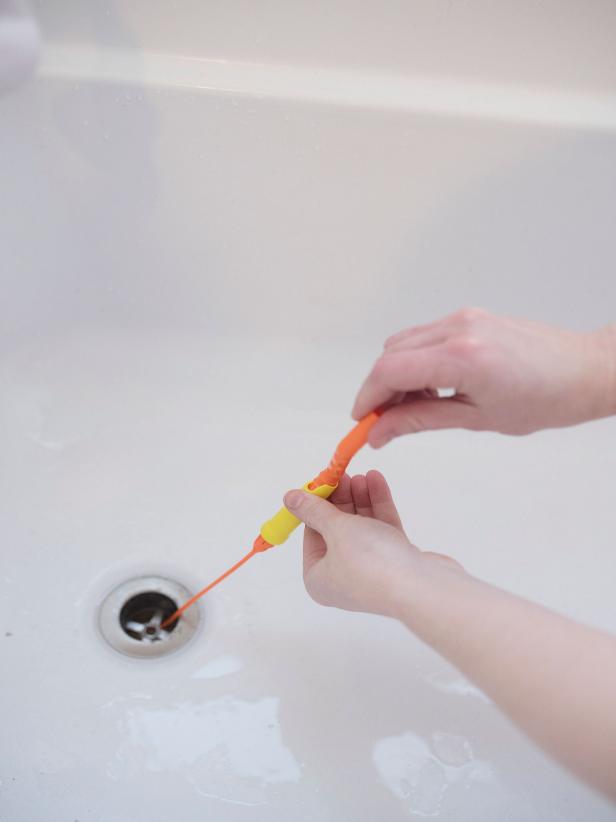 Cleaning a Bathtub Drain
Drains can be hard to fully clean, so a drain snake or drain weasel like FlexiSnake will help you reach hair that has accumulated in the bathtub.
Jennie Andrews
Drains can be hard to fully clean, so a drain snake or drain weasel like FlexiSnake will help you reach hair that has accumulated in the bathtub.
If you want to make your own snake, use a piece of wire, bending a hook at the end. The wire needs to be flexible enough to bend around curves in pipes but strong enough to poke and pull at clogs. Wire hangers work well, but some may be too rigid.
Guide the bent end of the wire into your drain until you meet resistance.
Spin the wire around to entangle or dislodge any buildup in the pipe.
When you retract the wire, you may extract another large clump of hair.
If you did not pull up anything, it's possible that you dislodged it enough to flush through when you run more water. It may also be that the clog sits deeper in the drainpipe than the wire will reach, in which case you should explore using a longer snake or other solvents.
Tough-Working Solvents for Shower Drains
Before you put any clog-busting cleaner down your shower drain, be sure to choose something that's safe for your sewer or septic system.
More Advice
Get handy tips and all-natural cleaning solutions to help keep sinks, showers and toilets flowing as they should.
Follow manufacturer instructions carefully to combat tough buildup. As a last resort, these solvents can dissolve clogs in a shower drain and eliminate issues related to drainage.
Tips to Reduce Buildup Around the Drain
Hands down, the best thing you can do to prevent drainage issues in your shower is to regularly clean around your drain and remove pieces of hair. A drain cover is a great investment for those who have long hair or for pet owners who frequently bathe their heavy-shedding animals in the shower.
Additionally, pouring a cup of white vinegar and a tablespoon of baking soda into the drain between showers once a month can help treat ongoing buildup of shampoos and other soaps.
As a reminder, do not allow white vinegar to interact with bleach if you are cleaning your shower tiles while also treating the drain.