15 Clever Cleaning Brushes You Never Knew You Needed
Get ready to make your life so much easier with these cleaning tools that save you time and elbow grease.
Keep in mind: Price and stock could change after publish date, and we may make money from these affiliate links.
When it comes to cleaning, my motto is: Work smarter, not harder. Fortunately, some companies live by this dictum, too, and have created tools that are designed to make my (and your!) cleaning life a bit easier.
Let's take on our kitchens, bathrooms, electronics and other living spaces without fear of dirt and grime and with a lot less elbow grease. We've scoured the web for cleaning tools you may have never thought of — for those spaces that need extra TLC.
Get every nook and cranny of your home spic-and-span with these ingenious solutions that tackle the hard-to-reach, the super-sharp and the tiniest of spaces.
Best Cleaning Brushes for the Kitchen
If you've ever sliced your hand while cleaning your knives, this clever brush keeps your fingers safely away from sharp edges. The wraparound design efficiently cleans and maintains your blades so that they're ready to rinse and dry.
Buy It
The kitchen is full of tricky places to keep clean, including small appliances, around the sink and even baked-on messes. This versatile set has a loop brush, angled brush, chiseled scraper and flat scraper to help you clean out all the nooks and crannies of your kitchen.
Buy It
If you're prepping and cooking more produce at home, make sure you're cleaning fruits and veggies well with this handy brush from Full Circle. It's made of a bamboo handle and recycled plant fiber bristles and recycled plastic bristles. Plus, with no neon plastic in sight, it'll look great on your countertop.
Buy It
This clever trio keeps your always-by-your-side water bottle sanitized. Stored together on a handy ring (they snap off for use), each brush has a specific area to tackle: straw, inside the bottle and all the nooks and crannies of the lid.
Buy It
Reusable drinking straws keep more plastic out of our landfills, and every little bit helps. These eco-minded drinking buddies do need a little extra TLC in the cleaning department, though. This set has three different sizes to ensure you have the right brush to clean inside the tiny straw opening.
Buy It
This is a recent discovery I made after inheriting cast iron pans from my husband's grandmother. Although the pans had been well-loved for years, they had been stored away and had built-up gunk and a little rust on them. This stainless-steel chainmail completely brought them back to life. I highly recommend getting one of these if you cook with cast iron.
Buy It
We're sorry, there seems to be an issue playing this video. Please refresh the page or try again in a moment. If you continue to have issues, please contact us here.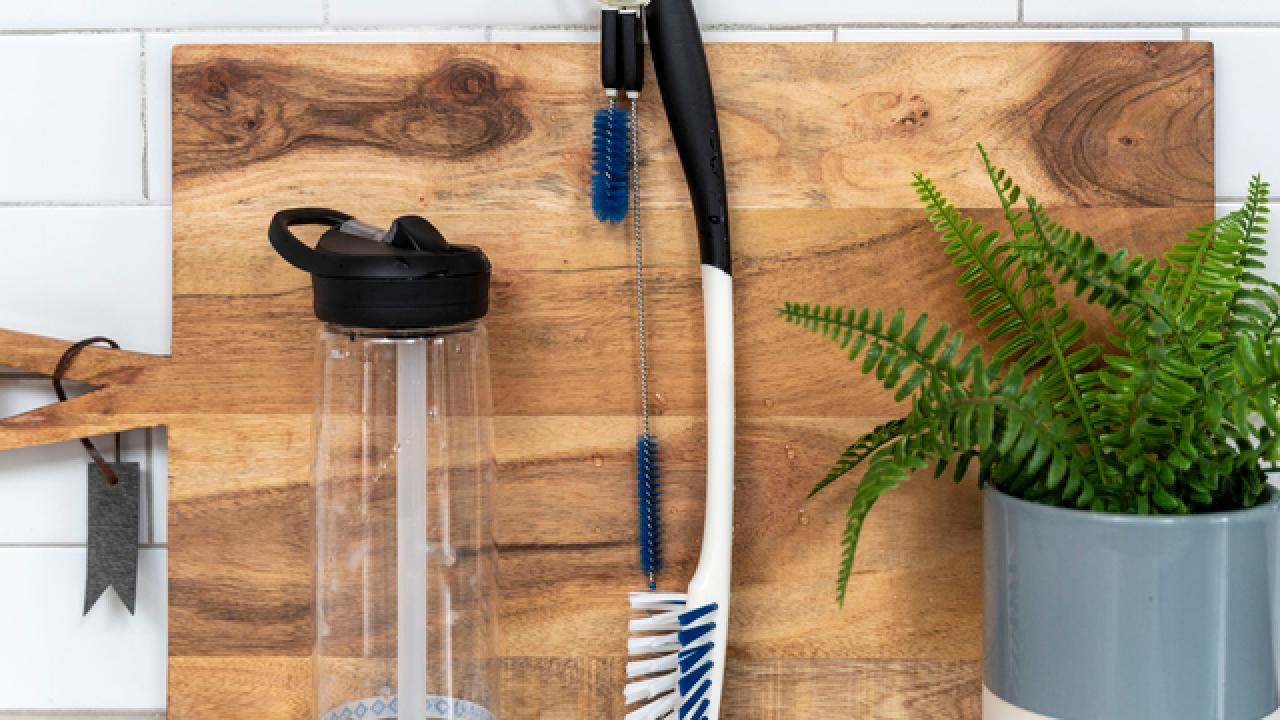 Best Cleaning Brushes for the Bathroom
Best Cleaning Brushes for Electronics
Banish crumbs and fingerprints from your laptop with this two-sided brush. One end has a soft brush for sweeping away dust and dirt, while the other has a microfiber pad for removing smudges from screens and surfaces.
Buy It
Our devices have the tiniest crevices that can trap dirt and debris. This double brush has a soft side for cleaning computer keys or phone screens and cameras, and a silicone wiper for getting into small ports, earbuds and more.
Buy It
Best Cleaning Brushes for Living Spaces
Whether it's the cobweb you've been staring at in the corner of your living room or the pile of dust you can see on top of your ceiling fan, a little help is required to get to those hard-to-reach areas of your home. This extension dusting kit has three different attachments and reaches up to 30 feet. Dusting just got a whole lot simpler.
Buy It
If you're like us, every time we raise a window to let in the fresh air, our eyes are assaulted by the grime that collects in the tracks. This useful tool helps you clean out dust and pollen from your window and door tracks with ease.
Buy It
Some spots are almost impossible to clean without the right tools. This extra-long brush gets all the trapped lint out of your dryer's vent and exhaust port, as well the coils behind your refrigerator. Those hard-to-reach areas will be cleaner, and your home will be safer.
Buy It
More Cleaning Buys We Love