A Fresh Start for Summer: 5 Ways to Clear Closet Clutter
Out with the old, in with the new.
A change of seasons marks the perfect time to re-evaluate your wardrobe and make room for new, seasonal pieces. Now that summer is officially here, do a closet cleanse to make sure your best, most lightweight, summery pieces are front and center. Let's get started.
Streamlining Your Wardrobe
01:01
Get tips for sorting through your clothing and streamlining your wardrobe.
After a decluttering spree, you'll need to create an organized system for all of the clothing and accessories leftover. Skip a trip to the dollar store and, instead, organize your closet with these household items. Tip: Unused picture frames or frames without glass serve as great jewelry holders!
Folding Clothes to Save Space
01:14
See everything you own and make more room in your dresser drawers by folding your clothes the right way.
It's amazing how simple folding techniques can save SO much space in a wardrobe or closet. Plus, with these methods, you'll actually be able to see all of your clothes. Watch the video above to see how to properly fold everything, from pants to socks.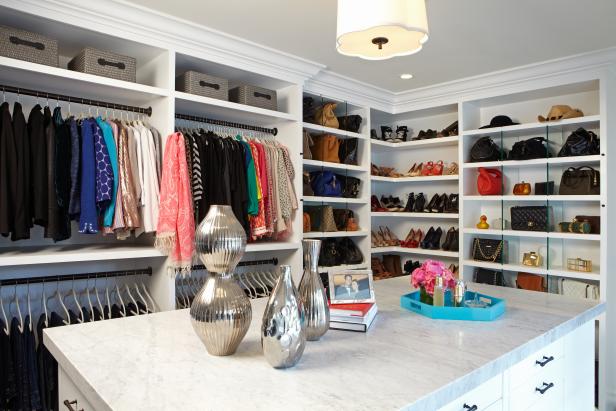 Walk-In Closet With Space for Designer Clothes
The walk-in closet of TV personality Giuliana Rancic features lots of storage space for designer handbags, clothes and shoes.