10 Useful Products for Growing, Preserving and Cooking With Herbs
Save herbs for home-cooked meals, cute decor and more with these handy gadgets and planters.
Keep in mind: Price and stock could change after publish date, and we may make money from these affiliate links.
Updated on February 01, 2023
No hate on the dried stuff, but there's nothing like cooking with fresh, chopped herbs. The taste and flavor are significantly better, and you don't have to break the bank buying cartons of expensive organic herbs at the grocery store. You can grow common herbs like parsley, rosemary, mint and more at home without a garden or even a green thumb. Plus, there are nifty gadgets that will help you save and preserve herbs so nothing gets wasted. If you're ready to up your game from canned flakes to flavorful, fresh herbs, check out our favorite products below for growing, cooking and freezing herbs at home.
Photo By: Crystal Martin
No yard? No problem. The AeroGarden Harvest is designed for growing herbs indoors. You don't even need sunlight. This little hydroponic wonder is kind of like a Keurig but for plants. All you need is water, fertilizer, plant pods (that seriously look like K-cups) and time. And just like a Keurig, it tells you what to put in and when, so there's no worry about over- or under-watering. It's the perfect garden for a novice, but pros will love it, too. Even our own expert gardener, Kelly Smith-Trimble, owns one, and she loves it.
Buy It
EDITOR'S PICK
We tested this indoor herb garden at the office, and now it's our favorite coworker.
Photo By: Crystal Martin
While it's tempting to throw all of your produce in the veggie drawer, that can cut the shelf-life of your food in half. Some refrigerated items, such as asparagus, actually need to stand up in a cup of water like a bouquet of flowers. This method keeps the stems crisper longer, and many herbs need this vertical treatment, too. Keeping herbs watered and upright can help them stay fresh for up to two weeks! This herb preserver is the perfect size for storing multiple herbs together and can fit in most refrigerator door shelves along with your condiments.
Buy It
Photo By: Crystal Martin
One of our favorite ways to save herbs is freezing them with butter or olive oil to use in skillet cooking later. You can use an ice cube tray from the dollar store to create little herbed starter blocks, but if you don't have a lot of freezer space, the Chef'n SpiceCube Herb Freezer Tray is a lot better for storage. It features four different compartments plus a lid to keep different herbs separated. And the tray is stackable so you can buy multiple trays to store large batches of herbs easily.
Buy It
Photo By: Crystal Martin
Chopping teeny, tiny sprigs is maddening. Cut cooking prep time with a pair of herb scissors. These nifty shears feature five blades to instantly slice through herbs and greens for cooking and garnishing. And at less than $20, they're easily worth the investment.
Buy It
We're sorry, there seems to be an issue playing this video. Please refresh the page or try again in a moment. If you continue to have issues, please contact us here.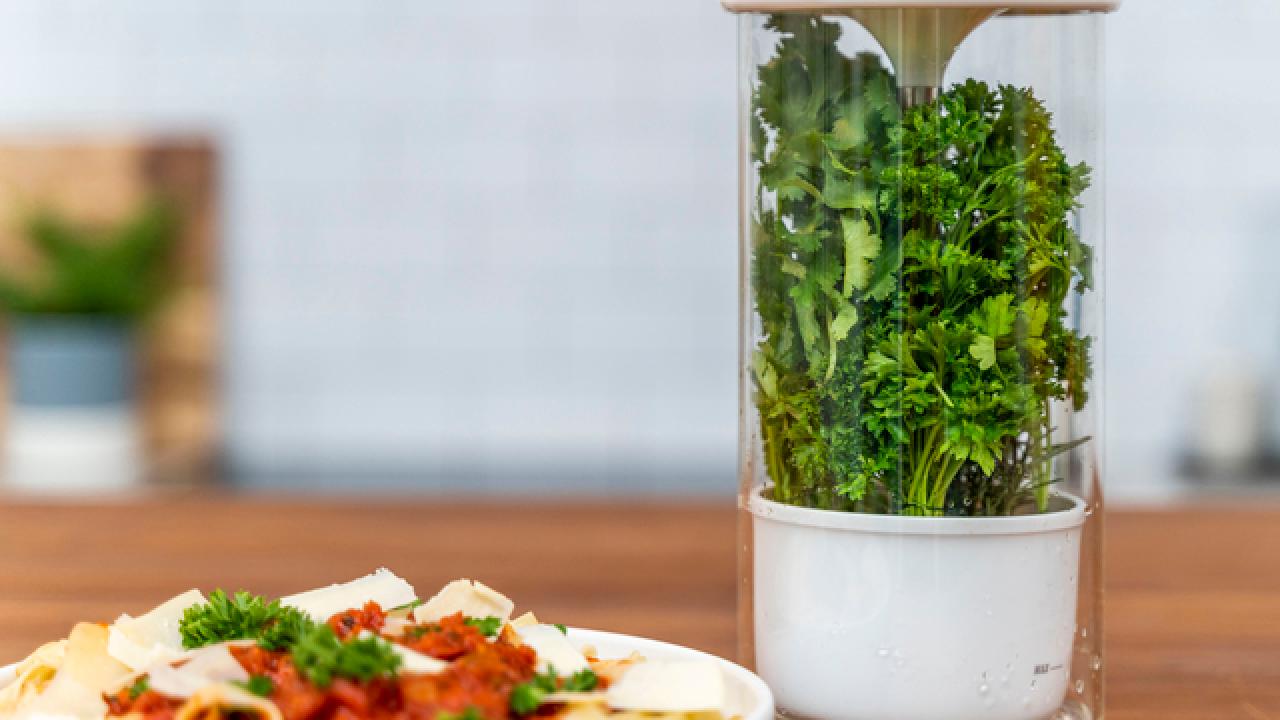 Our Top Herb Tips + Products