Upcycled + Upside Down: Hanging Herb Garden
We're turning the world of indoor gardening on its head.
We're sorry, there seems to be an issue playing this video. Please refresh the page or try again in a moment. If you continue to have issues, please contact us here.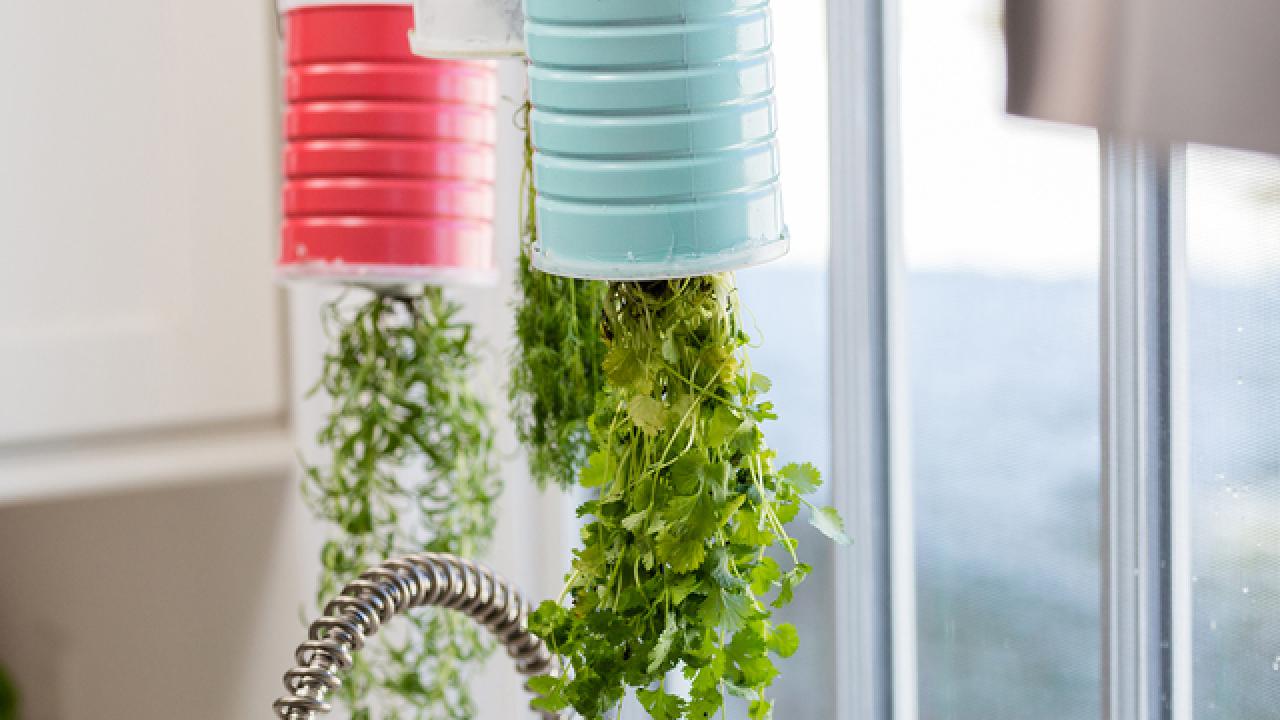 We can't think of a single dish that isn't instantly boosted by adding fresh herbs from your own garden. Even better, what if you're herb garden resided right where you need it most: your kitchen. Wait, it gets better. What if it took up zero counterspace? Oh my! Say hello to the hanging herb garden of your dreams.
Begin by transforming your tin can into a planter. To do this, it will need holes to allow water through. Remove the plastic lid (set aside for later use) and turn the can upside down. Drill five holes in the bottom and one hole on each side near the top for the future hanger. Use a file to smooth any jagged edges near the holes. Spray the tin with your favorite color and allow to dry. Once the paint has finished drying, attach a piece of 16-guage wire to the two holes you drilled. The length will be determined by how low you want the planter to hang.
We are still utilizing the original plastic lid, but we are going to modify it to better suit our needs. Using a utility knife, cut an "X" at the center of the lid. Use scissors to cut around the "X" creating an open circle in the middle of the lid. Cut a coffee filter the same circumference as the tin can.
Fill the bottom of the can with potting soil and add your herbs. After cutting a slit halfway through the coffee filter, tuck the filter around the base of the plant. This helps ensure soil stays in place when hanging. Slide your lid back on the can and secure in place using hot glue. All that's left to do now is water your herbs, hang them somewhere they will thrive, and begin planning all the meals you are going to cook with them!