The Best Air Fryers of 2022 for Every Budget and Household
Find out everything you need to know about air fryers and where to buy the best model for you and your household.
Keep in mind: Price and stock could change after publish date, and we may make money from these affiliate links.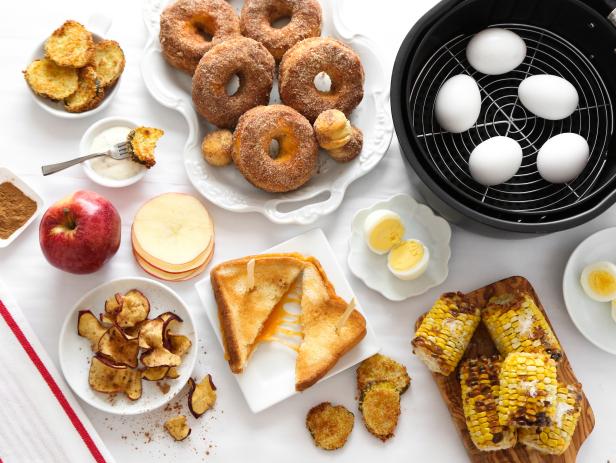 Easy Air Fryer Recipes
We all know that the air fryer can churn out perfectly-crispy french fries. But did you know that this magical machine can also handle hard-boiled eggs, grilled cheese and gooey crab rangoons? Keep reading to snag some of our favorite, unexpected treats you can whip up in this season's hottest new kitchen appliance.
Heather Baird, SprinkleBakes.com
Move over, pressure cooker. There's a new "it" cooking appliance in town and this one has the ability to whip up guilt-free fried chicken, crispy French fries and fluffy doughnuts in 30 minutes or less. Yes, really.
Introducing: the air fryer.
Air fryers are taking over coveted counter space and winning the hearts of home chefs around the world for their ease of use, quick cook time and stress-free cleanup. Best part? Air fryers produce crispy, crunchy and juicy results comparable to traditional deep-fried food using a fraction of the oil. By cutting down on oil, users can enjoy delicious, typically indulgent meals without sacrificing their health to do so.
In its most basic sense, the air fryer is a countertop convection oven equipped with a hot air fan that circulates at a rapid pace to cook food quickly and yield a browned, fried-like results. Fried eats not your thing? Don't write off the air fryer just yet. The compact appliance is as versatile as it is handy. Air fryers can melt, roast and bake anything your traditional oven can, and it delivers delicious meals to your table in less time.
What to Cook in Your Air Fryer

Your menu is only as limited as your imagination. Air fryers are great for just about anything in your fridge or freezer. Fresh vegetables and lean meats (think: pork chops, chicken breasts or salmon) make delicious family dinners on the fly, and frozen treats like mozzarella sticks or tater tots come out perfect every time. As for what not to cook: wet or flour-based batter are tricky to pull off in an air fryer because of the rapid fan. Be sure to freeze anything with a liquid batter before cooking, or follow an air fryer-specific batter recipe to ensure the tastiest results.
Which Air Fryer Is Best for You?
There's an air fryer for every budget, family and lifestyle on the market right now, so it can be difficult and confusing to know which one is best for you. The good news? You've come to the right place, because we're sharing our favorite air fryers and who they're best for in the links below.
More Kitchen Essentials We Love